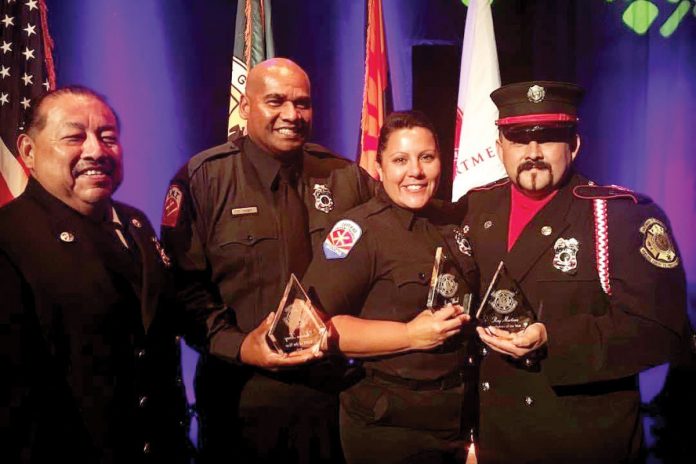 Longtime Salt River Pima-Maricopa Indian Community Fire Department employee Joan Wood has been promoted to the position of fire captain, making her the first female SRPMIC member to hold the title. Wood follows in the footsteps of Salt River Fire Department Battalion Chief Melanie Lake to move up in the ranks and take on a higher role in the department.
Wood started her career with the SRFD in 1999, attending the Mesa Fire Academy and graduating as an EMT to work for the Community. Throughout the years she took steps to improve her skills as a firefighter/EMT. She went to school to become a paramedic in 2008, and shortly afterward she attended nursing school through the Paramedic to RN Bridge Program. This gave her the ability to do more in the medical field to help her patients.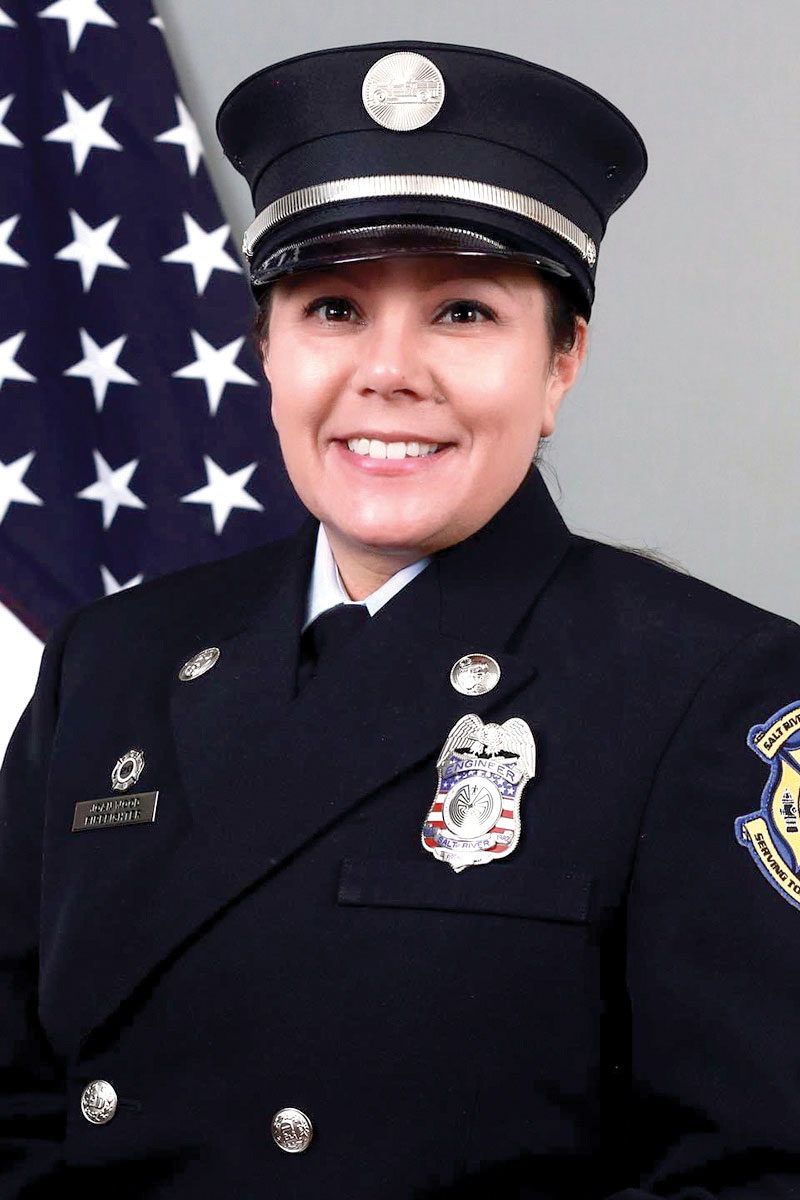 "Being a paramedic just seemed like a natural progression. When you are an EMT, you are restricted to the basics of what you can do," said Wood about why she chose to become a paramedic and took on nursing school. "I wanted to help our patients in a more advanced capacity."
Although she is now a captain, Wood will continue her duties as a paramedic. As captain she will take on an added supervisory role as the first line supervisor, right above fire engineer.
"I will be supervising Station 291," said Wood. "The battalion chief oversees all four stations; I will be reporting to the battalion chief."
Over the years Wood also worked on becoming a engineer to be able to drive the fire truck.
She said she looks forward to working with a good solid crew that works well together.
"We could be in a difficult situation, but when you have the right crew and the right people who have the right mindset, it makes things easier because things run smoother," said Wood. "Giving good customer service is rewarding, keeping everyone safe and doing what we love to do."
Currently there are only four women in the ranks of the SRFD, Wood explained.
"It's always a plus to have a woman on the job, because you don't know what you will be running into," said Wood. In some circumstances with a female patient, "It might be 'woman thing,' and they might be more comfortable with you helping them [rather than a man]. And women have that motherly instinct that comes into play sometimes."
Wood encourages all those who are seeking a career in fire services, female or male, to take all the opportunities they are given and just go for it.
"I love this job and mentoring and teaching the new firefighters that are coming on," said Wood. "I look forward to being a good role model, giving the best customer service to the Community, and being a good employee and supervisor."