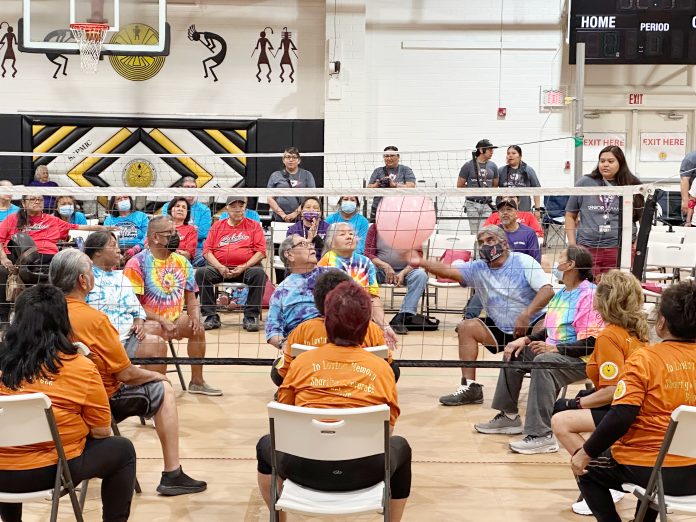 On April 26 and 27, the Pi-Copa Gym at the Salt River Community Building was packed with seniors from communities around the Southwest for the Senior Chair Volleyball Tournament.
The tournament was hosted by Salt River Pima-Maricopa Indian Community Recreational Services and sponsored by SRPMIC Senior Services and Comfort Suites Scottsdale.
Between participants and spectators, there were 402 total people in attendance.
Five teams from Salt River played in the tournament: SR Elite, Serv-Ivers, SR S'gevk, Thunder N Lightning and SR Steppers.
According to Vanessa Lechuga, recreation coordinator II at SRPMIC Recreational Services, SR Elite and Serv-Ivers met each other early in the tournament, with Serv-ivers eliminating SR Elite. Serv-ivers went on to play two more games before being eliminated by Morongo Go Getters Blue.
SR S'gevk played three games before being eliminated from the tournament.
Thunder N Lightning played four games before being eliminated by Once Wild, a team from the Quechan Tribe.
The Salt River Steppers played four games before losing to the Pala Turtle I team. They continued in the losers bracket for two more games before losing to "Unknown," a team from the Tohono O'odham Nation, to be eliminated from the tournament.
Pala Chair Volleyball, from the Pala Band of Mission Indians, won the tournament, and the runners-up were the team "Unknown."
"We loved seeing all the seniors being active and taking part in this fun and competitive sport," said Lechuga.
"We have watched many of these athletes over the years continue to stay active. It's been amazing and inspiring that there is no limit to what we can do as we age. If you haven't seen the game of chair volleyball, we welcome you to come out to watch or participate. It involves a lot of laughing, which is great for the soul."