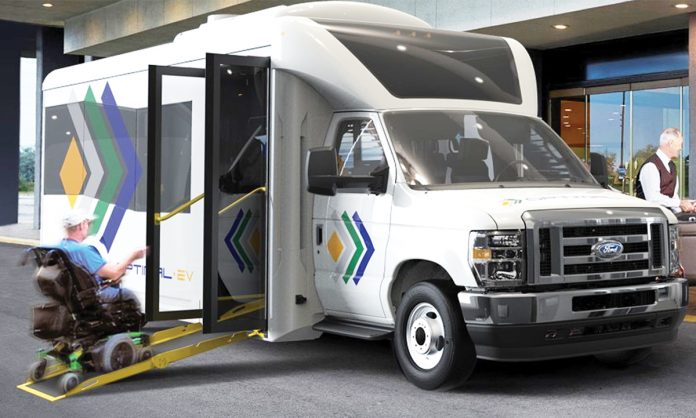 The Salt River Pima-Maricopa Indian Community Department of Transportation was among 49 entities in 46 states to receive grant funding from the federal Low or No Emission Program. The SRPMIC DOT will receive $611,840 out of the overall $182 million in funding awarded.
"The grant was submitted in April of this year," said Transit Manager Sal La Puma. "This grant was open to everyone; this was competitive, with every transit agency in the entire country trying to get funding for their communities. We were the only tribal transit agency that received the grant; in the last six years, we're only the second tribal agency that has received a grant."
The grant is from the U.S. Department of Transportation's Federal Transit Administration. The SRPMIC will be utilizing the funds to replace diesel-powered transit vehicles that have reached the end of their useful life with battery-powered electric vehicles. Switching to electric will help reduce carbon monoxide pollution and improve air quality.
"We will be getting two Ford electric buses. They will be low-floor buses that are wheelchair accessible without having a wheelchair lift. Each bus will have an automatic ramp that deploys, and riders can wheel their wheelchair right up to the bus," said La Puma. "Each bus will hold up to 12 passengers, including three wheelchairs."
The SRPMIC Department of Transportation hopes to use one of the buses for a new route that will take passengers to and from both the Phoenix Indian Medical Center and the new River People Health Center.
The other portion of the funding will be utilized for a new electric vehicle charging station and the infrastructure of that station.
"The infrastructure part of the project is getting ready for the charging station by clearing an area in our parking lot and building a foundation for the station," said La Puma.
The DOT hopes to have the new electric buses in service by early 2022, with a public unveiling event for Community members to see the vehicles and go for a ride before they are put into service. La Puma explained that an art contest is planned in the near future to design the outer wraps on the new vehicles.
La Puma said the new vehicles will benefit the Community and the Valley as a whole. "I think [they will offer] a better quality of life in the form of reducing our carbon emissions, something that Council has been interested in doing for quite a while, and being more environmentally friendly. We received a letter of support from Maricopa County because [these buses] will help with lower emissions and the air quality. It also helps open up the usage of electric vehicles in the Community."