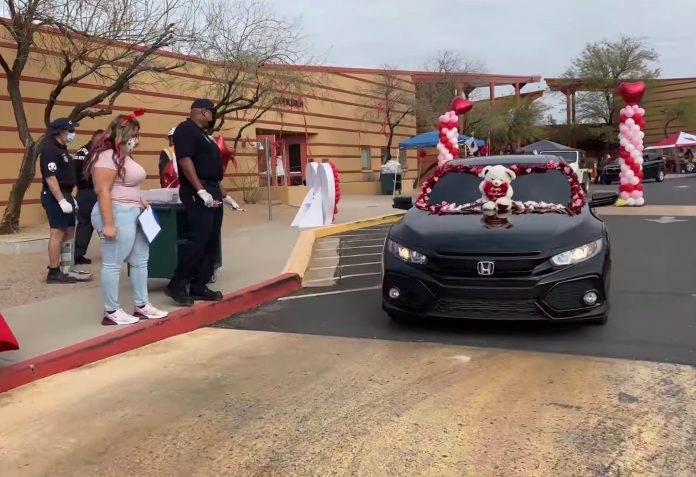 Salt River Schools hosted a "We Care About You" drive-up meal distribution celebration at the Salt River Pima-Maricopa Indian Community Early Childhood Education Center (ECEC) on Friday, February 12, with the help of many partners from in and around the Community. Community members lined up down Center Street an hour before the event opened, waiting in anticipation of the special treats provided.
Taté Walker, Salt River Schools' communications and PR director, said that the event was a huge hit. "It went better than any of us imagined," Walker said. "Meal distribution normally closes down at 11:30 a.m., but we were serving cars until 1:30 p.m."
The Salt River Fire Department helped to distribute heart-shaped, family-sized pizzas from Peter Piper Pizza and donated by Salt River Elementary School for the first 270 vehicles. SRPMIC Food Services provided more than 1,000 meals (breakfast and lunch) to youth, and Cold Stone Creamery donated ice cream. Miss Salt River Isabella Dockerty also quenched the thirst of visitors by handing out water bottles.
With a focus on safety for the event, Monte Yazzie with the SRPMIC Health and Human Services Injury Prevention Program gave away and installed dozens of car seats to Community families, and seat belt safety coloring sheets were created and distributed by the Salt River Police Department. Big Red, the Arizona Cardinals mascot, donated face masks and hand sanitizer.
Books for youth of all ages were provided by Native Youth Community Projects (NYCP) Literacy for All, a grant-funded program by the U.S. Department of Education, and books created by Community members and Salt River Schools staff were distributed as well.