On Wednesday, April 27, a groundbreaking ceremony was held for the new three-story, 80,000-square-foot Banner Health sports medicine center. The one-stop destination for sports medicine services and specialists will be located along Loop 101 northwest of TopGolf in the Pima Corridor.
The $54 million full-service facility will be available to everyone from seasoned sports professionals to up-and-coming youth athletes. Services will include orthopedic surgery, imaging, physical therapy, primary care sports medicine, concussion treatment, strength and conditioning, sports nutrition and more. Banner Health already works with Arizona's professional sports teams, including the Phoenix Suns, Arizona Diamondbacks, Phoenix Mercury, Phoenix Coyotes and Tucson Roadrunners, as well as University of Arizona sports and teams from 33 Arizona high schools.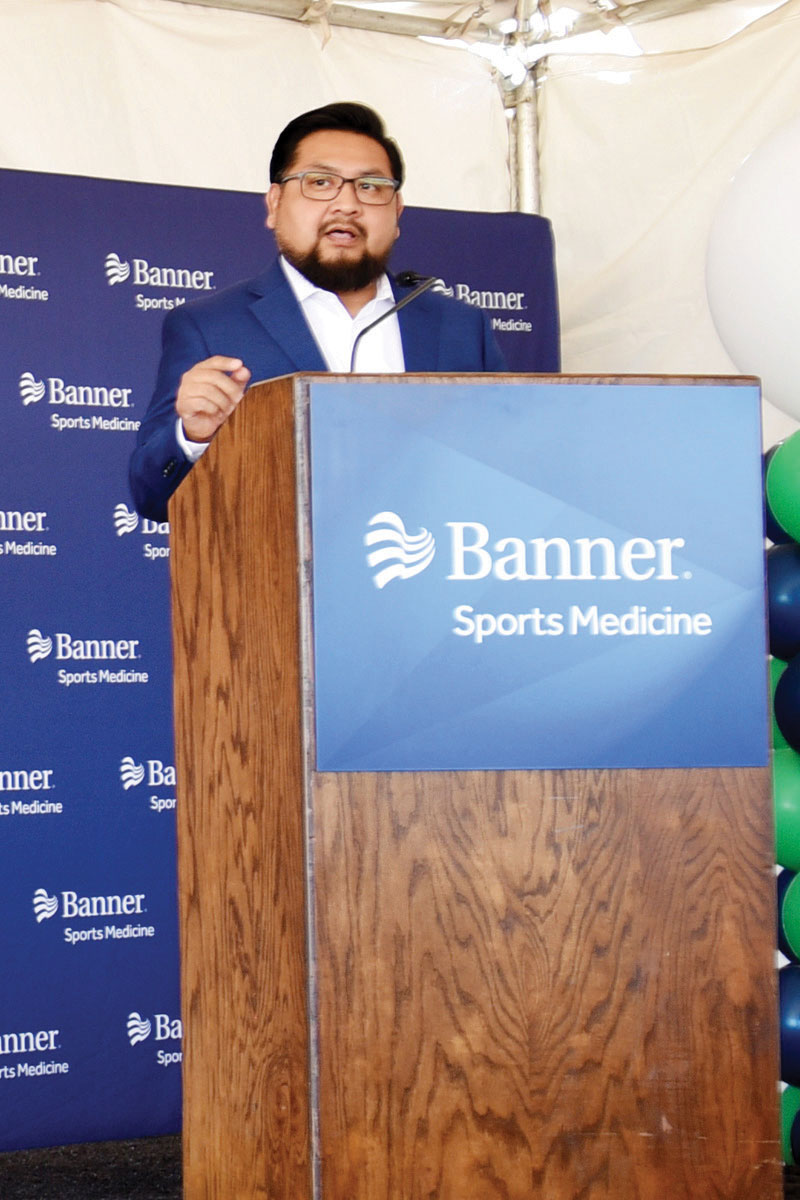 "This sports medicine center … is expanding our presence in the Northeast Valley. The center will give us the ability to reach a diverse population of people who participate in sports, not only in Arizona but across the country. There is also a significant philanthropic component that is connected with this project that will ensure young people across the state can fulfill their athletic aspirations," said Quentin P. Smith Jr., chairman of the Banner Health Board of Directors. "This project is an important collaboration of partners dedicated to helping individuals reach their fullest athletic potential by having access to state-of-the-art facilities. [It] is particularly special to us because it is being built on the sacred land that is home to the Salt River Pima-Maricopa Indian Community. The building design will specifically reflect the tribe's rich culture. We are particularly grateful to the SRPMIC for giving us the opportunity to use this land in such a meaningful way."
The state-of-the-art facility is coupled with physician education and research with the University of Arizona to train residents, fellows and medical students, explained Evan Lederman, M.D., chief of sports medicine with Banner Health.
"One of the unique features will be the biomechanics lab, where motion-capture technology will allow us to do real-time analysis of athletic performance," said Lederman. "This includes baseball with pitching and batting, and we will have a golf simulator that is unlike anything you have seen in a golf shop. We will also have the ability to do motion analysis on court sports, such as basketball and volleyball, and running sports on a state-of-the-art biomechanics treadmill. Not only will this technology give our sports professionals valuable information to help [them] enhance their performance or return from injury, it will also help us conduct novel research to help our athletes in the future."
SRPMIC Assistant Community Manager Doran Dalton welcomed the guests to the Community at the groundbreaking. He explained that over the past several years the business corridor has flourished with construction of new hospitality and healthcare operations. 
"The extensive services that this facility will provide will make a great contribution in the sports and wellness industries and strengthen the diversity of offerings available here in the Community," said Dalton. "I would like to thank each and every one of you for coming out to celebrate our growth as a Community, and more importantly to show Banner sports medicine teams the support that they have from all of us as they begin their journey here. To each of you who has lent your time and services to this project so far, congratulations and thank you. We wish you all continued success."