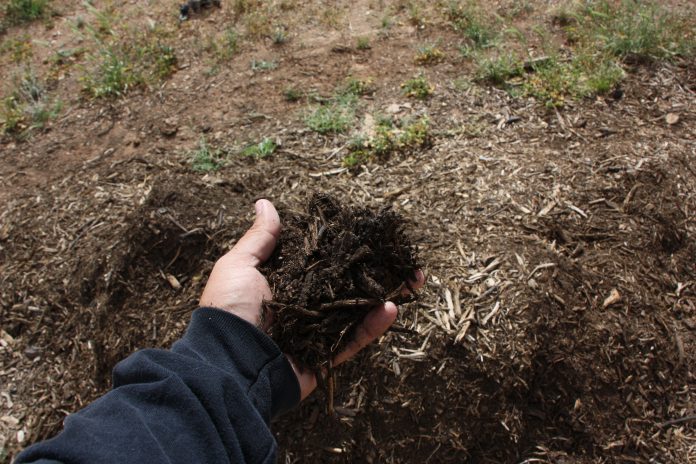 Now that we have entered the spring months in the low desert, many different seeds can be planted, such as beans, cowpeas, melons, squash and gourds. To help your plants thrive, one way to add nutrients to your soil and improve soil texture for better water-holding capacity is to use compost.
What is compost? According to the Environmental Protection Agency, "Compost is organic material that can be added to soil to help plants grow. Food scraps and yard waste together currently make up more than 30% of what we throw away, and it could be composted instead. Making compost keeps these materials out of landfills."
According to the Salt River Pima-Maricopa Indian Community's garden coordinator, Jacob Butler, composting can begin right in your own kitchen with a dedicated compost trash can with a lid. Instead of throwing things like potato peelings into the regular garbage, throw them into your compost trash can instead. Then empty the compost trash can out back into your compost pile. Butler suggests setting aside an area outside, away from the house, for your compost pile. Some cities provide old trash bins to compost in, so check with your local waste-management representatives.
Organic matter like vegetable clippings, bread and eggshells can be used; even paper, sawdust and lawn clippings (break these down into small pieces for better decomposition) are suitable for composting. Thorns on plants will not break down, so be cautious, and it is advised to stay away from composting dairy and meats, as they encourage pests and can harbor pathogens that could harm the gardener. Other things to stay away from would be pine needles, tamarisk foliage, citrus fruit and palo verde leaves. Bermuda grass is very hard to manage in a garden or compost pile and will take over a garden, so steer clear of using that.
Composting soil should be turned every few days with a garden fork to speed up the process of creating compost and help keep the pile from becoming anaerobic, which is the absence of oxygen. "Air circulation is needed to keep the compost healthy and aerobic," said Butler. "A soil that is anaerobic creates unwanted conditions in a good compost and stinks really badly."
Water is needed to break the material down and quicken the composting process. It will get hot in the pile, and the heat helps to break down the compost nicely. Butler said to find a middle ground between not letting the compost pile dry out or keeping it soaking wet, as it is important to have an equal mix of dry and wet material in the compost.
Wet material could be kitchen waste, leaves, grass (except Bermuda grass) or garden waste. Dried cuttings, shredded paper, wood shavings and sawdust work for the dry portion of composting.
Butler says that composting is a good practice to build better soil for planting. It can be as easy or as complicated as you want; some people work on composting in-depth and are very active with it, while others are more passive and don't make it very labor intensive. If there is no rush, a bit of fencing tied together to form a bin would be a good place to throw leaves and kitchen waste throughout the year. After a year, the bottom of the pile can be taken and used as compost to enhance soil.
"Have fun, don't be afraid to mess up—it's compost. [These materials] would have gone in the trash anyway if you didn't give it a shot," said Butler. "Even if you don't garden, compost can be added to tree wells and raked into the grass to build a better soil."
For resources about composting, visit the University of Arizona Cooperative Extension online at https://extension.arizona.edu/composting-resources.