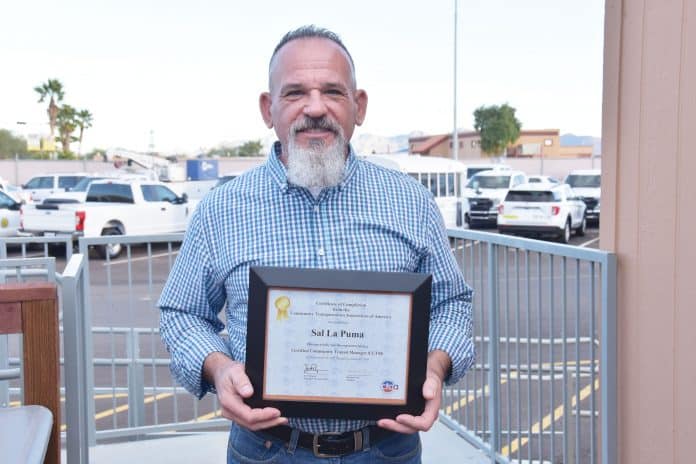 Sal LaPuma III, transit manager for the Salt River Pima-Maricopa Indian Community's Department of Transportation, has completed his Community Transportation Association of America (CTAA) certification exam, which makes him a Certified Community Transit Manager (CCTM).
The CTAA recognizes the importance of basic transportation so people can access work, education, healthcare and social opportunities that build a healthier community. It certifies its members in areas such as professional dispatching and scheduling, safety and security, passenger sensitivity, transit administration, and vehicle maintenance and management.
"It makes me feel good that I've achieved that recognition," said LaPuma. "I think it helps the Community when we're dealing with other agencies, whether it's the Arizona Department of Transportation or the Federal Transit Administration, [because] we're not a little fish in the pond. We're able to attain grants based on solid facts and information that I'm able to provide."
The SRPMIC Department of Transportation is currently in the process of implementing a new scheduling software that LaPuma said will be user-friendly. The software, which should come online in a couple of months, comes with a new app for the Community and will introduce a new fixed route.