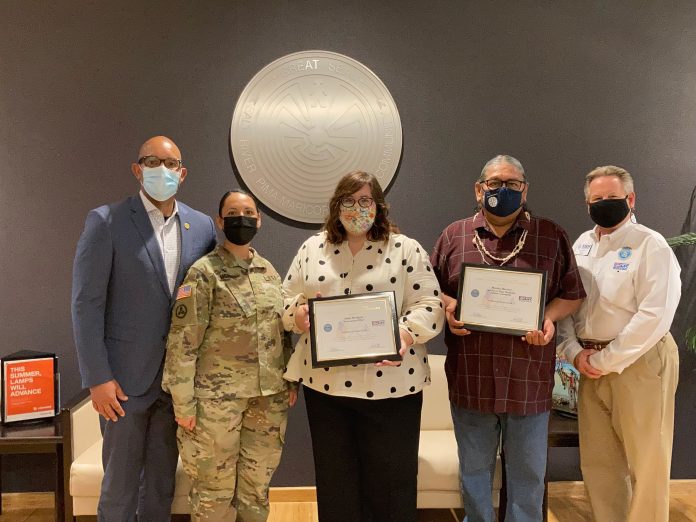 The National Guard presented the Salt River Pima-Maricopa Indian Community Office of the Prosecutor and the Community government with the Patriot Award from the Employer Support of the Guard and Reserve (ESGR) program.
SRPMIC Chief Prosecutor Alane Breland and President Martin Harvier (via Vice-President Ricardo Leonard) were presented with the award after criminal investigator Benny Morel, a retired sergeant with the Salt River Police Department and retired U.S. Army veteran, and his wife Jessica nominated them for offering flexibility to Morel while he worked remotely.
Jessica Morel is a second lieutenant and active member of the U.S. Army National Guard, where she is a chaplain candidate for the U.S. Army Chaplain Corps. Earlier this year, she attended the three month-long Chaplain Basic Officer Leader Course in South Carolina.
The flexibility offered by the prosecutor's office allowed Benny Morel to have a better work/life balance with their four children while Jessica was away.
"The Salt River Pima-Maricopa Indian Community has always been supportive of our veterans and our military community," said Jessica Morel. "This has always been something that Benny and I have deeply appreciated."
Accepting the award, Breland said that they are profoundly grateful to those who answer their country's call to serve.
"Our office is very proud to support our employees in every way we can. It is the Community's generosity and emphasis on family that allows us to show flexibility and compassion when employees face different challenges," said Breland.
"Benny is an integral member of our team, and we are proud that he, Jessica and their children are members of our extended office family."
The award is something special to Breland on a personal level, as her great-uncle Wilbern Manley was held as a prisoner of war by Germany during World War II.
"My grandfather served in the U.S. Marine Corps in the Pacific Theatre of Operations, and my father served in the U.S. Navy. My maternal great-uncles served in the Army, the Marines and the Coast Guard," said Breland.
"I was raised to treat our service members with reverence, respect and admiration, so to receive an award from members of our military means more than I have words to say."