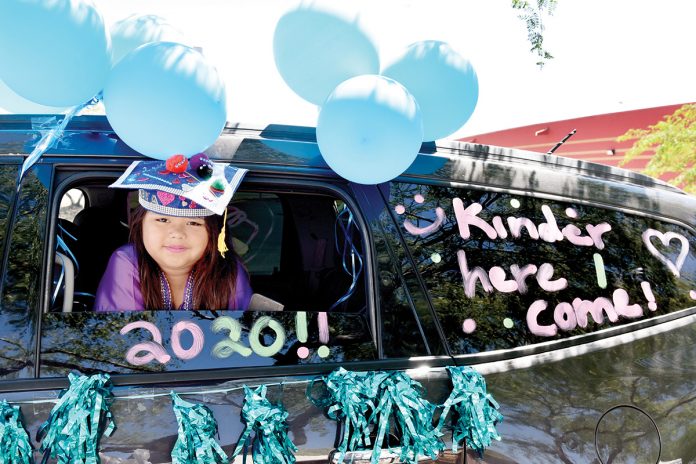 During the week of May 18-22, the Salt River Schools Food Distribution recognized all students who will be advancing to the next school grade in the fall. Each day, students of a certain grade were asked to come out and celebrate by decorating their vehicles, making signs and making noise to help honor their achievements. Students were given coupons for free treats, such as a Frosty from Wendy's, sliders from White Castle, an ice cream cone from McDonalds and more.
The family of Early Childhood Education Center student Saleya Lewis arrived to the Salt River Schools Food Distribution Monday morning ready to celebrate Lewis's milestone, as she is being promoted from pre-kindergarten to kindergarten next year. She arrived in a car decorated in balloons and with paint covering the windows congratulating her on her achievement. Lewis was one of many students who came throughout the week with a fully decorated vehicle to celebrate their education milestone.
Each day students were given coupons for a free meal or snack from the following locations:
• Monday, May 18—Pre-Kindergarteners (Rising Kindergarteners, free Frosty from Wendy's)
• Tuesday, May 19 – Kindergarteners (Rising First Graders, free root beer float from Arby's)
• Wednesday, May 20—Sixth-Graders (Rising Middle Schoolers, free meal from Chili's)
• Thursday, May 21—Eighth-Graders (Rising High Schoolers, free sliders from White Castle)
• Friday, May 22—Seniors (Class of 2020, free meal from Texas Roadhouse and a free ice cream cone from McDonalds)
All the free meal and snack coupons were donated from store locations in the Talking Stick Entertainment District. Departments and other local businesses also donated items such as books, sunglasses, crayons, bags and much more to award students for all their hard work this school year. The Salt River Community Recreational Services staff were on hand to volunteer throughout the week and hosted a raffle for the students and their families. Raffle prizes included swimming pools, outdoor chairs, squirt guns and other outdoor toys.
The SRS Food Distribution is held from 10:30 a.m. to 12:30 p.m.; breakfast and lunch are distributed to all students. For more information, visit Salt River Schools on Facebook at www.facebook.com/saltriverschools/ or on Instagram @SaltRiverSchools.