Depending on where you are from the Salt River Pima-Maricopa Indian Community down south to the Tohono O'odham Nation, you might see side blooms coming from the saguaros (Ha:sañ in O'odham) more often than usual these days.
Typically, saguaro cacti blooms appear only at the tips of the arms. Side blooms are when blooms start appearing farther down the arms, rather than just at the tips. This year experts are seeing an unprecedented amount of side bloom among the saguaro population, and they believe it's a sign of distress due to successive seasons of weak monsoons and drought.
According to Sterling Johnson, farm manager and mentor for the Ajo Center for Sustainable Agriculture, climate change is the main reason for the phenomenon. He says it's not something new, and he has often seen side blooms coming after a weak rainy season or during periods of drought, but he said that the saguaros are adapting to the climate.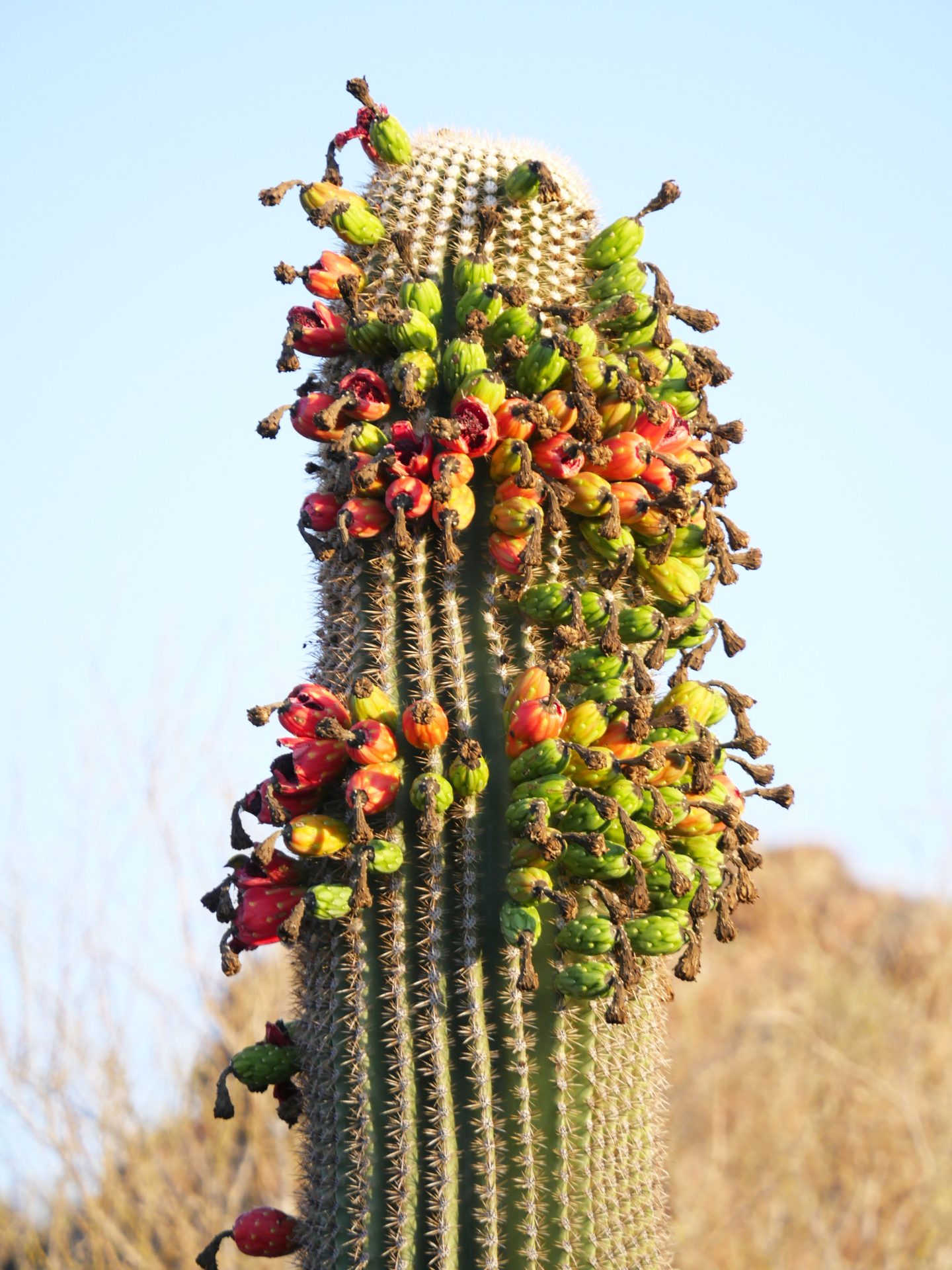 "The O'odham are farmers and growers, and they really knew what to look out for. O'odham people [traditionally] knew that there were going to be times when there is no rain. For me, growing traditional food in a traditional way and being able to go the modern way using drip irrigation and timers, I can adapt to the new things. But back then, we couldn't [do that]," said Johnson. "It was just basically what nature gave you. There were times when there weren't going to be any monsoons, or the monsoons were not as strong as usual. The plants have to adjust."
Johnson said to think of the world as a pot of boiling water. Without stirring it, the pot could be hot in some places and cold in other places. Without stirring the pot, the heat will not even out. With everything that comes with the land being out of balance, Johnson says it contributes to the changes we're seeing.
"Urban sprawl is happening, especially in Phoenix, Casa Grande and Maricopa. I remember when Maricopa had this one stoplight in the town. And now you create those [developed] environments, you change the climate, and it's happening so fast," said Johnson.
"Back then, the rivers flowed, people had access to water, things were spread out among the people and we were able to farm and grow food. Once settlers built on the land, they started taking away those resources, the things that make the desert work. The plants and animals make the desert work, and when you start eliminating the land and the food that supply the animals, the animals are going to go wherever they can find a food source. They're just like us."