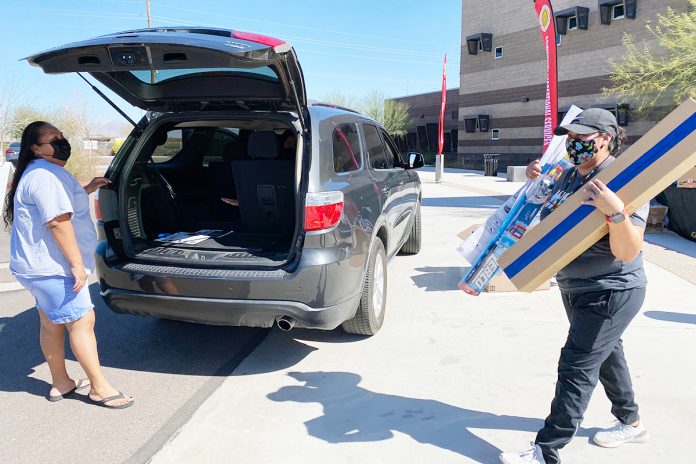 By Marissa Johnson
O'odham Action News
Spring break is a time when students of all ages get a weeklong break from school to enjoy and recharge themselves. This year, spring break was especially important, as it served as a time for students to celebrate all their hard work. Because the COVID-19 guidelines from the Centers for Disease Control and Prevention restrict large gatherings for everyone's safety, spring break events on the Salt River Pima-Maricopa Indian Community took place virtually and socially distanced from March 8 to 12.
The events included activities online, socially distanced activities, and to-go items the kids could take home with them.
Community Relations Office Events Manager Yvonne Schaaf shared how they managed to create a virtual spring break for the kids.
"Most of the events for Spring Break 2021 were contactless, drive-up activities," Schaaf said. "We did have a few virtual online challenges, [such as] the Zoom Puzzle Challenge and the Smart Phone Tips for Better Photos Teen Photo Challenge. Otherwise, we were out in the Community in person with other departments. It was never a question to not celebrate the week, it was more 'how' to celebrate. Joining with the other departments that work with our youth—SRPMIC Recreational Services, the Young River People's Council and Youth Services—was the best idea."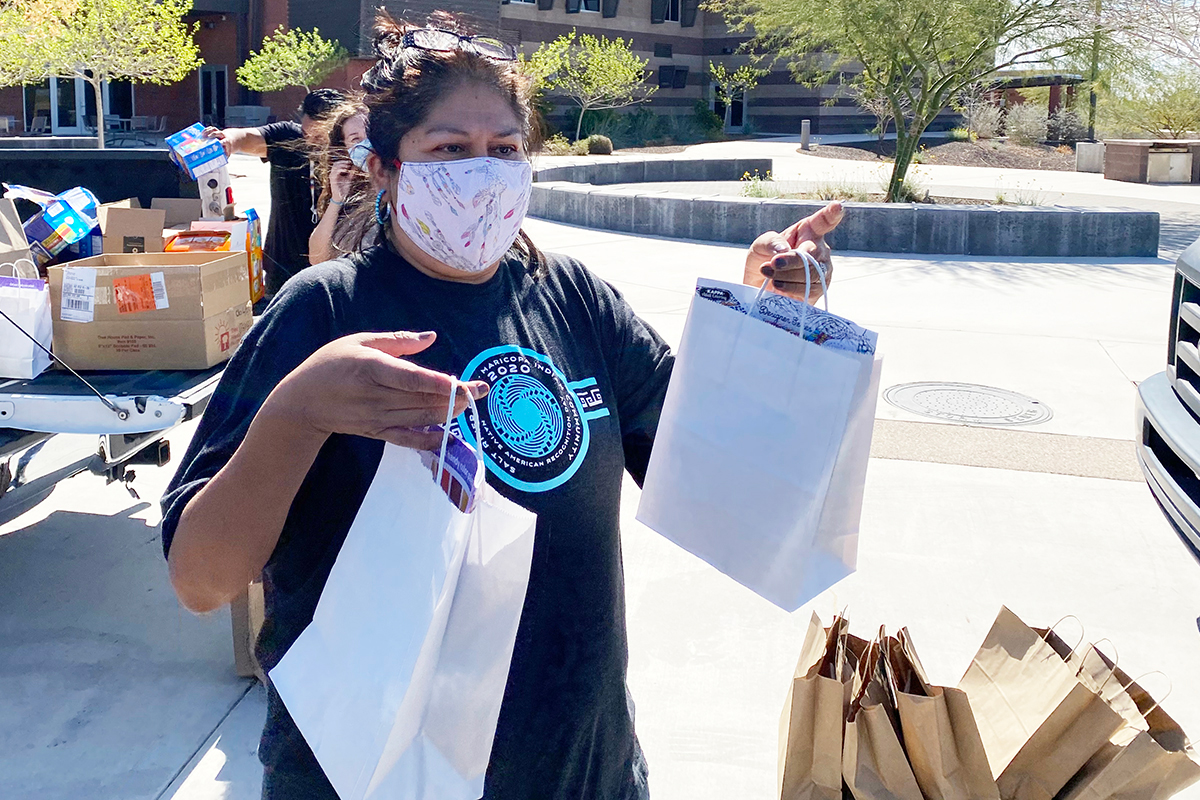 Recreational Services hosted the Spring Break Kickoff event, and Youth Services put on the Curbside Family Pizza Party. The CRO handed out more than 600 items to Community youths.
"We [gave out] coloring bundles that included coloring books, crayons and scratch pads for the elementary school kids, and we gave out color journals and colored pencils for the junior high and high school kids. Lastly, [we distributed] game bundles that included age-appropriate games for everyone, like Chutes and Ladders, Pay Day, Boggle and Uno."
Thinking about implementing activities virtually can be difficult. There is a lot to consider. Schaaf explained how her team and the other departments managed to set it all up.
"A first for us was the Puzzle Challenge via Zoom," Schaaf said. "We had online registration and relied on the parents (for the elementary school group) and teens to have themselves ready to go on game day. It was fun, but we had to be prepared with a screen timer and [make sure] the angle views of the participants' cameras were good. It was much more 'techy' for us, but we loved the challenge!
"I would say all the drive-up events were huge hits. [I'd like to give a] shout-out to Community Recreational Services (for the Spring Break Kickoff) and Youth Services (for the Curbside Family Pizza Party) for all the work they put into those special days for the kids."
Spring break had a good turnout—more than 800 youth participated in the activities, Schaaf said. Making an event a fun and safe experience for everybody shows that people are still excited as ever to celebrate an event together while keeping everyone safe.