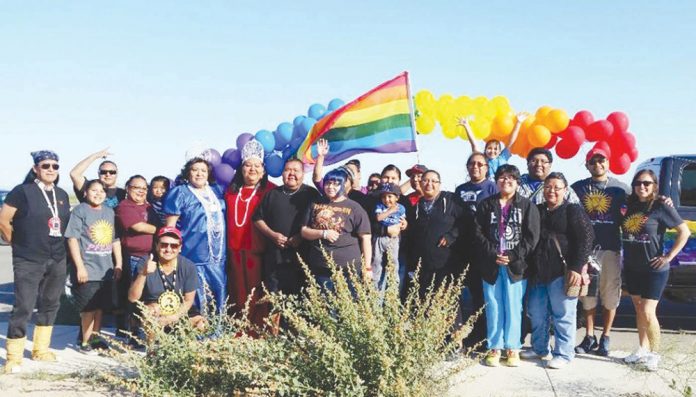 During June, the Lesbian, Gay, Bisexual, Transgender and Queer (LGBTQ+) community celebrated Pride Month. The original event, Gay Pride Day, once held on the last Sunday of June, has now turned into a month-long celebration. Festivities include Pride parades, parties, concerts, educational workshops and more.
Pride Month honors the Stonewall uprising in Manhattan in 1969, which was the tipping point for the Gay Liberation Movement in the U.S.
The Salt River Love Group commemorated the 2020 LGBTQ+ Pride Month by posting three flags along the fence of the Salt River Pima-Maricopa Indian Community Building. The flags represent gay pride, transgender groups, and bisexual groups. Salt River Love Group founder Daniel Wood wanted to help educate the Salt River Community about the LGBTQ+ community.
"Pride Month is a time to educate, let people know who we are and [invite them] to ask us questions," said Wood. "Each year we place the pride and transgender flags; this year we added the bisexual flag. Each year the Pride flag is torn down. I asked my brother, 'Why do people always tear that flag down and not the others?' He responded, 'Because they know what that flag means and they don't know what the other two flags mean.' That goes back to education and teaching people about the different terminologies."
Wood explained that if people were more open to being educated about the LGBTQ+ community, then they would be more understanding toward those they may know who are gay or lesbian as they come out.
"A lot of people don't like us because of fear and religious reasons; it's really due to a lack of LGBTQ+ education," said Wood. "We (LGBTQ+) have always been a part of the Community, but we didn't stand out like we do now because people fight against us. A long time ago we lived as part of the Community and we had jobs. And we still have those jobs, being caregivers of the orphans, the elderly; we were matchmakers and healers."
Wood and the Salt River Love Group also try to educate the LGBTQ+ community and their families by holding monthly meetings, but due to the COVID-19 pandemic, the meetings have been put on hold until things get back to normal. During their meetings they discuss topics such as transgender hormone therapy, HIV/AIDS, domestic violence, same-sex marriage, suicide and more.
"We have a lot of presentations, movies and talks on these subjects at our monthly meetings. Because the LGBTQ youth have the highest rate of suicide, we just want to let the youth of the Community know that we are here to talk, support and educate if they have any questions on these topics," said Wood. "We face issues such as domestic violence, but if it's [a] same-sex [couple] that has a dispute, it's amplified. A lot of times the police don't follow up with the issue because [the victims] are the same sex. They [don't investigate to] determine [who is the] victim or [the] offender; they just leave it because [the couple] are the same sex."
Salt River Love Group also hold a number of events, such as swap meets, a Valentine's dance, a "Better Late Than Never Dance" and the Transgender Forum. Each of these events helps educate and bring people together. The most successful event is the Valentine's Day dance. Many people, young and old, come out and take part in a night of dancing and learning about the group.
The other big event that helps people learn about the LGBTQ+ community and how the times have changed for people of all ages is the Transgender Forum.
"We had four transgender girls of different ages tell the stories of how they grew up, how society changed around them, and how it was easier or harder for them," said Wood. "The oldest one was in her 50s, and she talked about how difficult it was growing up transgender in the 1980s. It was hard because everyone thought that because she was gay, she automatically had HIV/AIDS. She had to travel to Mexico to get hormones, and she couldn't get a job, which led her into prostitution, drugs and alcohol. The youngest transgender speaker, who was 25 years old, has a job with rights and insurance that pays for her hormones. The forum showed how the girls grew up in those different time periods and how their families accepted them or not."
On Monday, June 15, the U.S. Supreme Court ruled that workers cannot be fired for being gay or transgender. Although half the country's workers are protected by local laws prohibiting discrimination based on sexual orientation or gender identity, there had been no federal law that clearly secured LGBTQ+ workers' rights and prevented them from being fired on that basis.
Another topic that the Love Group has discussed is same-sex marriage and how different generations view it. Wood, who is in his 50s, never thought about marriage because in the time when he grew up, it was viewed as a bad thing. Compare that to a group member in their 20s, who today looks forward to marriage. These rulings in favor of LGBTQ+ rights open many doors, but overall LGBTQ+ people are just looking for acceptance and equality.
"When the Community can accept them, it's going to be a good thing for these kids and prevent them from becoming suicidal, having self-hate, using alcohol and drugs to medicate, turning to promiscuous sex to try to drown their feelings and experimenting with different things," said Wood. "Our main goal is to let people know we're the same as everyone else."
Wood continues to educate those interested by posting information on the Salt River Love Group's Facebook page. He hopes to resume the monthly meetings in September. If you would like to know more about the Salt River Love Group, email saltriverlove@gmail.com or visit their Facebook page at www.facebook.com/Salt-River-Love-781385121982516/.