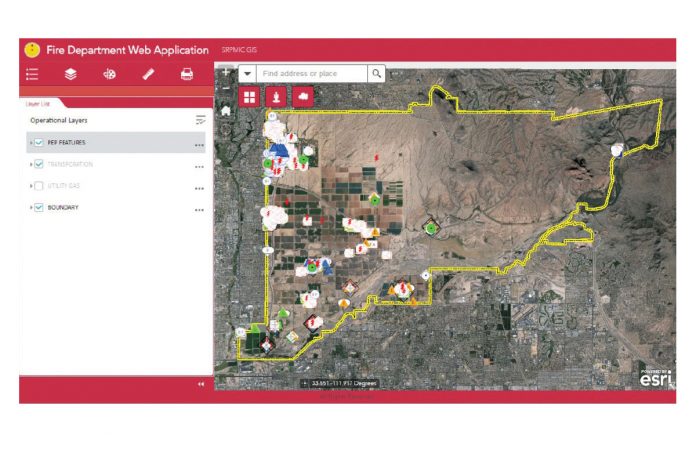 In March, the Salt River Pima-Maricopa Indian Community's Geographic Information Systems (GIS) Team gave a presentation at the Council District C meeting to inform Community members about an interactive website and mobile app they have been working on and to share information about their past and future projects.
What is GIS, you ask? Engineering and Construction Services Division Manager Rueben Malin explains that GIS is a mapping tool to collect, manage and analyze data to visualize spatial patterns. Recently, the GIS team worked on the question of where is the best location to build the next SRPMIC fire station to maximize coverage and uphold the standard of a four-minute (or less) drive time for an emergency.
"We answer the questions of where and how; for example, finding the best location for the next fire station based on specific criteria, such as where the Community has land and what type of structures are in that area," said Malin. "We maintained a structure layer (map or dataset) of all types of government, commercial, residential and storage [structure sites], but in this project we just looked at residential, commercial and government. We did an analysis, trying to get the best location for a future station."
Through interdepartmental data sharing, the GIS Team can complete analysis and answer specific questions important for Community planning and activities—for example, how many enrolled residents over age 18 are impacted by the closure of the Beeline Highway due to the Ironman triathlon race.
"This information helps us figure out who will be affected by the Ironman and its road blockages," said Malin. "By pinpointing the locations of homes and residents affected, the Community can help accommodate these residents during these closures."
Introducing Azimuth
Through its interactive website and mobile app, called Azimuth, the GIS Team has created a one-stop shop for tribal employees to get assistance in matters such as finding new locations for police and fire substations, viewing parcels of allotted and tribal lands, easements and proposed easements, street names and more. All this data and information helps improve communication between SRPMIC departments and divisions.
"The access to the [web]site is behind the SRPMIC firewall, so only government employees have access to it, and permissions are based on job duties," said Malin. "We have multiple levels of security. We want to emphasize that [the website] contains information approved by the data owner and shared [with] tribal employees based on their job function, and it does not contain personal information. Protecting members' personal information is a high priority to the GIS Team and the tribal government. The GIS Team promotes and maintains security measures per Tribal Policy 1-8a, Confidentiality. We're following this policy to protect the data to make sure we are sharing [information appropriately]."
Malin provided a quick demo of Azimuth. As he opened up the site, there was a disclaimer that the employee has to agree to in order to continue to use the information on the site. Then they can enter the SRPMIC General Purpose Mapping Application site. The site also includes aerial photos of the Community that go back to the 1930s, showing the growth of the Community over the years.
Notable Projects
The GIS Team has used GIS data to improve Community addressing, such as clearing up issues of two homes using the same address and the public safety problem that causes for the police and fire departments. They also work with Google on updating Native language street names and providing 911 dispatch with specific data so they can more easily locate residents. They have provided assistance to Public Works with setting up its asset management software, called Lucity, a program to keep track of capital assets like road equipment, manage work orders and schedule preventive maintenance. These are just a few projects that the GIS Team has worked on as they continue to provide information services to help the SRPMIC government work more efficiently and better serve the Community.
If you would like to know more about the GIS Team, call Engineering and Construction Services at (480) 362-7900 or email gis@srpmic-nsn.gov.