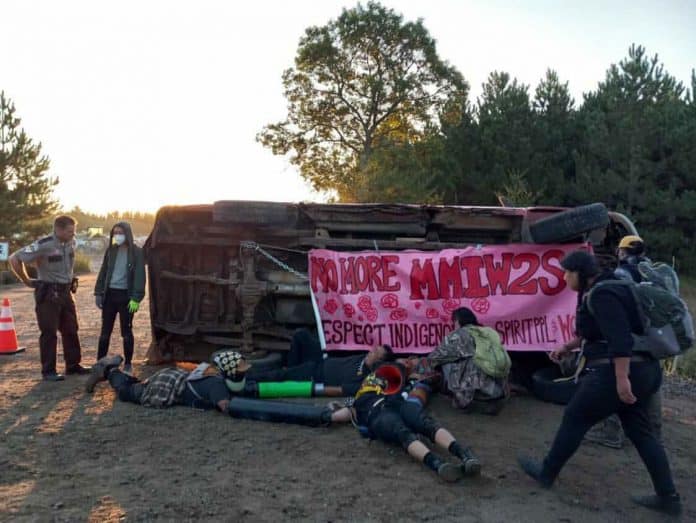 The fight against the Line 3 oil pipeline has brought people from around the country to Minnesota to stand up for the rights and way of life of the Anishinaabe peoples.
Line 3 is a pipeline owned by Enbridge, headquartered in Alberta, Canada, that is being built from Canada's tar sands area in Hardisty, Alberta, to Superior, Wisconsin, near the western tip of Lake Superior. On November 30, 2020, the Minnesota Pollution Control Agency issued the final construction stormwater permit for the pipeline project, which will move 760,000 barrels and nearly 32 million gallons of oil per day through tribal communities in Minnesota on the way to Wisconsin.
Enbridge wants to replace the old Line 3 pipeline, which has been laid down and operating since 1968, and build a new Line 3 pipeline in a new corridor; however, activists are saying that the replacement is more of an abandonment of the old pipeline.
The original Line 3 pipeline was responsible for the largest inland oil spill in U.S. history when, in 1991, 1.7 million gallons of oil spewed from the pipeline in Grand Rapids, Minnesota.
The majority of the opposition to the Line 3 project comes from concerns that the pipeline will contribute significant greenhouse gases to the environment and that the diluted tar sands could pollute the water and land due to more than 900 structural anomalies in the pipeline. Local tribal communities are concerned because this new pipeline corridor would go through lakes, wild rice watersheds and treaty territories.
In August, the White Earth Band of Ojibwe sued the Minnesota Department of Natural Resources in tribal court for "unilaterally taking 5 billion gallons of water and giving it to Enbridge Line 3" to use to flush the pipes for the installation of the new pipeline.
"They [Enbridge] still need water to do a lot of what they're doing. We know they're complicit in a conspiracy to deprive us of the water, to deprive us of our resources, to deprive us of our rights. And for those reasons, we've filed against them in tribal court and we'll probably have to ultimately seek enforcement in federal court. We will be pursuing justice and we will be stopping this pipeline," said Frank Bibeau, tribal attorney and member of the White Earth Band of Ojibwe, at a press conference on September 6.
Manoomin (or wild rice) grows on water and is not only a staple crop of the Anishinaabe, Ojibwe and Chippewa peoples, it is central to Ojibwe cultural identity, physical well-being and spiritual traditions.
The O'odham and other Indigenous peoples along the borderlands have experienced similar issues, with the threatening of endangered and culturally significant flora, fauna, water, land and way of life from construction of the U.S.-Mexico border wall.
At least two O'odham water protectors and land defenders have been arrested in this campaign to stop the Enbridge Line 3 from being built. More than 700 people have been arrested or received citations.
One O'odham water protector who goes by the name "Ju:ñ" (O'odham word for the dried saguaro fruit that falls to the ground) was one of those water protectors who were arrested. "It's a combination of solidarity and following the call to come where help is needed," said Ju:ñ about the reason for traveling to Minnesota in support.
"It's good to see O'odham make our way out here to build solidarity and be a part of the networks of solidarity that have been established doing work in our own communities back home. Right now, I think it's just a matter of waiting to see those cases go to trial and to see how the U.S. and the state of Minnesota want to try to charge people for fighting for the livelihood of the peoples affected. Leaving O'odham Jewed, you feel out of place, but you realize all of this is the Jewed, all of this is worth fighting for and protecting, and it translates very well to understand as an O'odham person why these matters are important."
On August 25, water protectors in Swatara, Minnesota, blocked a Line 3 pump station with an aerial blockade structure that was originally deployed in the United Kingdom.
Police officers responding to nonviolent resistance to the Line 3 pipeline are funded by Enbridge as a part of a deal with the Minnesota Public Utilities Commission in an exchange for a promise that taxpayers won't have to pay for policing the resistance.
As of April, Enbridge has paid out about $750,000 in wages, police equipment, training and crowd control.
On September 30, Enbridge announced that Line 3 will begin pumping crude oil on October 1 with the goal of reaching full capacity of 760,000 barrels per day.