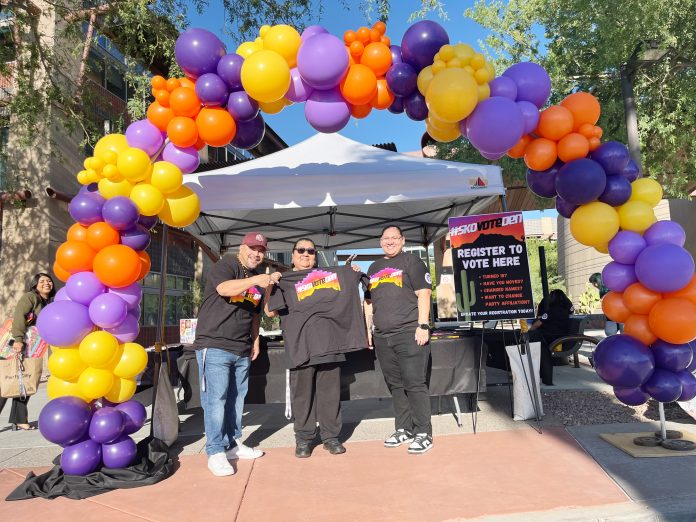 By Nalani Lopez
OAN Intern

On September 17, National Voter Registration Day was celebrated across the nation. On this day every year, community organizations educate and encourage eligible voters to participate in democracy.
The Office of Congressional and Legislative Affairs (OCLA) worked to reach eligible voters within the Salt River Pima-Maricopa Indian Community. The department hosted several voter registration booths in convenient locations across the Community, including the Salt River Court, the Council Chambers, the Round House Café, the Way of Life Facility and the Accelerated Learning Academy.
Community members could register to vote at these booths or update their registration if they had recently moved, changed their name or changed party affiliation.
To register, eligible Community members needed state-issued identification such as a driver's license or a tribal ID. Additionally, OCLA coordinators and volunteers were on-site to answer questions about the process and requirements.
According to OCLA Intergovernmental Relations Project Manager Angela Willeford, the event was part of a challenge the Community accepted to increase voter participation. The challenge ended up being a success, with the outreach effort bringing in about 90 new voters.
However, Willeford says 65% of the eligible voters in the Community are not currently registered. She hopes these Community members who are not registered will understand the power of their vote and how it can impact the Community.
"There are so many issues that are being implemented on a federal level that trickle down into the Community and get implemented. If we vote, we need to make sure whoever we are voting into office has the Community's best interests in mind," Willeford explains. "People are making policies that are going to impact me, you, the future. We have to prove that we do show up and we are engaged."
The ultimate goal for voter-registration events is that voters will take their efforts a step further by showing up at the polls to vote. Having a voting plan in advance makes it much more likely that someone will return their vote-by-mail ballot or turn out on Election Day.
Those who missed the Voter Registration Day booths can still register to vote by visiting the Arizona Secretary of State's Office online at https://azsos.gov/elections/voters, or with a physical copy from the Administrative office, Two Waters Building A, 3rd Floor, Ste. 304, 10005 E. Osborn Road, Scottsdale, AZ 85256.
To stay up to date with voter information and civic events happening in the Community, follow the Office of Congressional and Legislative Affairs' Facebook and Instagram pages or their website at www.srpmic-nsn.gov/government/administration/ocla/.