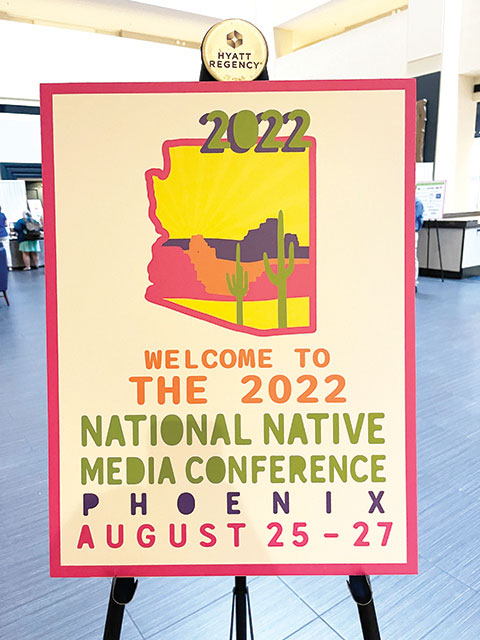 From August 25 to 27, the Native American Journalists Association (NAJA) held its annual National Native Media Conference, this time on O'odham and Piipaash land downtown at the Hyatt Regency Phoenix.
The conference was an opportunity for tribal media outlets, journalists and non-tribal media covering Indigenous issues to come together and learn new skills and information while networking.
For the opening ceremony on August 25, Ak-Chin Indian Community Chairman Robert Miguel, who was a photojournalist at the Ak-Chin Runner newspaper for 17 years, spoke about the importance of journalists covering their respective communities.
"When I was a photojournalist for the Community, one of my duties was not only to cover and bring news to my people, but I got to deliver the newspaper to every Community home," said Miguel. "A lot of the times I stopped and spoke with the people in my Community. As a photojournalist at that time, you were also a police officer, a counselor and a doctor. Speaking with your members, you got a lot of information and thoughts about how to better your Community and what [the people are] looking for."
Conference attendees were able to attend breakout sessions all three days to learn from leaders in media about topics such as disability language in the media, covering COVID-19 in Indian Country, the enduring legacy of boarding schools, tribal water rights in the Colorado River Basin, Indigenous journalism in a mainstream newsroom, indigenizing journalism education through new forms of media, and protecting cultural and sacred sites on public lands.
During and between the sessions, news outlets such as ICT, Axios, the Associated Press, Tegna, ProPublica, the USA Today Network and Scripps provided media information and resources to attendees.
At the end of the second day of the conference, attendees had a chance to take a shuttle to see a private screening of the newest entry in the "Predator" movie franchise, "Prey," which was dubbed in the Comanche language with English subtitles.
NAJA President Francine Compton unveiled a future name change for the association during the membership luncheon: Indigenous Journalists Association.
During the luncheon, Compton also revealed that NAJA had asked The New York Times to apologize for a pattern of stereotypical and negative coverage of Indian Country, a reference to NAJA's 2021 Media Spotlight Report, which showed that more than half of the Times' Indigenous affairs coverage between 2015 and 2021 included stereotypes found on the NAJA Bingo Card. The Bingo Card is a guide to help journalists covering Indian Country to avoid certain stereotypical words and tropes such as "alcohol," "violence," "vanishing culture," "ancestors," "poverty," "a warrior" and "reservation."
Compton said that The New York Times refused to apologize and asked for refunds on their $55 NAJA memberships. There were no representatives from the Times at the conference.
The conference ended with the Native Media Awards Banquet, celebrating NAJA members for their coverage across Indian Country.
O'odham Action News reporter Tasha Silverhorn took home three awards: Third Place for her article "SRPMIC Member Becomes IFBB Bikini Professional Bodybuilder," Third Place for her article "Breast Cancer at 36: My Story," and Third Place for Print/Online–Best Layout.