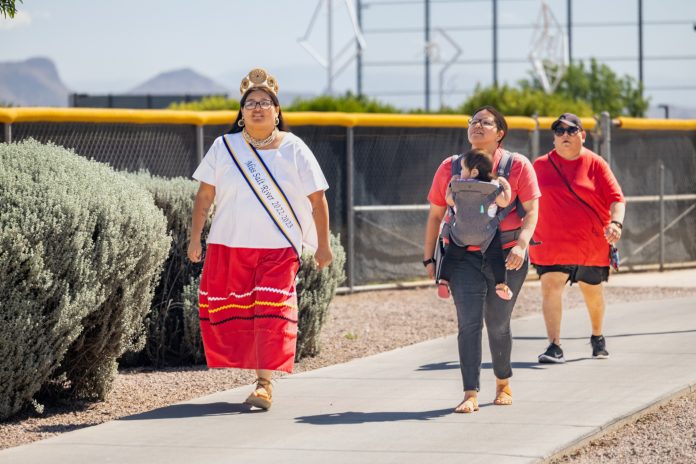 The Scottsdale Community College Indigenous Cultural Center organized and hosted a Missing and Murdered Awareness Day Prayer and Walk on May 5 to remember Indigenous individuals who have been victims of violent crime.
Scottsdale Community College students, faculty and leadership were invited to take part in the morning's events. Since the campus is situated on SRPMIC lands, Miss Salt River Nani Reina, who is a student at SCC, recited SCC's land acknowledgement, which recognizes that the college sits on the ancestral lands of the O'odham and Piipaash and recognizes all those who carry on the traditions of the Community. She also stated that it is important for people to gather and pay their respects to those who have been injured or killed or gone missing.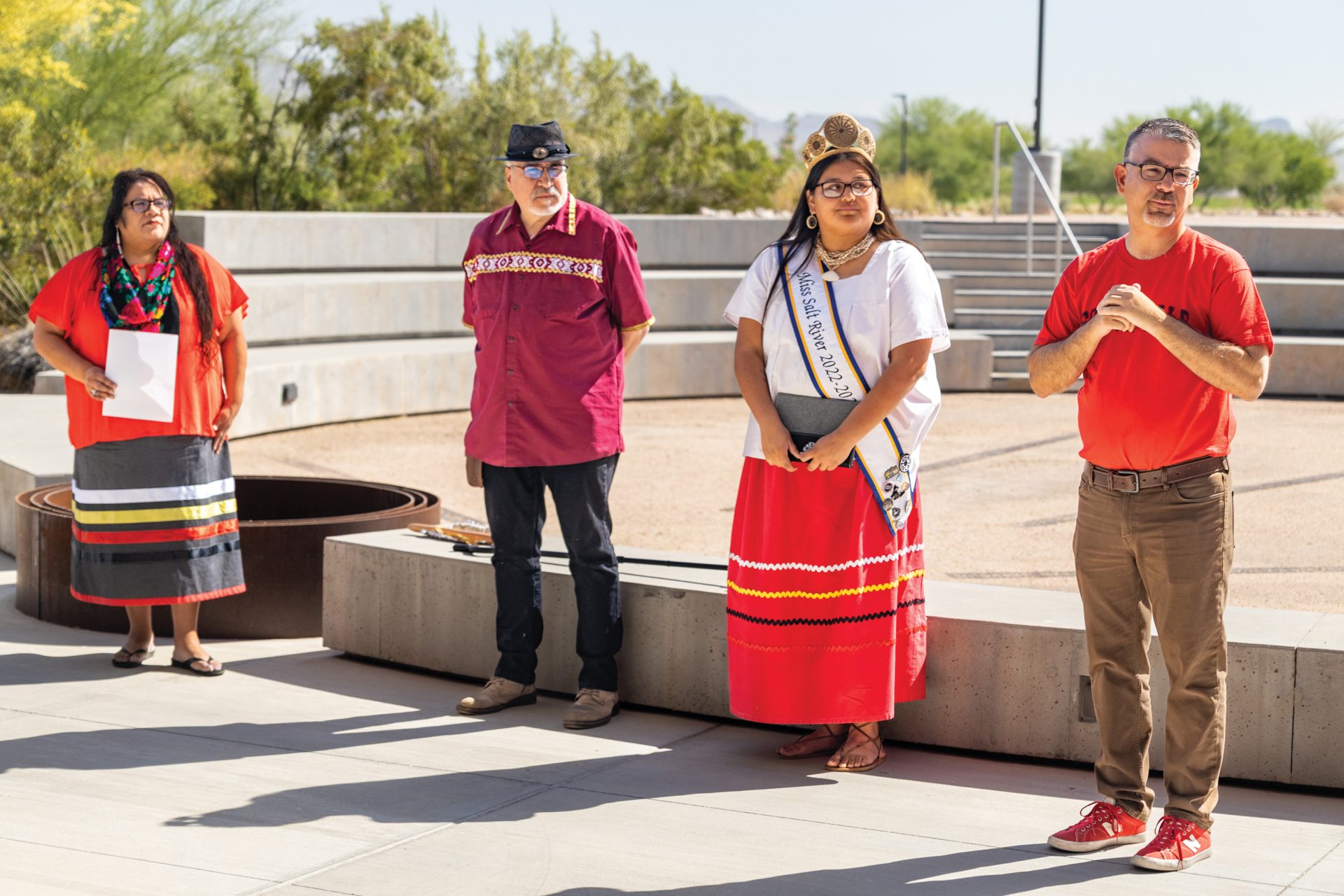 SCC President Dr. Eric Leshinskie said the college is honored to have a partnership with the Salt River Pima-Maricopa Indian Community. "We do all that we can to honor that relationship as stewards of the land," he said.
He added that it is important to gather on days such as this one revolving around the MMIP epidemic, "to remember, to show our respects and to show that action can be taken to stand up to these challenges." Leshinskie also said that with more awareness around such an important cause, the future will be more uplifting in knowing that people can stand behind MMIP awareness.
"We continue to want Scottsdale Community College to be a place where we can come together, no matter your beliefs or your faiths, your age or ethnicity … we come together to learn and to grow," said Leshinskie.
Ana Cuddington, manager of the Indigenous Cultural Center at SCC, said there is a disparity among ethnicities when individuals go missing. She said that all too often individuals of color who go missing do not get the same level of attention as those from non-ethnic backgrounds.
She said that it often takes families, tribal communities and grassroots efforts to bring awareness to the case of an Indigenous person who is missing. Cuddington added that it takes everyone's effort to help in the case of a missing Indigenous person to ensure they are not forgotten, and, as with the morning's event, to offer prayers for the missing individuals and their families.
Her remarks were followed by a few words by Michael Little Crow, an assistant professor at Arizona State University who is a member of the Turtle Mountain Anishinaabe-Cree people. Little Crow shared a story that hit close to home regarding his cousin, who was murdered over a pair of cowboy boots.
Little Crow said it is senseless crimes like these that show the fragility of life. "Life is already short; why do we have to shorten it?" said Little Crow on how life-changing actions can result from incomprehensible decisions.
Before the walk, Little Crow provided an opportunity for attendees to receive a smudging, which is the burning of sage to purify oneself to welcome and bring goodness to one another. He followed his remarks by playing the flute and singing a prayer song, which Little Crow stated is an expression of the heart and of emotion.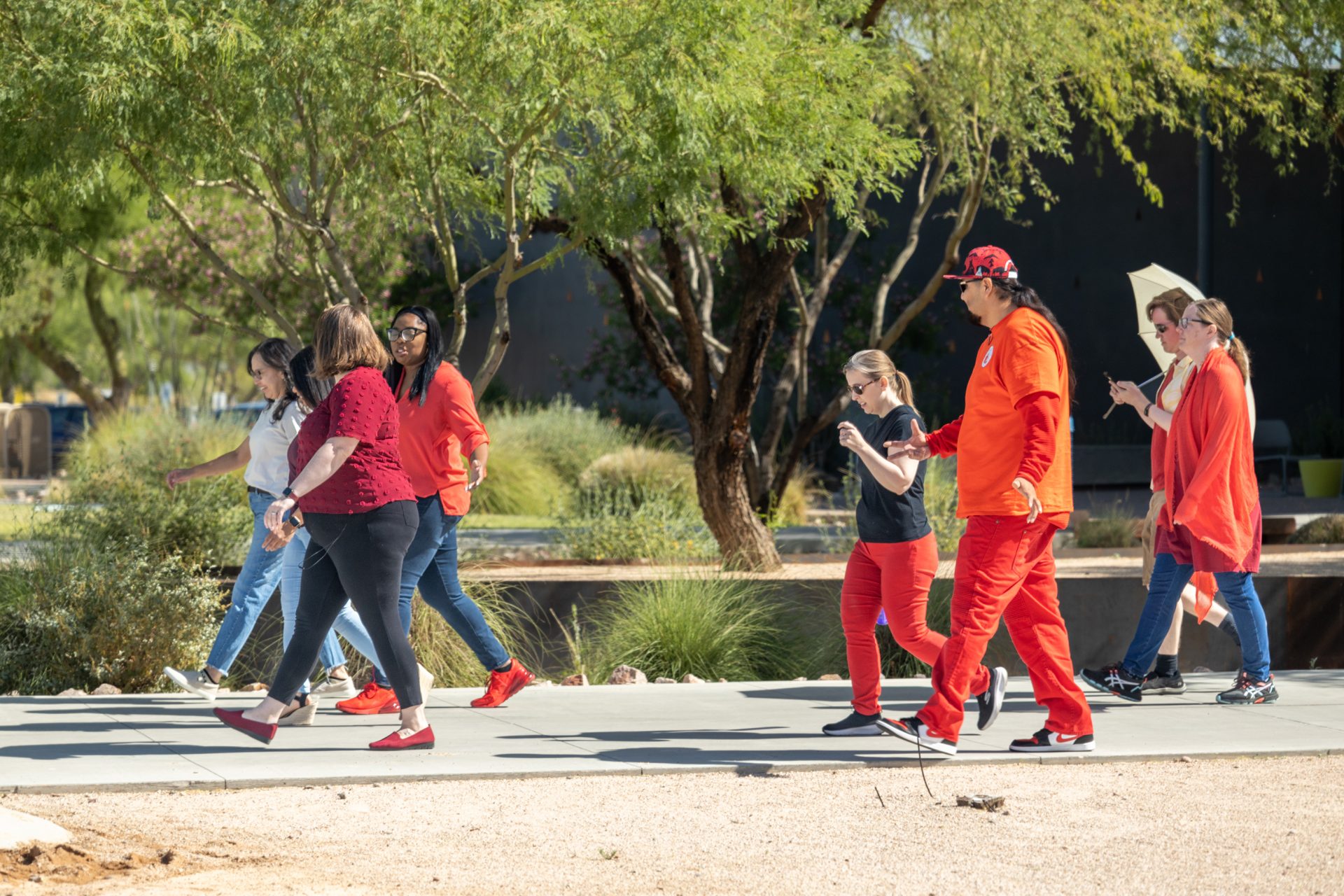 The walk commenced along the "Artie Walk," a 1-mile loop around the SCC campus, and it concluded back at the Indigenous Cultural Center.