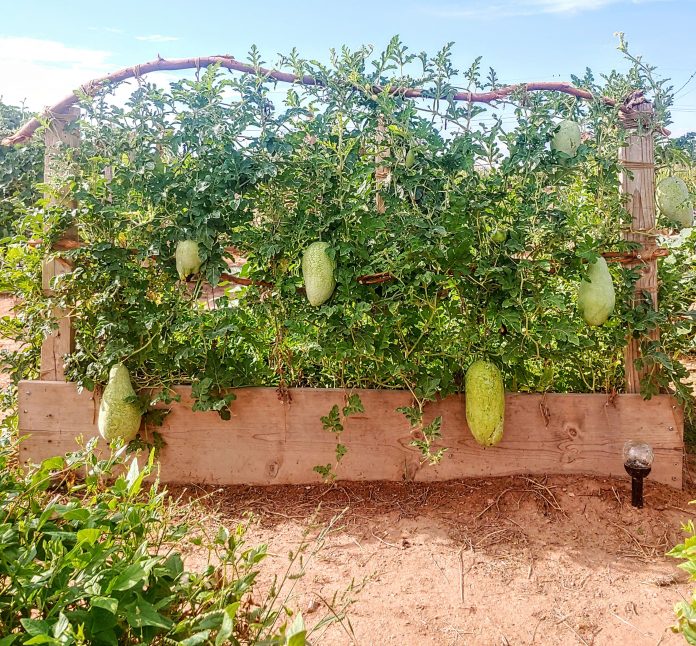 Blending his creativity and love for gardening, artist and Salt River Pima-Maricopa Indian Community member Dwayne Manuel is letting his yard become another place to let his imagination run loose.
"When I look at the plants, I wish I could shrink myself down and walk around underneath there and climb them. This childlike wonder comes back," said Manuel.
To him, gardening is therapy, which is something he said he grasped early on as he began to expand his garden. He enjoys watering the plants by himself.
"People always tell me I should put a water line and a timer out there, but I like going out there and doing it myself; [I like] the wellness of it," said Manuel.
Manuel has nine raised garden beds, most of which he constructed himself using simple wood frames. He enjoys gathering materials for the several arches and trellises used to hold up plants that love to climb, utilizing excess wood and branches from trees like the mesquite.
He currently grows several melon varieties, such as the O'odham ke:li ba:so, Tohono O'odham yellow-meated watermelon, Navajo red-seeded watermelon, and a variety from New Mexico.
"I have a few types of beans including U'us mu:ñ, a chocolate tepary and a brown tepary," said Manuel.
There are also mammoth sunflowers in his garden, which grow around an abundance of devil's claw.
Manuel said that he is enjoying his newfound love for container trees, growing the cara cara orange, dwarf kumquat, grapefruit, Washington orange and Meyer lemon.
"I like the idea of having a tree that you can move around if you need to," said Manuel.
If you would like to share your garden with O'odham Action News, send an email to chris.picciuolo@srpmic-nsn.gov.