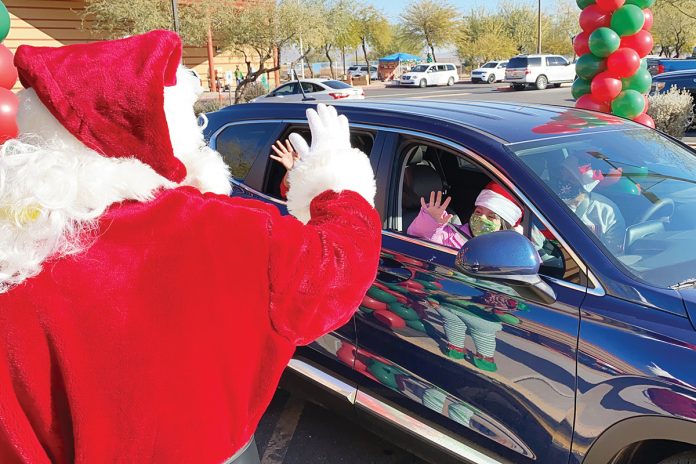 Santa and his elves came out to the Salt River Schools Food Services meal distribution drive-thru at the Early Childhood Education Center on Friday, December 18, to end the first semester of the 2020-21 school year. Many of the Salt River Education Department divisions were invited out by SRS Food Services to help give the children picking up food little educational gifts to keep them occupied while on their winter break.
Staff members from the Higher Education department gave out stickers, pencils, sanitizers and a Whataburger coupon. Early Childhood Education Center staff handed out snacks, and Salt River Elementary School staff handed out cards with a candy cane attached; the cards had the words to "Jingle Bells" translated into O'odham, and the families were directed to the Salt River Schools social media page to learn the song. The SRES staff also handed out books to families. The Food Services elves handed out lunches to all the children along with a greeting from Santa.
While families waited in the drive-thru line, a couple of SRPMIC youth were asked what they wanted to ask Santa for this year. Reef Hayes said he was going to ask for video games, and Kadence Williams said that she wishes the coronavirus would go away.
SRS Food Services will go back to providing services to students starting January 5, 2021.