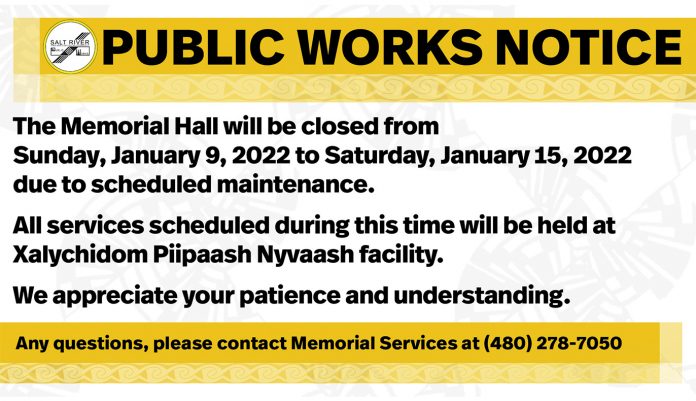 The Salt River Memorial Hall will be closed from Sunday, January 9 to Saturday, January 13, 2022, for maintenance. The Memorial Hall will be getting three new HVAC units for the main hallway and kitchen areas, and there will be other minor updates such as painting the exterior and ceilings.
During the closure, families needing memorial services will be able to use Xalychidom Piipaash Nyvaash (XPN) in Lehi. Otherwise, they can wait until Memorial Hall services resume on Monday, January 17. Please note that the Salt River Community Building is currently closed and will remain closed during the same week for kitchen renovations, so no services can be held there.
"We do apologize for any inconvenience this may cause some families, but we need to take care of these maintenance issues, and the quickest way to get the work done is to close the facility," said Assistant Public Works Director Dawn Sinoqui.
For more information, questions or concerns, call Memorial Services at (480) 278-7050.