Ramón Lopez: Ramóncito and Company
Ramón Lopez is a waila/chicken scratch musician from the Salt River Pima-Maricopa Indian Community who plays with his band Ramóncito and Company.
Growing up, Lopez said he didn't have any musical influences until his grandma took him to his first dance when he was 9 years old.
As he became older, his influences grew to include Ramón Ayala, Papago Warrior and Los Lonely Boys. His current favorite album is On the Rocks by country music band Midland.
Being a waila musician, Lopez is particularly fond of the accordion, and he can play drums, piano and percussion as well.
Lopez still plays with his band, and he recently performed at a birthday party in Tucson.
Local musicians such as Lopez rely on the Community to come together to appreciate their music and the experience that the music brings to an audience.
"I think the Community should know about supporting your local musicians and get into music and stick with it," said Lopez. "Because music can take you places you never thought it would take you, just like [what happened with] me."
Ramóncito and Company are working on releasing a CD; their music can be found on YouTube under the name "Ramoncito & Co. Lopez."
Adrian D. Thomas: Smokey D Palmtree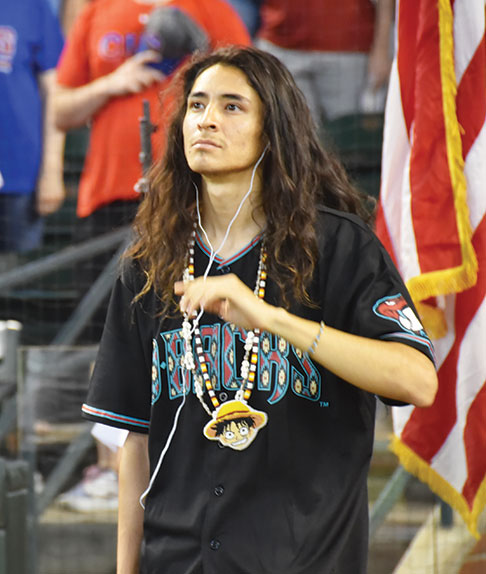 Adrian D. Thomas is an alternative rock musician from the Gila River Indian Community who recently sang the national anthem at Native American Recognition Day at Chase Field before the Diamondbacks game.
Thomas plays guitar, bass and drums, and his songs feature influences of hip-hop, lo-fi, jazz and other genres mixed in.
His bands One Way Sky and Pushing Pluto play around the Phoenix area every weekend, and he just released his own solo album under the name Smokey D Palmtree called Peace of Mind, which is now available to stream on Spotify, Apple Music and Amazon.
One Way Sky includes some of Thomas' closest friends, Cody Bruguier, Loma Manuel and David Romero. "All four of us O'odham youth know what it's like to be in a position where it feels like there's nothing out there for us," Thomas said. "But music has proven to be an outlet for us. Overall, we want to represent our community the best we can with our music."
Thomas grew up listening to bands like Metallica, Pink Floyd, Pantera and Slayer, and his favorite album is The Black Album by Metallica.
"We're a young O'odham band," said Thomas. "If there is any opportunity at the SRPMIC for a contemporary music group to perform at various events, we're a band of young O'odham up for the task!"
Ryan Allison: Dirt Rhodes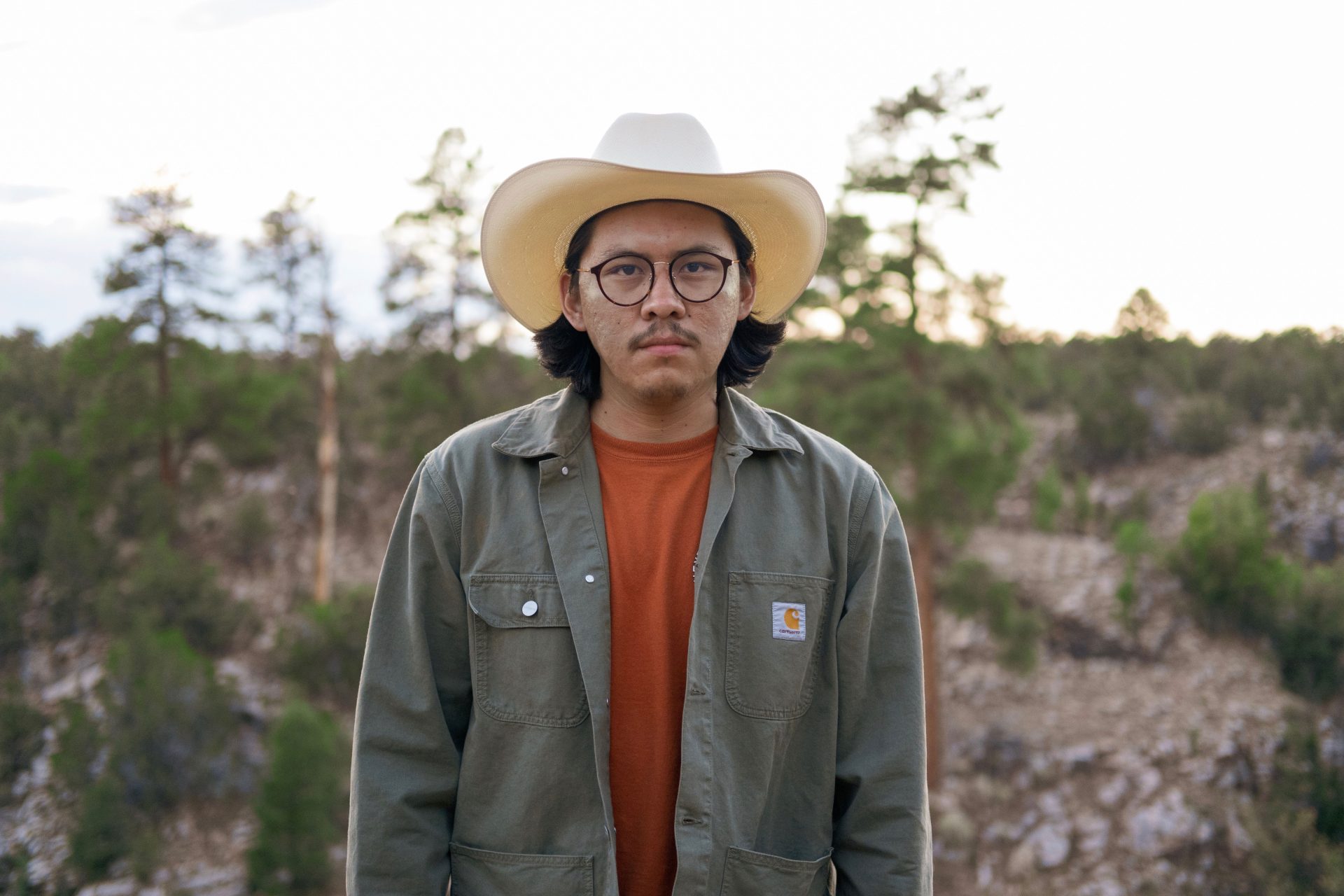 Ryan Allison lives in Phoenix and is a Diné musician from Fort Defiance, Arizona, by way of White Cone, Arizona, located on the Navajo Nation.
Dirt Rhodes is Allison's relatively new Navajo country music project, which features country/western-style guitars and sounds that paint the landscape of the Navajo Nation.
The Navajo Country Music EP by Dirt Rhodes came out in 2020 and was followed by a single in 2021 called "Honey Buzzard." Allison designs the album covers himself.
Allison primarily plays Gretsch and Telecaster guitars and has played bass and synthesizer in other bands. He is a former member of The Flossies and plays with his friend Cedar as a folk duo as well.
Dirt Rhodes plays live in the Valley, most recently at the Rebel Lounge, and has booked a few shows in New Mexico.
Allison's biggest influence musically is a combination of Indian Country artists such as the Navajo Sundowners and Apache Spirit and country artists such as George Jones and Gary Stewart.
His favorite album? "Hard to say, though I find myself listening to The War On Drugs' A Deeper Understanding more and more, without ever getting tired of it. Not exactly country, but I love listening to everything," said Allison.
Allison hopes for the continuous support of not only artists like himself, but musicians across all genres. "There is plenty of talent in our Indigenous communities. I believe if we can help nurture it, great artists will emerge," he said.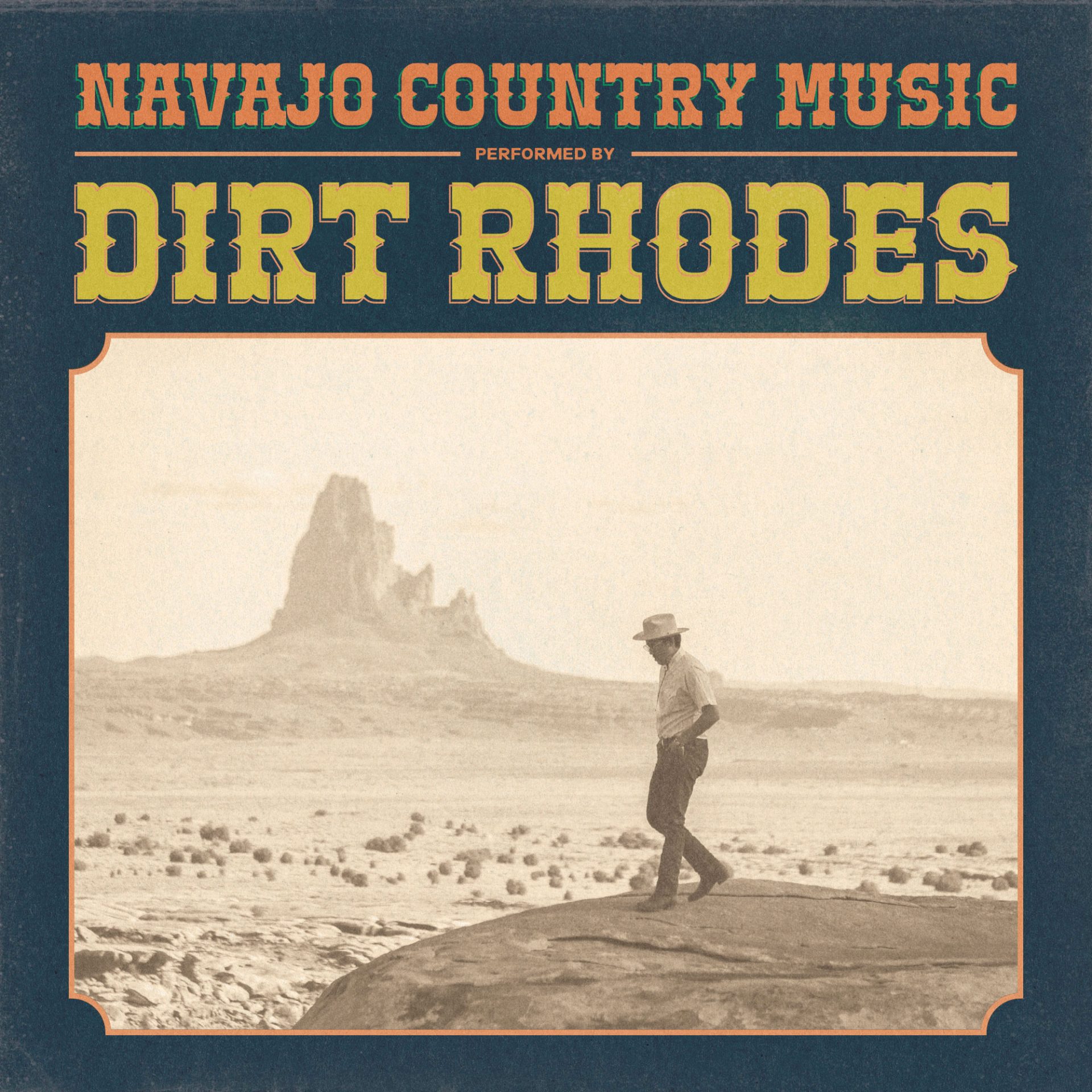 "Growing up, country music was everywhere on the Navajo Nation. You can't go a weekend without seeing a country/western band playing in any community across the rez. As a teenager, I might've given a little pushback on country music, but, ultimately, it's inevitable. You end up embracing it and loving it. As I got older, I learned to appreciate it and love every aspect the genre has to offer. I do my best to highlight the long history Diné has with country music. The country and western lifestyle has been ingrained in Indian culture forever. Some might say Indians are the first cowboys."
You can find Dirt Rhodes on Spotify and Apple Music as well as at www.dirtrhodes.bandcamp.com.
If you are a local Indigenous or Community-member musician who would like to be featured in a future O'odham Action News issue, send an email to chris.picciuolo@srpmic-nsn.gov.