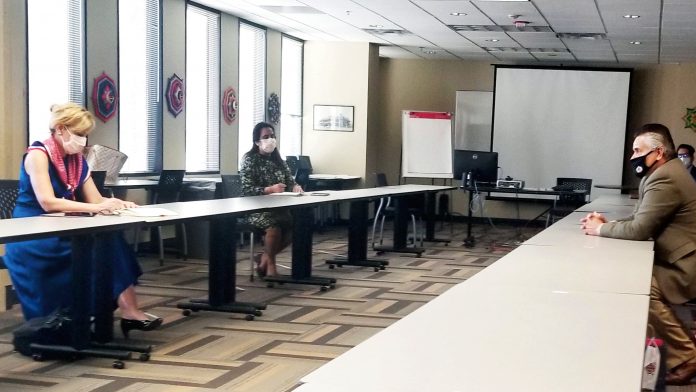 On Wednesday, July 1, Salt River Pima-Maricopa Indian Community President Martin Harvier and SRPMIC representatives Joe Remitera, Dr. Nancy Mangieri and Gary Bohnee attended a meeting with Dr. Deborah Birx, the White House coronavirus response coordinator, to get some perspective on how tribes are dealing with COVID-19 in their respective communities. Also included in the meeting were Gila River Indian Community Governor Stephen Lewis and Pascua Yaqui Councilwoman Herminia Frias.
The purpose of the meeting was to educate Birx about the uniqueness of tribal health systems, explained SRPMIC Special Assistant on Congressional and Legislative Affairs Gary Bohnee. If they are not fully dependent on the Indian Health Service for care, tribes have different levels of services they provide (self-governance tribes). For example, the SRPMIC clinic is outpatient only, so there continues to be a reliance on external health systems for inpatient care.
"All tribes at the table are self-governance tribes that administer their own health systems," said Bohnee. "The purpose is to be able to address the Community better than the IHS. However, each tribe has their unique challenges with IHS. For the SRPMIC it is critical to be able to access sufficient testing and also get quick results from IHS for those tests that are being processed by their lab."
Harvier and staff provided an overview of what is happening in the Community regarding COVID-19 and how the Community is keeping members aware of up-to-date information on the topic. They discussed the challenges of getting COVID-19 test results back in a timely manner, working more seamlessly with the IHS and the need to access a quicker result that can be done with more testing machines, such as the Abbott ID NOW™, which can get COVID-19 test results back within 15 minutes.
SRPMIC Epidemiologist Nancy Mangieri emphasized that the Community is working to establish a strong public-health infrastructure. She asked for resources to support the Community's COVID-19 efforts, such as the rapid testing machines, more access to laboratory services to reduce time spent waiting for test results, and understanding how tribes with independent health services interact with and are supported by the IHS.
At the end of the meeting, SRPMIC President Harvier presented Birx with a face mask that later caught a national spotlight as she wore it in a news briefing a week later. The white mask had an embroidered shield design in black, white and red and the words "Stay Safe! Stay Strong!" During the White House Coronavirus Disease Task Force briefing at the U.S. Education Department in Washington on July 8, alongside United States Vice-President Mike Pence and other senior officials, Birx wore the mask that was given to her by Harvier from her visit with Arizona tribal leaders the week prior.
"I know a lot of people watch what I wear; I am wearing this (points at her face mask) especially today; this [mask] came from the Salt River tribe," said Birx at the briefing as she started her speech and expressed the importance of wearing a face mask. "Masks can be a fashion statement."
Birx also is known for wearing colorful scarves; in fact, the scarves have their own dedicated Instagram account with more than 40,000 followers.
"The Salt River Pima-Maricopa Indian Community supports the use of face coverings to help slow the spread of COVID-19. On June 19, 2020, the SRPMIC initiated its second directive making face coverings mandatory within the Community's jurisdiction under its SRPMIC Local Emergency Declaration implemented on March 18, 2020," said Community Relations Department Director Janet Johnson. "The significance of the face covering symbol reflects a warrior's shield; today the shield represents our modern fight against COVID-19 and the importance of the safety and well-being of our 10,800+ enrolled membership, employees and guests through our Stay Strong! Stay Safe! #ShieldUpSaltRiver campaign. The wearing of the face covering gifted to Dr. Birx exhibits her understanding and our efforts to help minimize the spread of COVID-19."
Shield logo masks have been distributed by the "Be a Hero Stay Zero: Help Make Face Masks" campaign, for which people can donate their time by making face masks to give to SRPMIC members and residents who are unable to buy masks or make their own. So far, masks have been distributed to essential workers, Community seniors and people who test positive but do not have face masks. For more information on #ShieldUpSaltRiver, visit the SRPMIC Facebook page at www.facebook.com/SRPMIC/.