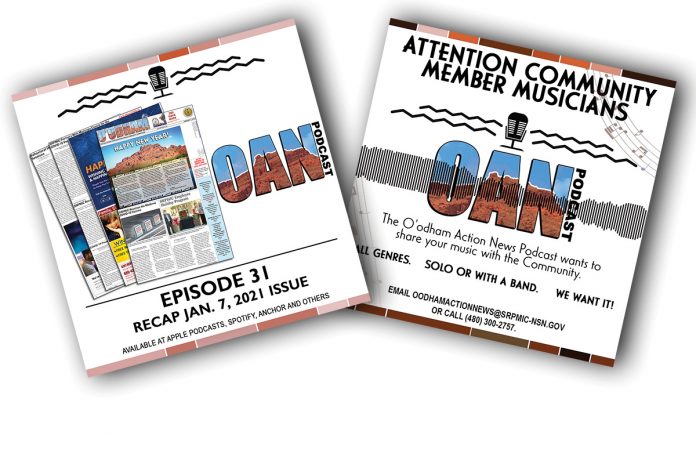 By Marissa Johnson
O'odham Action News
April 29 marks the first anniversary of the O'odham Action News "OAN Podcast." The podcast is carried on multiple listening platforms such as Anchor, Apple Podcasts, Spotify, Podcast Addict and the OAN website. Now, with 41 episodes produced to date, we decided to take a look back at how the podcast was brought to fruition and some of the guests who have appeared on the podcast.
The Community Relations Office of the Salt River Pima-Maricopa Indian Community has published O'odham Action News (formerly Au-Authm Action News) for years, but after a time it was decided to expand and add some different types of platforms to its media offerings. A newspaper podcast was an early idea; however, timing made it difficult to start up. But when the pandemic hit in March 2020, the OAN team was asked to figure out another outlet for Community members to get their news, in addition to the newspaper. They decided on a podcast.
Podcast hosts Jessica Joaquin and Marissa Johnson went through trial runs before launch, conducting mock interviews with friends, learning editing software for audio, and setting up and breaking down equipment at home and for guests of the podcast. The duo used Skype to see each other while they recorded. Fumbling over words, phrases and the noise of leaf blowers and planes outside their homes, they laughed at how many retakes they had to do to make it perfect. Another tricky aspect was figuring out how to go about switching and transitioning into different topics. Through the many struggles and challenges, on April 29, 2020, the first podcast episode was released.
The podcast offers "Recap" episodes and "Connects" episodes. Some may wonder about the difference. At first, the OAN podcast focused on relaying hard informational news to the Community, with major attention focused on COVID-19 resources such as updates on the number of cases and hospitalizations in the Community, hotline numbers and SRPMIC President Martin Harvier's weekly messages. While that is sometimes still the case, the reporters now are mainly focused on reading the articles that appeared in the latest issue of OAN, with interviewees speaking to the reporters about the article subjects.
Another major content drive for the OAN podcast is for Johnson and Joaquin to interview Community members on various topics; these episodes are called "OAN Connects" and are a way for OAN to interact with Community members on a variety of topics including elder profiles, athlete profiles, artists, business owners, royalty and much more. These episodes really shine a light on Community members and who is doing what around the Community. These episodes are prominent because they can inspire listeners to take a chance on something they've always wanted to do themselves.
For example, OAN hosts interviewed Michael Jordan fans, Community members Jessica Scabby and Julian Rivers, and SRPMIC coaches Kyronna Roanhorse and Robert Johnston on their take of the "Last Dance" documentary. Miss Salt River 2019-2020 Menderee Jose discussed how her reign was affected by the COVID-19 pandemic. Community member Amerie Boni shared her experience of studying abroad in Spain when traveling shut down at the beginning of the pandemic in March 2020. Community member Jorge Gonzales-Zuniga Jr. talked about hoop dancing in front of judge Jennifer Lopez on the "World of Dance" show. Community member Jonathon Curry spoke about his first time going out for the baidaj (the annual harvesting of saguaro fruit).
The OAN podcast gives the chance for reporters' news to reach a whole different audience. The newspaper is a standard way for many to get the news, but the podcast gives access to Community news for those who are SRPMIC members but have visual impairments or do not live within the Community.
While our reporters continue to adapt and the podcast continues to evolve, we are grateful for those who are out there listening to us. We encourage you to reach out to us and let us know how we are doing and share your story suggestions. We are here for you and want to showcase our Community.