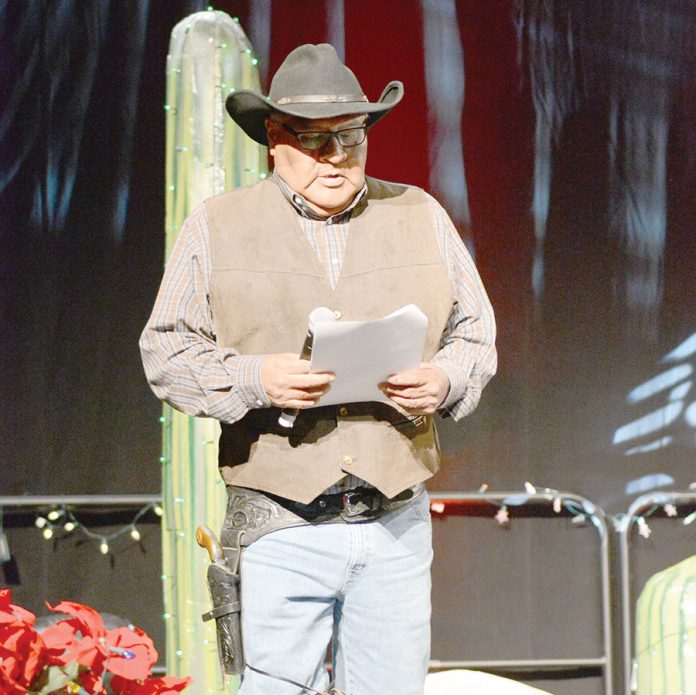 After dedicating 24 years to working for the Community, Salt River Pima-Maricopa Indian Community Assistant Community Manager Kent Andrews will be retiring from his position on July 2.
Andrews developed and mentored several department heads that resulted in some of the strongest departments operating in the Community today, such as Engineering and Construction Services, Public Works and Community Development.
Upon learning of his retirement, coworkers had many good things to say about Andrews as a person, his dedication to serving the Community and consistently demonstrating support for the departments that keep SRPMIC moving forward as a Community.
SRPMIC Community Manager Bryan Meyers said he has enjoyed serving the Community with Andrews since 1997.
"I admire Kent's level-headed leadership. He is extremely thoughtful and brings a calming presence and sensible approach to resolving very complex, difficult situations," said Meyers. "Over the years, I relied on Kent on numerous occasions as acting community manager when I was on leave."
Cultural Resources Director Kelly Washington said that Andrews understands that the tribal government represents a unique community and culture that should be preserved, supported and celebrated. "I appreciate that Kent has always entrusted us to manage the day-to-day operations without attempting to micromanage, but has always been readily available to us when we have needed support, guidance, wisdom or just needed to vent," said Washington.
Washington recalled when Andrews signed up for the O'odham language class. Some of the O'odham Piipaash Language Program teaching staff were nervous about having the "big boss" in the class, but they enjoyed having him participate as a student, which provided them with a new perspective. Washington said that participating in these classes really earned Andrews a new level of respect among the OPLP staff.
ECS Design Division Manager Harold Jones said he is sad to hear that Andrews is retiring, as Andrews was always supportive of Jones' military obligations before he retired from the National Guard, which he greatly appreciated. Andrews' son Keith works in the ECS Survey Division.
ECS Residential Service Administrator Mike Villalpando said that he has known Andrews for some time growing up here in the Community. His earliest memories of Andrews involve music. "I remember as far back as when he played drums for bands 'The Heritage of Freedom' or maybe 'The Red Express,'" said Villalpando.
Assistant ECS Director Scott Thigpen said that he and Andrews have talked at length about the "good and bad of funk music" and the bass guitar. "I know he's a musician, but I never got to hear him play," said Thigpen. "I did, however, get to see him lip-sync to James Brown in front of 1,000 other employees. But I think I will remember Kent best as the guy with an endless supply of quick wit."