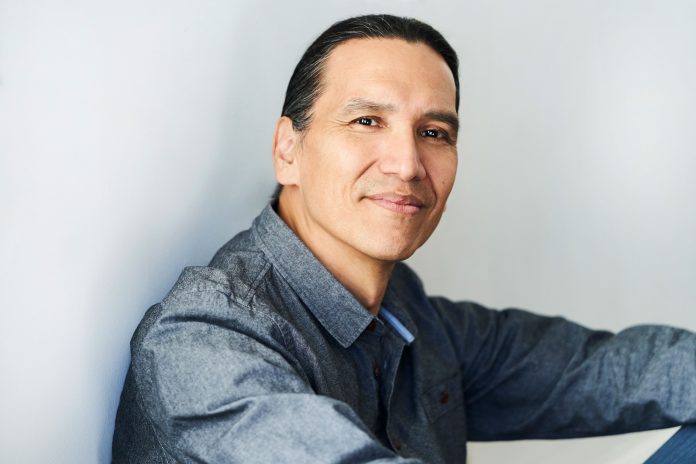 Plains Cree actor Michael Greyeyes from the Muskeg Lake First Nation set aside time from filming the upcoming movie "Firestarter" to talk to O'odham Action News about his role as Terry Thomas in the hit Peacock sitcom "Rutherford Falls," recent discoveries at boarding schools in Canada, and Native humor.
"Rutherford Falls" is a fictional television series that depicts the relationship between a town built by settlers (Rutherford Falls) and the Minishonka Nation. Greyeyes plays the role of Terry Thomas, the CEO of the Minishonka casino.
This relationship resonates with the Salt River Pima-Maricopa Indian Community and neighboring Scottsdale, and many other Indigenous communities have similar relationships with towns and cities that were established by settlers. Greyeyes talked about how his character handles this relationship.
"The circumstances within our show are fictional, but they reflect historical precedent across Turtle Island. I think it's important to know within the context of the show who gets to tell history," said Greyeyes. "I think Terry is a marvelous character to play and is marvelous for audiences to understand another perspective. Terry is very unapologetic and sees the world through the lens of his own identity and of his community. Within the storyline of 'Rutherford Falls,' he is interested in preserving his community, his culture, and to do so he recognizes as a businessman that they need a land base. I think that is really reflective of a lot of Indigenous communities across the United States and Canada in that we lost our land bases through various means: manifest destiny, the Doctrine of Discovery, the Dawes Act of 1887—whatever mechanisms settlers used to deprive us of our land base. It rings very true."
With the reintroduction of traditions at SRPMIC, such as recently with the Kia-ha burden basket, it is more important than ever for the younger generations to see representation, especially when it comes to reclaiming traditions. Greyeyes said that it is essential that the kind of images we put forward are reflective of the kind of resurgence that we're seeing in our own communities.
"I think that the time is long past to see characters who are defined by victimhood, powerlessness and other disparities and inequalities," said Greyeyes. "I really believe that 'Rutherford Falls' puts forward images of powerful people that we all know from our communities and from our families. If we can put forward an image that inspires youth in our community, it's really wonderful and essential work."
Greyeyes has acted in many stand-alone projects such as "I Know This Much Is True," "True Detective" and "Blood Quantum," but he said he has been looking for an opportunity to work in a television series for a while.
"The opportunity that a series offers is really unique in that you can develop a character over a much longer arc than a stand-alone film or a limited-run miniseries," he said. "They called me and asked if I would like to audition for this project, and I was like 'Absolutely!' I didn't know much about the project, but as I learned the material and met the show's creators and came to Los Angeles for a screen test, I became more excited about the project and I'm delighted that I was able to become a part of it."
"Rutherford Falls" staffed many Indigenous writers, including Tazbah Chavez (citizen of the Bishop Paiute Tribe, from the Nüümü, Diné and San Carlos Apache tribes). Other Native representation includes actor Jana Schmieding (Cheyenne River Sioux Tribe), who plays Reagan Wells in the show, and showrunner Sierra Teller Ornelas (Navajo and Mexican American). Actor Ed Helms from "The Office" also stars in the show as Nathan Rutherford.
With the recent discoveries of mass unmarked graves at Indian boarding schools in Canada, it's only a matter of time before some of Arizona's 51 boarding school sites are looked into. With Greyeyes being from Saskatchewan, he has some insight about how First Nations communities and families are affected.
"I applaud the efforts of our communities to find our children and return them to our homes and hold systems accountable, including the churches, whether it's the Roman Catholic Church or whichever denomination ran those schools, mission schools, boarding schools," said Greyeyes. "In my own work I have examined how Canada's Indian residential school system had a profound effect on my family."
Coping with tragedy is most certainly helped by humor. Native humor is especially important for communities to move on, and Greyeyes believes that particular humor is essential.
"In a way it defines who we are, in that we use humor as a means of celebrating the things that we have retained [in our] people and communities: our kinship, our culture, our language, our worldview. I'm proud to be a part of 'Rutherford Falls' in that this is a very high-profile project and a lot of people will be able to see our work, and most importantly a lot of people will be able to see our communities represented in ways that are absent from media," said Greyeyes.
"I think it is paramount to shaping peoples' perceptions of our communities to show our people and characters from our communities empowered this way. I think it's also crucial that we see ourselves this way, because that's what we recognize from our families and our communities, and to see that reflected, that certain knowledge, that lived knowledge reflected back to us from television screens reaffirms ideas of success and empowerment."
Update 7/13/21: Peacock has renewed Rutherford Falls for a second season.