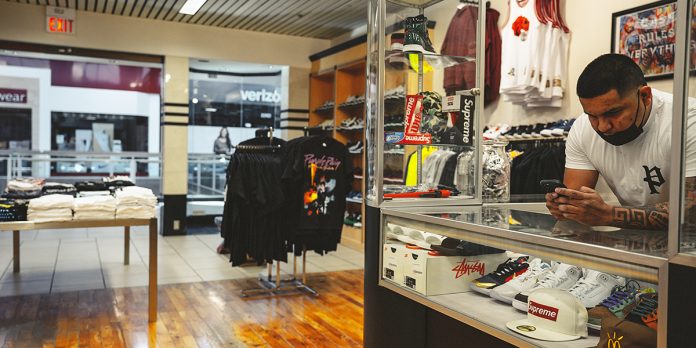 In 2015, Salt River Pima-Maricopa Indian Community member Ezekiel "Zeke" Mendoza and his business partner, Roman Romero, opened Prime Kicks and Cuts, a business that sells streetwear and sneakers and offers barber services all in one location. Since opening its first store in Downtown Mesa, the business has relocated and recently opened up a second shop.
A little over a year ago, Mendoza and Romero moved from their Mesa location after the shop was robbed and damaged. Prime Kicks and Cuts found its new location at the Chandler Fashion Mall at the end of 2019.
Although the pandemic put hardship on a lot of small-business owners, Prime Kicks and Cuts had the opportunity to open a second location. On January 30, 2021, the second store opened at Arrowhead Towne Center in Glendale.
"Our leasing agent procured a spot at the Arrowhead Towne Center mall for us to open a second location," said Mendoza about the second shop location. "It's been great it was a lot of work and a learning experience, it was much easier opening then the first store, because this time around we knew what needed to be done and how fast we need to get it up and running."
This also gave us the opportunity to hire some new employees—two new people were hired to help Mendoza and Romero share the workload between the two locations.
Prime Kicks and Cuts provides brand-name clothing, but it also carries local and in-house clothing lines as well. They carry limited and rare shoes such as Jordan, Nike and Yeezys, as well as clothing from brand names such as Supreme and Bape.
"We also started working with Daryl Fulwilder and The Print Shop to get some of our in-house designers shirts printed," said Mendoza. "We had a lot of Community member help over time doing small jobs for us from construction or doing events, we did a few events with Dwayne Manuel and Donavon Armstrong who are all Community members; it's all about networking and getting to know people so we can help each other out as much as possible."
Mendoza is looking forward to what opportunities come. He explained that he and his partner are focusing on the two shops and time will tell how the business will go in the future.
"We are thankful for everyone's support. Although we were shut down for a bit during the pandemic, we were able to get a lot of support from the government and tribal government during that time; also, our online sales helped a lot," said Mendoza. "Thank you to everyone who continues to support us."
Visit Prime Kicks and Cuts at Chandler Fashion Center or Arrowhead Towne Center. Visit the website at primekicksandcuts.com.