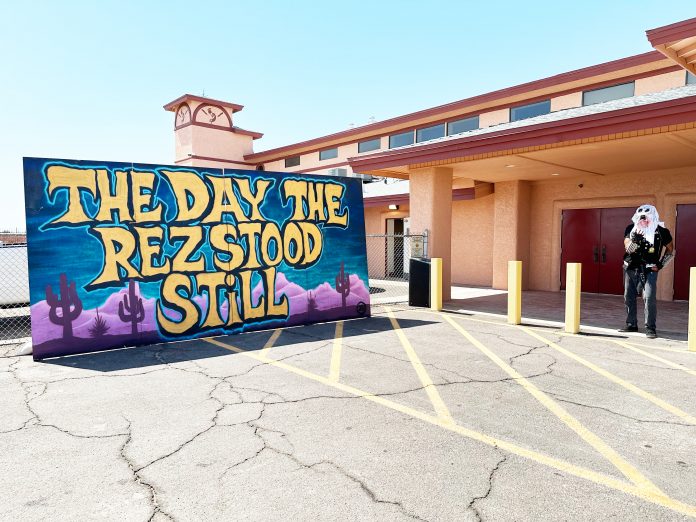 It was July 29. The Day The Rez Stood Still.
Out from the murky, sweltering fog appeared the spine-chilling market of strangeness and horror at the Salt River Community Building.
A group of Salt River Pima-Maricopa Indian Community members called The Woodenhead Collective organized the event, to which more than 500 souls escaped for an afternoon.
"The event went a lot better than we expected. We had a suspicion there was a large horror/Halloween fan base in Salt River. We were right!" said The Salt River Buzzsaw (Dushane Manuel), event organizer and Collective founder.
The Collective also includes media team leader Spike the Warlord (Seneca Silverhorn), event coordinator Lady Ray, art department Professor Possessor (Dwayne Manuel), and social media coordinator and master of ceremonies Bigg D. Evol (Dominic Martinez).
Many horror- and oddity-themed art and food vendors set up shop, including Community member-run booths FatDogz Foods, RezzyStreetFoods, Dank Drank, Everything Kool-Aid, Zazas Candy Core and Dwayne Manuel Studios.
The first 50 souls who attended received a gruesome gift bag full of candy, fake spiders and bugs, along with a printed poster of both The Day The Rez Stood Still flyers.
Some attendees participated in the event by wearing costumes such as creepy clowns, WWE characters, Ghostbusters, homemade macabre face masks, and more.
The event also offered hourly prize raffles and opportunities for attendees to test their horror trivia knowledge.
"We would like to thank everyone that came and had some fun and everyone that helped us. Scare ya later!" said The Salt River Buzzsaw.
You can follow the Woodenhead Collective on Facebook, Instagram and Tik Tok for videos, pics and projects.
Head to our Instagram page for a video story about the event!