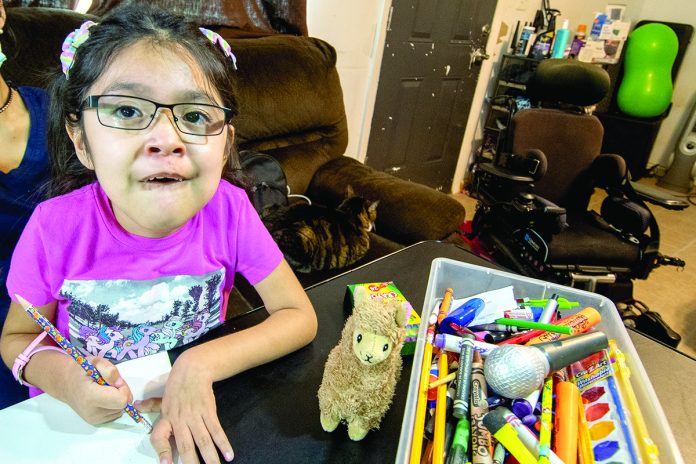 Here in the Salt River Pima-Maricopa Indian Community, spunky 7-year-old Harmony Brown is seeking help to raise money for a new wheelchair-accessible vehicle. The second-grader's current family vehicle, a 1999 Dodge Grand Caravan with an electrical/manual ramp, was bought six years ago and is currently inoperable due to motor and ramp issues that will cost a lot to fix.
In 2016, Harmony was diagnosed with spinal muscular atrophy (SMA) type 2, a progressive neurodegenerative disease that affects the motor nerve cells in the spinal cord and impacts the muscles used for breathing, eating, crawling and walking, explained her mother, Tasha Antone. "Harmony isn't able to move on her own and needs full assistance [with] transfers," she said.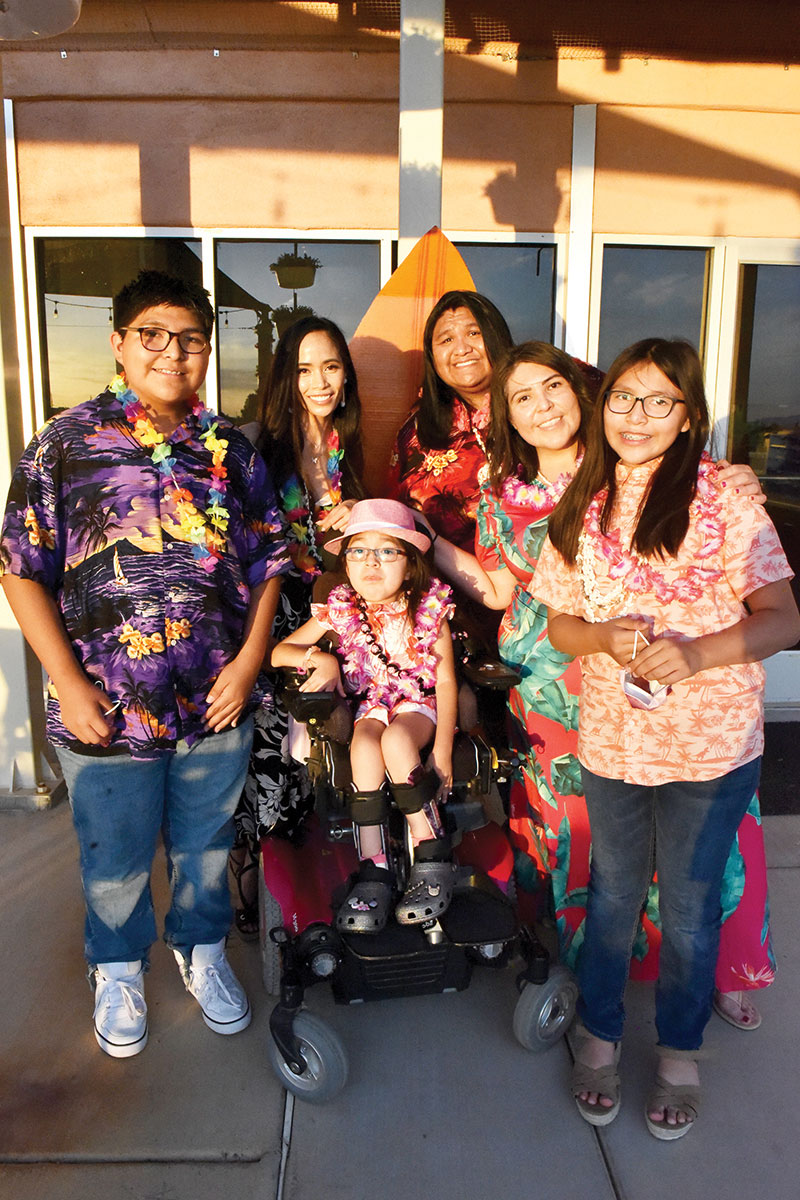 SMA is a rare disease, affecting fewer than 50,000 children in the U.S. As a genetic disease, SMA is caused by a gene that does not work correctly. It is present at birth, and symptoms develop in infancy. Approximately 1 in 50 Americans are carriers of the SMA genetic mutation. A medication for SMA called Spinraza was approved by the U.S. Food and Drug Administration (FDA) on December 23, 2016. Harmony received her first injection in February 2017, and she receives injections every four months.
"Right now, if she has an appointment or something, we have to use mom's little SUV. She cannot take her mobile wheelchair and will have to use her manual wheelchair, and we have to push her because she is not strong [enough] to push herself in all places," said Harmony's father, Wolf Brown. "We have to load up two machines, a suction and cough machine, everywhere she goes; normally those pack on to the back of her mobile chair and we can all drive in the van and [go together]."
Without a wheelchair-accessible vehicle, the family of five has to make separate trips when going places such as school activities, sporting events or family functions.
"Harmony's been driving a power wheelchair since she was two and a half years old. Having the power chair has given her so much independence, and she's able to keep up with her peers," said Antone. "She is very involved with the After School Program at Community Recreational Service's Adaptive Recreation Program and the Way of Life Facility activities. She loves dancing, singing, swimming, bowling and attending the movies."
So Harmony can maintain her active lifestyle, it is important for her family to get her to and from the different activities she participates in. Her nurse, Beatrice Moorfield, organized a GoFundMe account at gofund.me/ff5eca47 to help raise funds for a new wheelchair-accessible vehicle. As of mid-August they had raised more than $7,000. But their fundraising doesn't stop there; the family is planning a fundraising dance in October featuring live music by Chad & Company and Pima Express, food vendors, raffles and a dance contest. Any other waila bands interested in coming out and donating their time to the event are more than welcome. The family also welcomes any donations to underwrite the raffle prizes.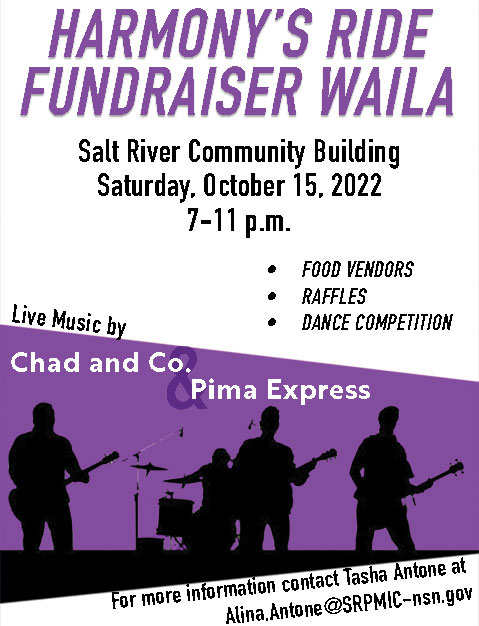 The family is hoping to raise $40,000 to $75,000 to purchase a new or used vehicle completely outfitted with everything Harmony needs to stay mobile.
"Our goal right now is to raise money to help lower the cost of the vehicle," said Antone. The accessible vehicle must have a ramp/lift, low mileage, conversion and an all-terrain extended warranty. It needs to accommodate the family of five plus nurse Moorfield, who accompanies Harmony to all her activities.