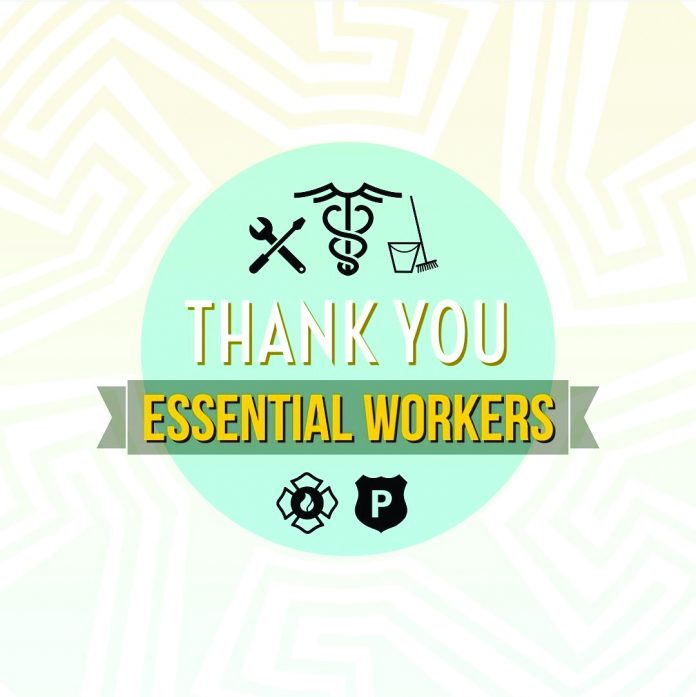 As the Salt River Pima-Maricopa Indian Community remains in the "essential services" phase of the return-to-work plan, O'odham Action News would like to recognize the hard, important work of the essential workers who have kept the SRPMIC thriving during the COVID-19 pandemic.
From day one, workers dedicated to continuing essential services such as the Salt River Clinic, Food Bank, Senior Services, Public Works, Judicial Center, Journey to Recovery, Information Technology, the Salt River Police Department, the Salt River Fire Department, Waste Management, Transportation, Janitorial Services, Casino and Hotel staff, and so many others, have remained an integral force in ensuring that the needs of the Community are met.
O'odham Action News talked with SRPMIC Emergency Manager Cliff Puckett about his experience in this new way of doing business.
"As the emergency manager for the Community, for the first couple months [of the pandemic] I was in the Emergency Operations Center (EOC) with about 25 other critical staff managing the Community's response to the pandemic," he said. "Those were some very long days, but I absolutely enjoyed that greatly."
Puckett said that when the EOC demobilized, "that was when it really hit that we were not doing business as normal."
Many other essential workers are doing their jobs from home, which has its ups and downs. Workers say that it can be distracting being surrounded by family or things happening out of their control, but having that time to take care of themselves and their families can be a blessing during the pandemic.
"I did not like it (remotely working) at first; I would have preferred to go into the office. But as time went on, I got into a 'battle rhythm,'" said Puckett, sharing the sentiment that many workers have felt.
Zoom and Skype meetings aren't ideal for a lot of employees who miss in-person interactions, but Community employees have expressed the attitude "We're all in this together" and "This too shall pass."
"I am ready to get back to the normal way of doing business or the 'new normal' … whatever that is going to look like," said Puckett.
And the challenges to being an essential worker right now? For Puckett, it's "Keeping the dog from barking during video calls."
If we did not yet mention your SRPMIC department as an essential service, please reach out to chris.picciuolo@srpmic-nsn.gov to be featured in a future issue of O'odham Action News. #thankyouessentialworkers