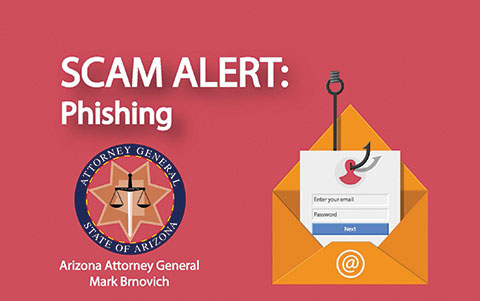 The FBI Phoenix Field office is warning the public about phishing and spoofing scams, which disproportionately affect people over the age of 60.
According to the FBI's Internet Crime Complaint Center (IC3), more than 240,000 victims across the U.S. in 2020 reported about $50 million in losses due to phishing scams. Victims of spoofing scams reported a higher monetary loss, more than $215 million. Across Arizona, more than 1,000 victims of phishing and spoofing reported a loss of around $3 million.
The FBI says that phishing commonly uses a malicious attachment or link in an unsolicited email or text message, which can gain access or control of your device if opened. Spoofing is when anyone in the world can call you with a fake caller ID or contact information via a website, a phone number or an email and collect your personal information.
Salt River Pima-Maricopa Indian Community Senior Services Social Worker II Christopher Begay said that the most common form of elder abuse is financial exploitation and extortion. "The baby boomer population has worked very hard and saved," said Begay. "People are living longer as well, and therefore this population will become a bigger target with their finances as time evolves. They have established financial benefits, pensions, life savings, etc. This is a growing concern nationally and worldwide."
Most scammers will follow the latest headlines in the news, such as "COVID Relief Payments" or "Medicare Benefit Changes," then use false health claims or robocalls to gather personal information or financially exploit vulnerable populations.
Adult Protective Services follows up on referrals about vulnerable adults who are experiencing mail or door-to-door scams conducted by imposters who claim to be from a particular organization or government department. Some of the biggest scams are Social Security Administration scams. To report those scams, head to the following secure link: https://secure.ssa.gov/ipff/home.
The FBI suggests the following tips to protect yourself from phishing and spoofing scams:
Protect your devices by using antivirus and anti-malware software. Set the software to update automatically.
Don't assume that a message that looks like it is from a friend or business associate is real. Use a known phone number or email account to contact the person or company to confirm before ever clicking on a link or opening an attachment.
If you have any doubt, don't click.
Do not send money or gift cards to anybody that you do not personally know and trust.
Never give out your personal information, including banking information, Social Security number or other personally identifiable information, over the phone or to individuals you do not know.