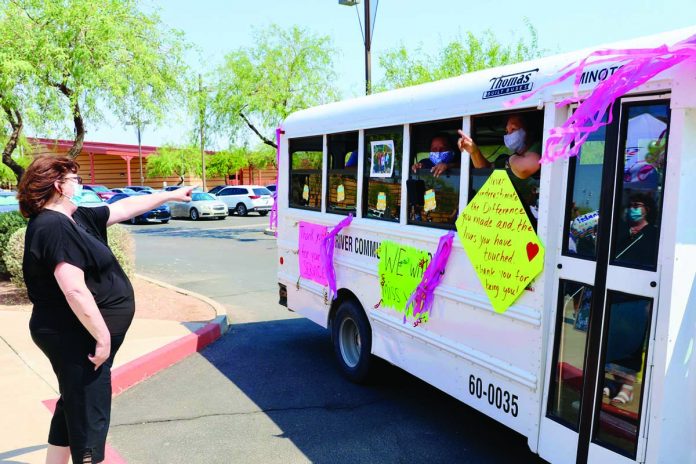 Salt River Education Assistant Superintendent Cynthia Clary is retiring after a long career in the education field.
Clary started down the path of biology and pre-med in college, but after losing her parents during that time she switched to a focus on secondary education. Losing her parents at that young age and having to take the role of the adult, planning their funeral and handling other adult responsibilities, she missed school and was told by her graduate assistant that she should make sure she came back to school.
"I was becoming irritated when he told me that. I asked him what he meant by 'make sure you come back,'" said Clary. "He clarified and said 'Come back because no matter what else happens, education is the one thing that you can never lose. And he was right."
The change to secondary education was a positive thing for Clary. She said that she has enjoyed her various roles in education as a teacher, assistant principal, principal, curriculum and instruction director, federal programs director, assistant superintendent and superintendent.
Her career in education began as a high school teacher for 13 years, teaching middle school and high school English, French, Spanish, and English as a second language.
Clary said she considers herself incredibly blessed to have worked for Salt River Education in the Community.
"The Community cares so deeply about its members, and it has been my honor to serve here," said Clary. "The Salt River Schools team is made up of nearly 300 amazing staff and has done great work in navigating obstacles such as the closure of Salt River High School and, most recently, the COVID pandemic. We have accomplished many things during my time here, and there is a lot to be proud of."
Clary is most proud of her work involving the creation of the Education Native Language and Culture department.
"This department works tirelessly to infuse O'odham and Piipaash into every aspect of education," said Clary. "It is imperative that the work of this department continues so that the O'odham and Piipaash languages, history and traditions are shared with the Community's most precious resource: its children."
Clary plans to embark on a new journey now by spending time with her daughter, son-in-law and new granddaughter in Texas. She will spend part of her time with her two other children, who live here in Arizona. She is looking forward to her son's wedding coming up in September, and she also plans on traveling.
"I have several trips planned, to the Bahamas, Haiti, Croatia and the Baltic Sea," said Clary. "I am most excited about my cruise around the world in January 2022. Checking things off the bucket list!"
Clary would like to thank the Tribal Council for their determination to make decisions that benefit the members of this Community.
"They are forward-thinking and always working to make things better for SRPMIC," said Clary. "I want to thank the Education Board members, past and present, for their work and dedication to serve on behalf of Community-member students. They collectively always have the best interest of students in their hearts. I would also like to thank all of the wonderful Education staff, from transportation and food service to campus teachers and staff and those who keep us healthy, informed and safe. You are my heroes."
The Salt River Schools Education Board selected Dr. Victoria Corlett as Interim Acting Superintendent at their special Board meeting on Tuesday, June 22. Dr. Corlett will begin her new duties on July 1.