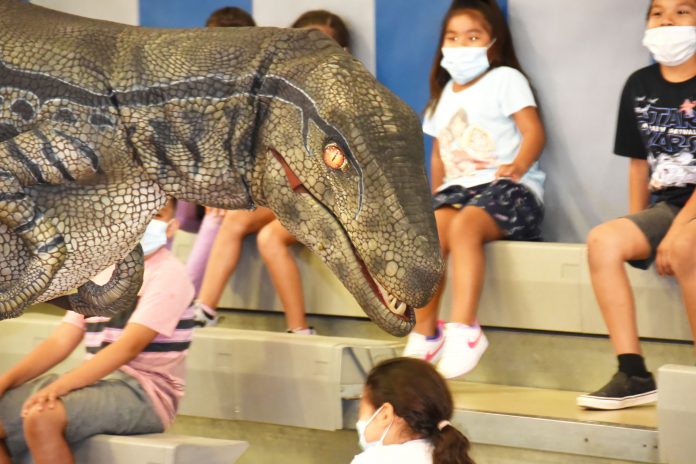 On June 25, Dino Crew Entertainment arrived at the Boys & Girls Club of Scottsdale Lehi Branch's summer program with a truck full of prehistoric fun for the kids.
The truck pulled up with a "dino cage" hauling Remi (an 18-year-old Utah raptor who thinks she's a kid), a Tyrannosaurus rex named Mac, and a baby dinosaur display on the side of the vehicle.
"We keep our dinos restrained for the public's safety while transporting," said Dino Crew lead Meg Miller. The dinosaurs are mechanical and puppet representations that give kids the closest thing possible to a real dinosaur encounter.
The Dino Crew set Remi loose on the indoor basketball court and played with the 28 kids in attendance. The kids had fun digging for fossils and interacted with the raptor with a ball game, a game of "freeze" and some dancing.
Lehi Branch director Melissa Bronston said that the Dino Crew has been the most popular event for the kids so far this summer.
Next up at the branch is a juggler at the gym on July 16 and a back-to-school shopping event for teens and youth on July 30.
For more information on the activities at the Boys & Girls Club of Scottsdale Lehi Branch, head to www.bgcs.org/branches/lehi-branch.