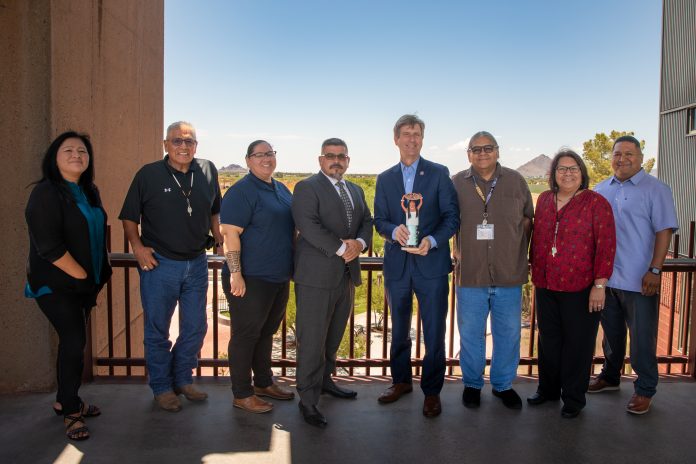 During their August recess, members of the U.S. Congress spent time back in their home districts to meet with constituents and others about issues of importance regarding the federal government. On August 17, U.S. Congressman Greg Stanton (D-AZ, 4th District) met with Salt River Pima-Maricopa Indian Community Council members at the Council Chambers for lunch, where they enjoyed cemait/modiily ("tortillas" in O'odham/Piipaash, respectively) from the Round House Café.
Rep. Stanton does not represent the district that the SRPMIC is in, but the 4th District does border the Community.
"It's always an honor to meet with SRPMIC leaders, and we had a very productive discussion," said Rep. Stanton. "I'll continue to work to address our shared priorities in Congress—including protecting our precious water resources, investing in infrastructure and improving access to quality healthcare."
SRPMIC Council member Mikah Carlos said that it's important for Council to be meeting with government representatives, regardless of their political leanings, to ensure they are supportive of the causes and issues that are important to the Community.
"When [issues] pop up for the Community, we want to make sure that we have allies in D.C. who will support us," said Carlos.
One topic of note was the possibility of a U.S. federal government shutdown. A new fiscal year begins on October 1, and if Congress fails to pass the dozen funding bills that are waiting for them when they return to Washington in mid-September, or if they fail to pass a continuing resolution that would avert a shutdown by giving them more time to work out the spending issues, then the federal government will fail to pass a budget and will shut down on October 1. Carlos said that Stanton has helped with appropriations and making sure that the Indian Health Service (IHS) has continuous federal funding if the government were to shut down. With continuous funding of the IHS, services like the River People Health Center will continue to operate without the tribal government having to pay for it.
Other topics discussed at the meeting were the Indian Child Welfare Act and the Native American Child Protection Act, getting Stanton's perspective on what the 2024 election will look like; and Arizona's growing importance on the national political scene as a swing state.
"The last election really showed that we can swing it either way, but also how important it is for the Native vote to show up," said Carlos. "[Council] shared our concerns [with Rep. Stanton] about the challenges for Native voters that came with this last election, and we want to make sure that the Voting Rights Act continues to be protected."