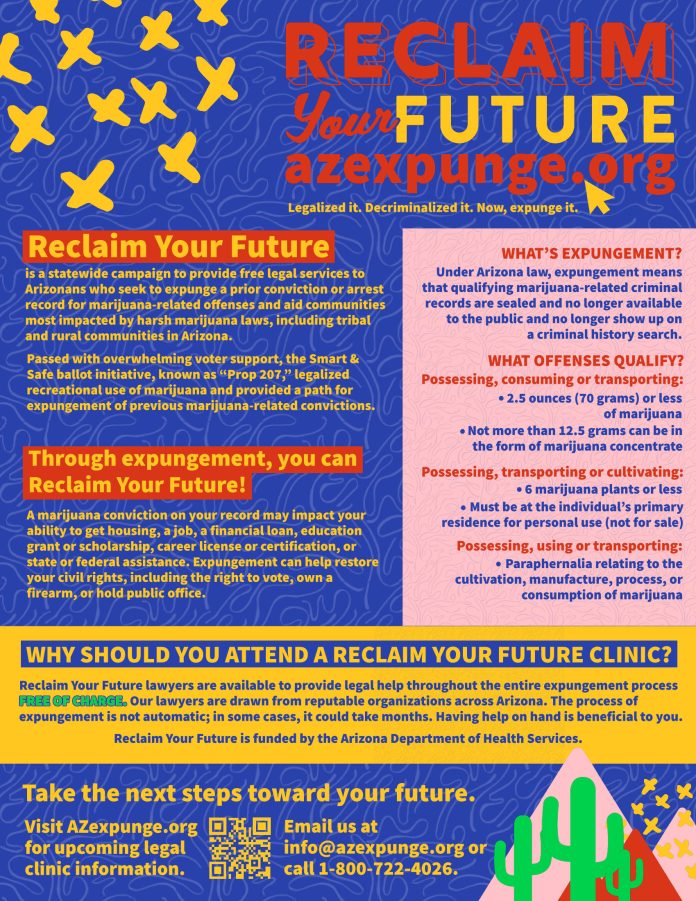 A way for Salt River Pima-Maricopa Indian Community members to have their records cleared if they were convicted of possessing marijuana in the past is being made available to Community members. The SRPMIC Defense Advocate's Office is partnering with the Arizona Justice Project (AJP) to help Community members expunge previous State marijuana convictions during a clinic on September 20, 2022. The clinic will be held at the Defense Advocate Office from 3 p.m. to 6 p.m.
This is a great opportunity for those with marijuana convictions in the State of Arizona to have these convictions expunged from their record. "The state law changed [so that some] individuals who have marijuana convictions [can have them] taken off of their records, or expunged," said Vincent Barraza, defense advocate and director of the Defense Advocate's Office.
In 2020, Arizona voters, passed Proposition 207 with 1,965,440 votes in favor of the measure. The new law allows adults over age 21 to legally possess and use up to 1 ounce of marijuana. As a result, according to AJP, the law "provided a path for expungement of previous marijuana-related convictions."
In response to the recent developments, according to Barraza, AJP received a grant to host a series of free clinics throughout Arizona to educate individuals about how their marijuana convictions can be expunged from their records.
For those who are not familiar with the Arizona Justice Project, it is an organization of legal advocates and lawyers who help represent individuals who have been wrongly convicted or have had a charge unfairly imposed on them.
For the September 20 clinic, Barraza said, "We are going to have (AJP) attorneys here to assist those individuals to understand the options that may be available to them." DAO practitioners will also be on hand to assist Community Members with the expungement process.
The clinic will be open to the Community, including SRPMIC members, employees and their families.
The services do not end when individuals leave the clinic. They will be guided through the process as they navigate through the judicial system to expunge their conviction. "They can reach out to the clinic staff as well. We are able to help them connect with the appropriate representatives in case any questions come up. We want them to know we are here to help them," said Barraza.
He said, "There are 200,000 marijuana convictions in the state of Arizona that are eligible to be expunged from a person's record. Right now, only about 15,000 of those convictions have been expunged." He said a marijuana conviction can have collateral consequences on a person's ability to obtain employment, housing, take out certain loans, vote, and state or federal assistance.
The clinic is open to anyone who knows someone with a marijuana conviction. "If people who attend don't [themselves] have a conviction, [they can pass on the information to] someone they know, such as a family member that has been convicted for marijuana. The idea is to educate people about this new law and what their options are to potentially have such a conviction expunged from their records," said Barraza.
In its informational material about the clinics, AJP states that an expungement under Arizona law means that qualifying marijuana-related criminal offense records are sealed so they are no longer available to the public and no longer show up on a criminal history search.
There are specific criteria that need to be met for a conviction to be expunged. AJP says that the amount of marijuana that was found in a person's possession either for use or transport must be no greater than 2.5 ounces (70 grams). The marijuana in a person's possession should also contain no more than 12.5 grams in the form of marijuana concentrate. If you were convicted of cultivating marijuana plants in the past, the record can be expunged if you grew six or fewer marijuana plants and if you can prove they were only for personal use. Convictions for possession of marijuana paraphernalia also may be expunged.
If you would like to know more about AJP and their initiative, go to www.azexpunge.org. Contact them at info@azexpunge.org or 1-800-722-4026. For more information about attending the legal clinic on September 20, call the SRPMIC Defense Advocate's Office at (480) 362-5660.