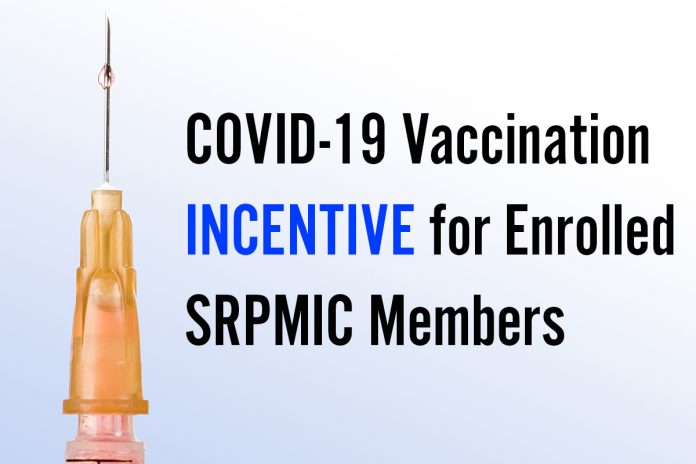 On June 30, the Salt River Pima-Maricopa Indian Community Council approved a COVID-19 vaccination incentive for SRPMIC members to increase the number of enrolled members getting vaccinated. Currently, only 29% of SRPMIC enrolled members living in Arizona have received the COVID-19 vaccination. A total of 1,947 are fully vaccinated and 201 have received one of two shots.
SRPMIC Health and Human Services (HHS) began the incentive program on Friday, July 23. For those who have received their first shot but not the second, the incentive is $100 after they take their second shot. Members who are just now deciding to get vaccinated will receive $200, or $100 for each shot, upon completion of both shots (those who get the one-dose Johnson & Johnson vaccine will receive $200).
All SRPMIC-enrolled adults and minors 12 to 17 years of age are eligible for the $200 incentive. All enrolled Community-member employees who received an incentive through the WellPath Program are also eligible for this incentive. This program was approved by Council with a resolution documenting the program under the General Welfare program, making the payment non-taxable (tax-free).
Payments can be received by check, pay card or direct deposit based on the method of payment that the Community member has set up with the Finance Department. Enrolled members who decide to take their shot(s) going forward will have an option at the vaccination site to either select a gift card or sign up to receive their payment by check, pay card or direct deposit. Please do not try to pick up your incentive at the Finance Department, Salt River Clinic or the COVID-19 testing site.
Members who have been vaccinated elsewhere can call the COVID Hotline and leave their name, date of birth and contact information to receive their incentive payment. HHS will validate with the Arizona State Immunization Information System (ASIIS) that the individual was vaccinated; if the vaccination cannot be confirmed in ASIIS, HHS will reach out to the individual to confirm via other methods. Community members do not need to obtain a replacement vaccination card for the incentive.
To get vaccinated, call the COVID-19 Hotline at (480) 362-2603 to make an appointment. At your scheduled appointment make sure you show your Tribal ID to verify your enrollment and receive your incentive. For children, the parent or guardian can give consent for the vaccine; guardianship will be verified by HHS. The parent or guardian must be present to receive the incentive.
For more information, please call (480) 362-2603 or visit www.srpmic-nsn.gov/vaccine-incentive-program/ for full details. 
*Enrolled members already vaccinated will begin receiving payments the last week of July 2021. For those who decide to take their shot(s) after July 23, 2021, going forward, will have an option at the vaccination site to take a gift card (value $100 each card, available July 23) or sign up to receive payment by check, pay card or direct deposit.