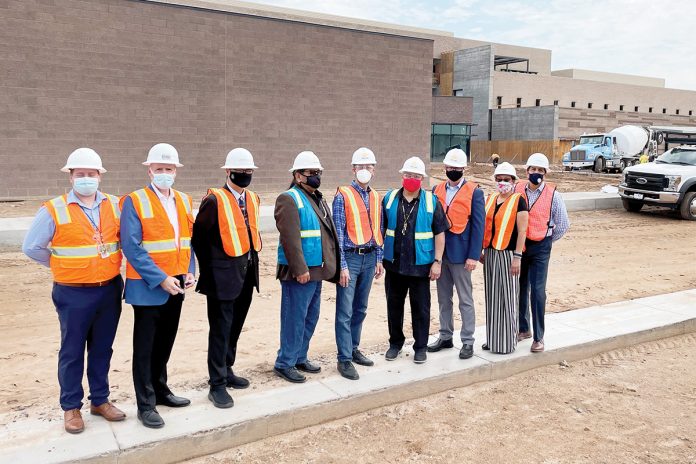 Salt River Pima-Maricopa Indian Community President Martin Harvier, Vice-President Ricardo Leonard and a number of staff from Health and Human Services, Administration, Public Works, Engineering and Construction Services, and more welcomed Congressman Greg Stanton to the Community to discuss support for getting 11 duplicative positions approved and funded by the Indian Health Service (IHS) and creating a funding anomaly to accomplish that. Without that funding anomaly, River People Health Center will be lacking healthcare capacity in the middle of a pandemic, which is not something the Community wants to happen.
"[River People Health Center] is one of three projects that was talked about over 25 years ago to alleviate some of the shortage of space at the Phoenix Medical Indian Center (PMIC). The Gila River Indian Community got their two [healthcare] facilities built, and the River People Health Center is the third one," President Harvier explained to Congressman Stanton as he welcomed him to the Community. "We finally got the funding …, but I think what's on the radar with staff is to make sure that the funding is there, the staffing package, and that the appropriations get approved."
The Community estimates an increase in healthcare services from not only the SRPMIC members but all enrolled Native Americans. The Community is concerned that these 11 duplicative positions will not be filled when the River People Health Center facility opens.
"There are 11 positions that we're concerned about that go along with the whole staffing. Those positions we believe are important; I know they (the Indian Health Service) are saying they are duplications of services, but we don't believe that they are. We just wanted to put that on your radar," said Harvier as he addressed Congressman Stanton.
Following the Community's request on the funding for 11 positions and developing a funding anomaly, Clinic Administrator Timothy Joyce reviewed the services that will be offered at the new River People Health Center and led a tour of the new facility, which is scheduled to open in January 2022.
"I am really proud to be part of the team here helping the Community. We have had all of our services open during the pandemic," said Joyce during the tour. "We sat down early on and said, 'What's going to be our primary drive and mission?' That was to help keep those not with COVID-19 from burdening the health systems, so they can take care of our patients. All our preventive services stayed open and still had face-to-face for our walk-ins for clinical and dental emergencies, outside of expanding our testing and vaccinations."
HHS Director Joseph Remitera explained that the facility will be opening in less than five months and will be offering a number of career opportunities for SRPMIC members.
"We're going to be hiring over 500 people," said Remitera. "We recently had a hiring blitz and hired 38 Community members who will be working right here on this site, and we are going to be hiring a lot more."
In closing, Congressman Stanton agreed that he would support the Community.
"We're going to keep fighting for the 11 positions, you can count on that," said Stanton as the group wrapped up the tour.
Remitera was delighted that Congressman Stanton has agreed to support the funding for the 11 duplicative positions.
"He also agrees that there should be language called funding anomaly in case there is a continuing resolution that we get money to run the operations," said Remitera. "He is fantastic, and we appreciate his support. It was a pleasure getting to spend some time with him today."