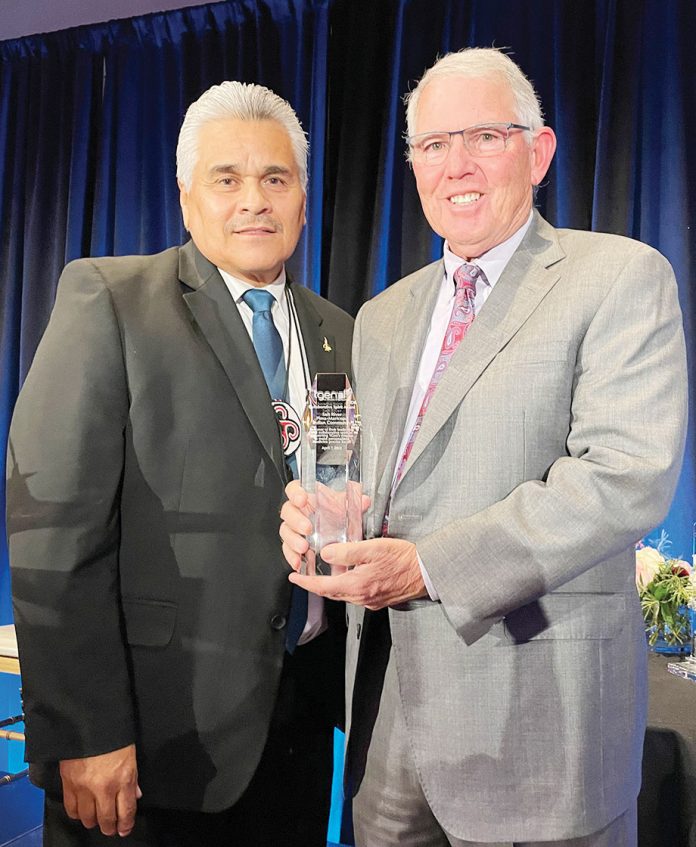 The Translational Genomics Institute (TGen) in Phoenix held its 20th Anniversary Founders Dinner on Thursday, April 7 in Scottsdale. The Salt River Pima-Maricopa Indian Community was one of many who were recognized as contributing to the founding of the institute. The Community received the Collaborative Spirit Award, and SRPMIC President Martin Harvier, former Community Presidents Ivan Makil and Joni Ramos, Council Representative Michael Dallas, Health and Human Services Director Joseph Remitera and Chief Public Health Officer Nancy Mangieri were all present to receive the award.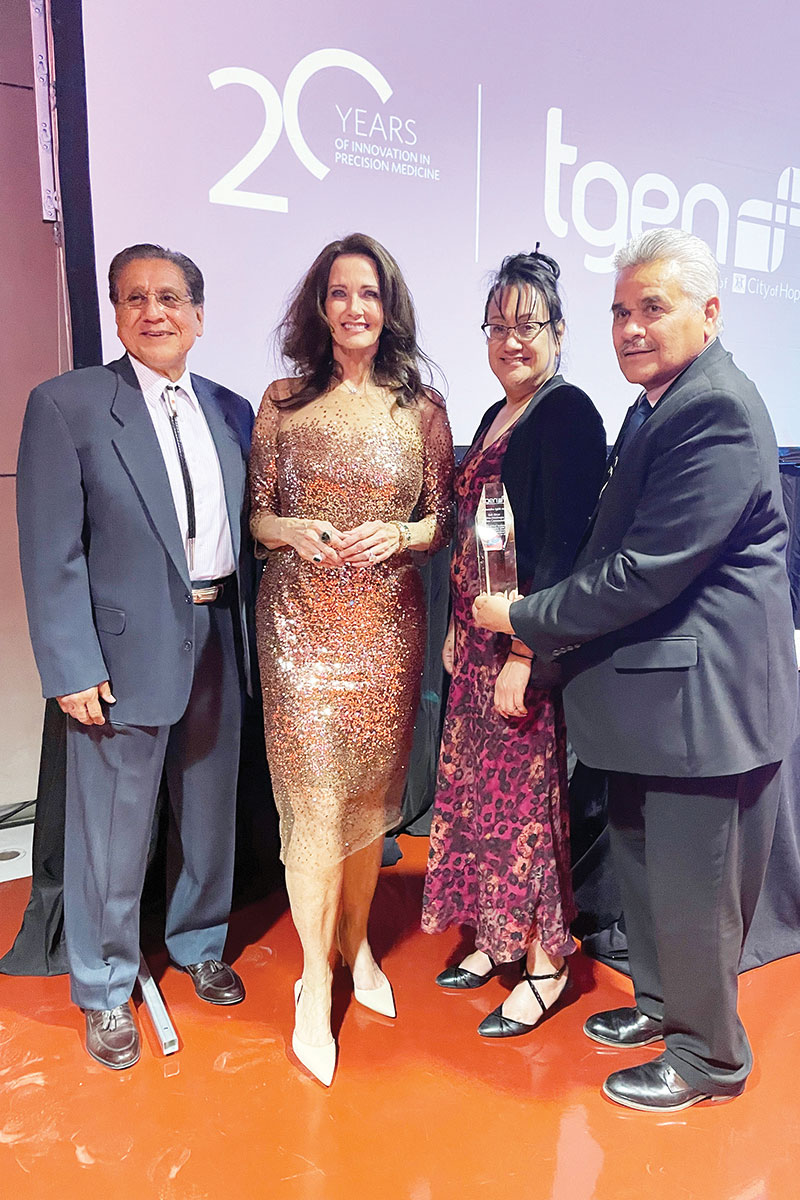 TGen is a medical research facility focused on unraveling the genetic components of disease to help develop more targeted and effective treatments. President and Research Director Dr. Jeffrey Trent introduced the Community as the recipients of the Collaborative Spirit Award.
"A common thread of all these achievements, a founding tenet of TGen then and now, is maintaining a collaborative spirit, and this is displayed in no greater way than our work over the past 20 years with the 10,000-member Salt River Pima-Maricopa Indian Community," said Dr. Trent. "Recently, Salt River's affiliation with TGen was instrumental in helping us secure an $18.3 million federal grant that I co-lead with the Cancer Center Director of the Mayo Clinic. President Harvier is a member of the Tribal Advisory Council for this grant, which is set to begin shortly and upon its completion will be the largest clinical-oriented study of genomics of cancer patients of Native American ancestry in our nation's history. The precision medicine will actually be precise for American Indians and other underrepresented populations. This is why it's my great honor to present the Collaborative Spirit Award to the Salt River Pima-Maricopa Indian Community."
A video featured President Harvier and former Community Presidents Ivan Makil and Diane Enos. In the video, President Harvier explained that the Community's average age of death is 52 years for females and 49 for males. "We miss out on almost 30 years of life compared to other [ethnic groups]," said Harvier.
Bringing TGen to the Valley
After being in office, President Makil saw the needs of the Community and identified the lack of resources in healthcare. The federal government was supposed to provide tribes with healthcare, but Makil started to better understand that the resources for the health of the people were deficient in many ways.
Because of the concern for the Community's health and the health of future generations, when late Senator John McCain contacted President Makil about the opportunity to bring TGen to the Valley, Makil felt it was something that could benefit the people. Makil explained that he took the idea to Council, and after one long night of discussions they agreed to contribute $6 million to the effort to bring TGen to Phoenix because of the high rates of diabetes, kidney disease and renal cell carcinoma among the Salt River population.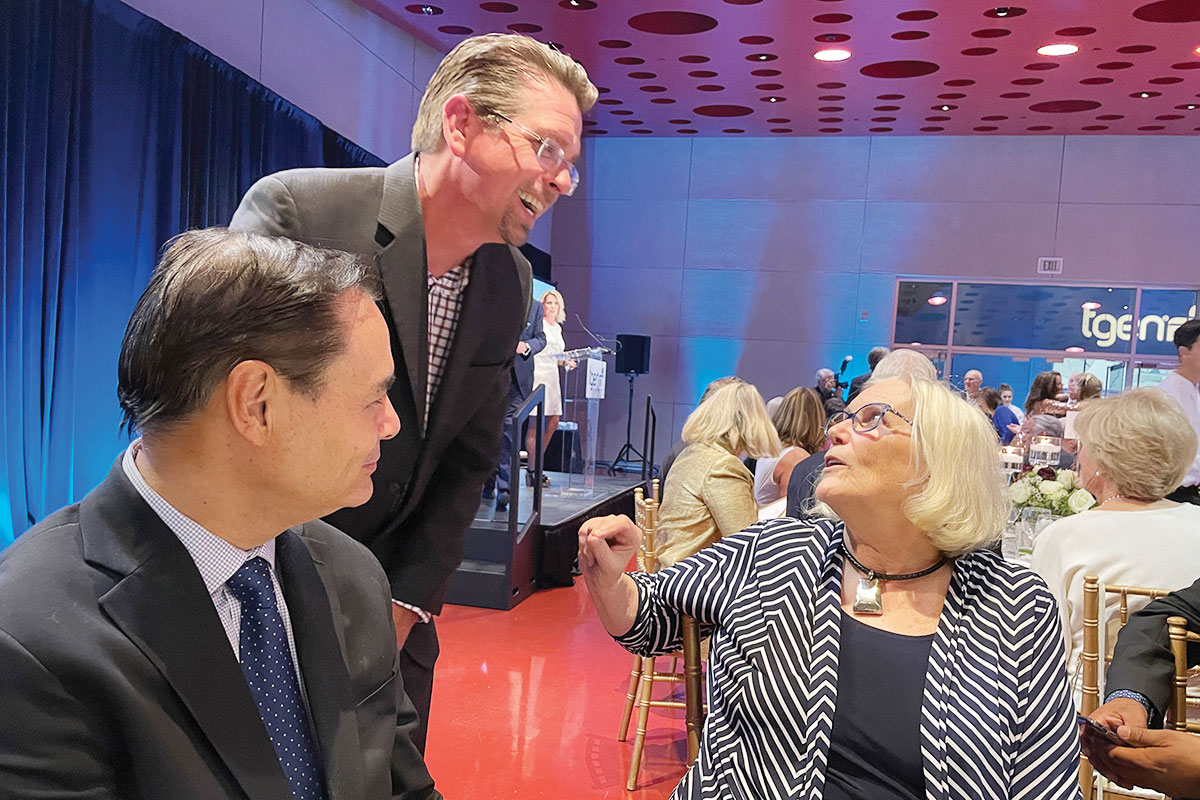 Being from Arizona, Dr. Trent recognized the great medical research need for tribal communities, and working with the Community would give other tribal communities same access to medical breakthroughs of the Human Genome Project.
"I had the privilege on a regular basis to meet and explain opportunities that we could work on at the request of the Community, starting with diabetes and moving to renal cell cancer," said Dr. Trent.
Dr. Trent has kept the Community informed through five administrations, explaining the research and helping the Community understand its potential for improving tribal health.
"Keeping that communication line open is important. It [brought] us where we're at today as far as our relationship," said President Enos in the video. "What we're doing here with TGen will enable other tribes to look at genetic research, and there may be [discoveries] that can apply to them because we're all related."
"When this opportunity (investing in TGen) came along, Salt River was really growing," Makil said. "We had the opportunity to not only participate and [improve] the health of our people, but also to make a huge leap in our relationship with the surrounding communities and the state that would give us the political capital that was important to advance the issues that were important to our people, beyond healthcare," said Makil. "I was very fortunate with the relationship that I had established at that time. [I trusted] when they told me this was a possibility and we would have a voice at the table for our people about our healthcare. Council at that time took a huge risk, but it turned out great because there have been so many benefits for the Community."
Fighting for Native Health
Before beginning his speech, President Harvier recognized the individuals at his table, including President Makil.
"As I was sitting and listening to Ivan as he was giving me some of the history, he explained there were other cities that were in the running for TGen, and it was the funding that the Community gave that landed TGen here in Phoenix," said Harvier.
Harvier also recognized SRPMIC's first female president, Joni Ramos, as well as former Presidents Diane Enos and Delbert Ray Sr., who were not in attendance.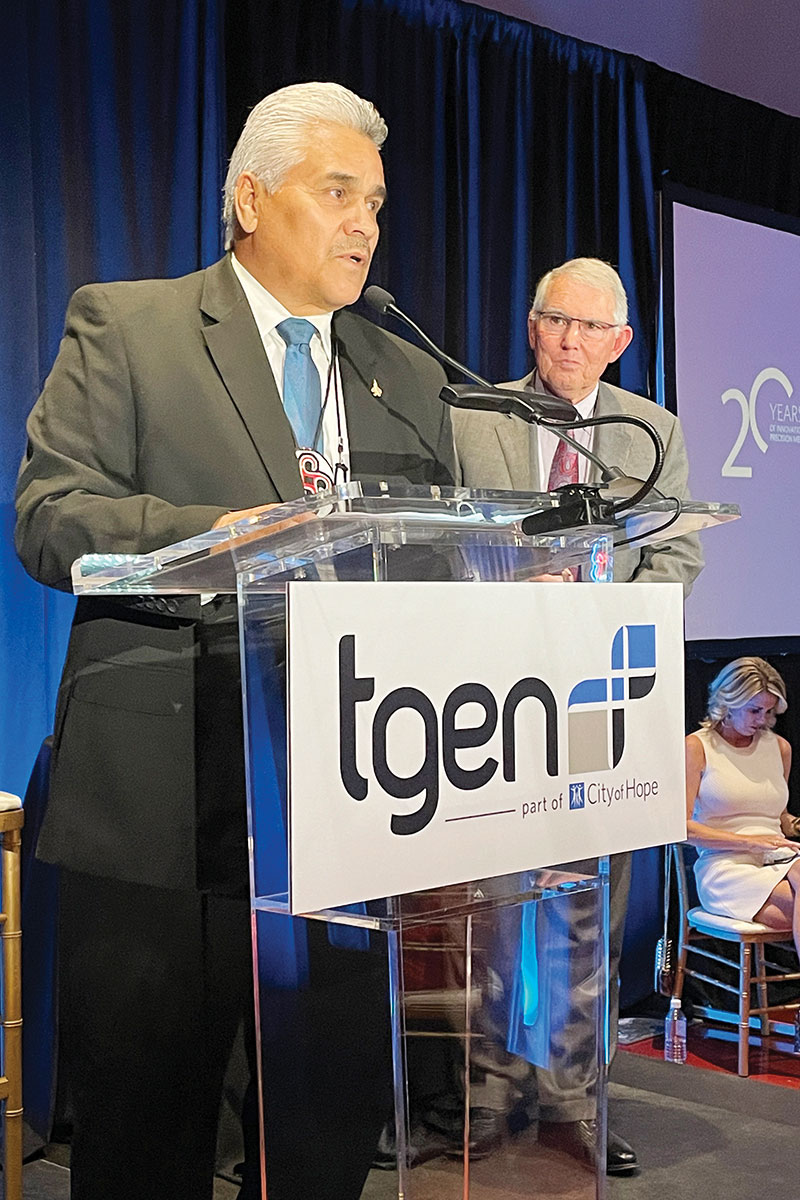 Harvier also recognized Council Representative Michael Dallas, HHS Director Joseph Remitera and Chief Public Health Officer Nancy Mangieri. Thanking TGen for the award, Harvier said, "I recognize our health officials, because … going through this whole COVID period, the Community has been shut down for about two years. We had to implement [policies] in our Community that were probably more stringent than outside our boundaries because of the underlying health conditions of diabetes and other things [our Community members] have. We felt it was necessary to protect our members the best way that we could.
"We're like everyone else—we want long lives, we want to spend time with our families, and there are things we need to change in our lifestyles," Harvier said. "Hopefully, with the people we have in place and the encouragement of parents, things will change. We've all been affected by cancer—my dad passed away when I was 18 years old from stomach cancer, and I am sure everyone here has been affected. And in my life, I keep thinking to myself, 'When do I get it?' But I really believe that is why our Community invested in TGen, we want our members to have good, long lives. Those 30 years that we're missing [in average lifespan], we want to have it for our future."