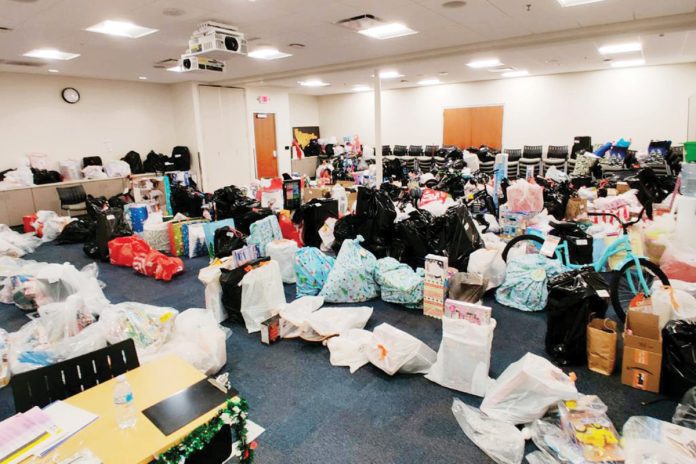 From November 30 to December 6, After 10 years, the Christmas Angel program hosted by the Salt River Pima-Maricopa Indian Community's Social Services Department has grown significantly, bringing Christmas cheer to the homes of hundreds of families in need.
After receiving applications for 472 children for the Christmas Angel program this year, they ended up providing Christmas gifts to 515 kids, explained Senior Behavioral Health Counselor Annamari Hogan.
People can apply for the program starting in October, and the deadline to turn in applications is usually mid-November. After all applications are received, the staff and volunteers begin to assign the applicants to sponsors or donors who will provide gifts to the child or family. To aid in supplying appropriate gifts, the sponsor receives information about the child, such as their age, gender, needs and wants, clothing size and shoe size.
Families who missed the application deadline are welcome to sign up for a shopping day, a day when they can come to the Social Services office and shop through the donated gifts. This year the SRPMIC Education Department and Honor Health–Via Linda Behavioral Health Campus donated a selection of gifts for families in need.
"We have had other donors who have donated thousands of dollars just to support the program, and in addition the Human Resources Department holds a Battle of the Bosses each year at the SRPMIC Employee Luncheon. This is where employees make donations to get their director, manager or supervisor to participate in a lip sync battle, and that raises a few thousand dollars each year," said Hogan. "Between all of those sponsors that's how we're able to fund the support of 515 children." Unfortunately, every year it seems like there are more families in need. "This is the biggest year we've ever had, and every year we get bigger and bigger."
As for sponsorships, there was significant support from SRPMIC employees, Casino Arizona, Health and Human Services, the Salt River Police Department, the SRPMIC Department of Corrections and others (see sidebar).
The Christmas Angel program also has many volunteers; for instance, this year Lawrence Conger from Salt River Housing volunteered to take on the role of Santa Claus. "Santa" helped distribute the gifts to the families and brought extra joy to the families who picked up their gifts.
"Thank you to everyone who sponsored and supported the program. We absolutely could not do it without the support of all of our sponsors and donors," said Hogan. "Thank you to the volunteers helping the program, staff from Social Services, Health and Human Services, Education, Human Resources and the SRPD. They helped with distribution, shopping and processing applications. It was a huge operation this year, and we could not have done it without their help."
The donations are much appreciated. The Christmas Angel program organizers receive lots of messages, such as this one from a parent:
"Thank you so much! We are so overwhelmed with gratitude. Seriously, thank you guys so much. I honestly wasn't sure how we were going to be able to give the kids a Christmas this year."
"We get messages like that, people who want to thank their sponsors," Hogan said. "It's so amazing to hear from families who are in need and are able to help provide a really nice Christmas for their children from this program." 
Christmas Angel Program Sponsors
Casino Arizona
Honor Health–Via Linda Behavioral Health Campus
Medieval Times
OdySea Aquariums
RoadHouse Cinemas
Scottsdale Community College
SRPMIC Family Advocacy Center
SRPMIC Social Services
Salt River Police Department
SRPMIC Department of Corrections
SRPMIC Health and Human Services
SRPMIC Education Department
SRPMIC Human Resources
Employees and other programs/departments throughout the Community
Volunteers: Staff from Social Services, Health and Human Services, Education, Human Resources and SRPD
Santa: Lawrence Conger, Salt River Housing Department