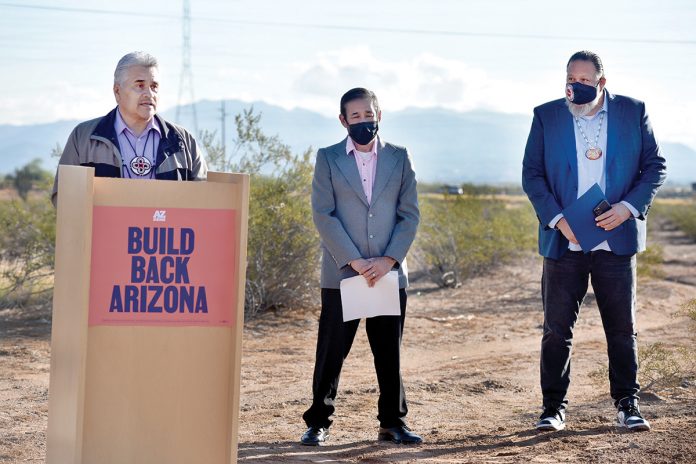 On Friday, December 10, Salt River Pima-Maricopa Indian Community President Martin Harvier, Ak-Chin Indian Community Chairman Robert Miguel and Gila River Indian Community Governor Stephen Roe Lewis held a press conference in Bunnyville, located in the SRPMIC, to discuss the tribal benefits from President Joe Biden's Bipartisan Infrastructure Law (the Infrastructure Investment and Jobs Act). On November 15, President Biden signed the more than $1 trillion bill into law.
The law is designed to fund much-needed infrastructure improvements across the United States. This money will go toward improving aging roads and bridges, providing high-speed internet access for all, improving water infrastructure and replacing lead pipes, improving freight and passenger railroads, investing in public transportation, and more. The funding is expected to be distributed over five years. Between $20 billion and $30 billion will go to tribal communities for infrastructure improvements.
President Harvier explained that in our fast-growing region, the Bipartisan Infrastructure Law will help provide adequate maintenance for the existing infrastructure of the Community, especially in the areas of clean water, broadband coverage, surface transportation and public transportation improvements.
Chairman Miguel outlined that the Ak-Chin Community would benefit from the funding to make improvements on their canals, waterlines and pipes, expand broadband services, and make road improvements. Governor Lewis explained that his community has a continued focus on infrastructure deficits in the areas of broadband, housing, transportation and water projects.
For more in-depth information on the tribes and their plans to utilize the funding from the Bipartisan Infrastructure Law, read the full article in the upcoming January 6, 2022, issue of O'odham Action News.