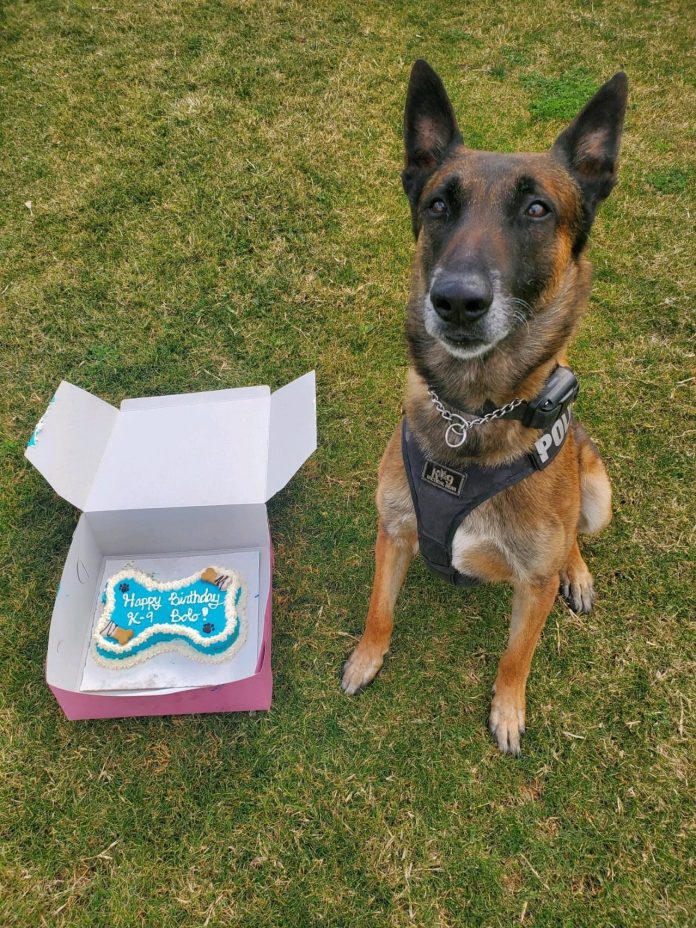 On January 26, the Salt River Police Department celebrated the fifth birthday of a good boy named Bolo, a Belgian Malinois K-9 trained to serve the Salt River Pima-Maricopa Indian Community.
Bolo's mates are Moses (an almost 5-year-old Dutch shepherd), Plex (a 5-year-old Belgian Malinois), Lacs (a 4-year-old Belgian Malinois) and Barklee (a 3-year-old yellow lab). Together, the SRPD K-9s serve a critical purpose here in the Community.
Four of the K-9s are "dual purpose," which means they are used primarily for criminal apprehension and drug detection. Barklee is a single-purpose K-9, and he is used only for drug detection.
With criminal apprehension, the SRPD K-9s are trained to locate the source of human odor in buildings and outside. They may be used to apprehend a person if the person poses a threat to the safety of officers or other people. As for drug detection, all SRPD K-9s are trained for four types of drugs. Dogs' noses are 100,000 times more sensitive to odors than the human nose.
In July 2020, Lacs located a kilogram of cocaine, fentanyl pills and more than $130,000 of drug trafficking money on a single stop within the Community. Another traffic stop and K-9 search in September yielded 25 pounds of carfentanil, which is 10,000 times more potent than morphine and 100 times more potent than fentanyl, according to SRPD.
Most police K-9s have had some training prior to coming to SRPD, and many come from a dog sports background. They are hand-selected by a trainer and then purchased by SRPD. Once SRPD has selected a K-9 handler, the handler attends a six- to eight-week training course with their new K-9. After that, the handler and K-9 go through a nationally recognized proficiency testing process for both drug detection and patrol work. The teams re-certify annually.
SRPD K-9s are housed at the residences of their handlers and require constant attention and care seven days a week. According to SRPD, ideally police K-9s are separated from their handler, family and other pets while at home. They are usually in a crate, kennel or outside with the handler doing some kind of activity—or going out for a bathroom break.
On the handler's work days, the K-9 will ride in a specially designed kennel in the patrol car, and the K-9 team will respond to assist patrol officers with traffic stops if needed. One day a week, all the K-9 units train together and practice obedience, drug detection, and building and area searches. SRPD says that the K-9 teams try to come up with different scenarios to practice during training so that the K-9s are capable of handling real-world deployments.
The first use of police dogs can be traced back to the English in 1888, who used bloodhounds' sense of smell to search for Jack the Ripper. Belgium started a formal training process for law enforcement dogs in 1899. In the 1970s, the U.S. started regularly utilizing K-9 units in law enforcement.
Police K-9 handlers do love to talk about their partners, but SRPD wants to let the Community know that if you see the K-9s out somewhere, never approach them without first talking to the handling officer. Police K-9s are very extensively trained and very good at what they do, but they are not pets. They are not trained to be like most domesticated dogs, and it took months to build the relationship between the K-9 and the handler to become a team.