On September 11, the Salt River Pima-Maricopa Indian Community Fire Department (SRFD) hosted the fifth annual 9/11 Memorial Stair Climb at Salt River Fields at Talking Stick to honor the first responders who lost their lives 20 years ago on September 11, 2001.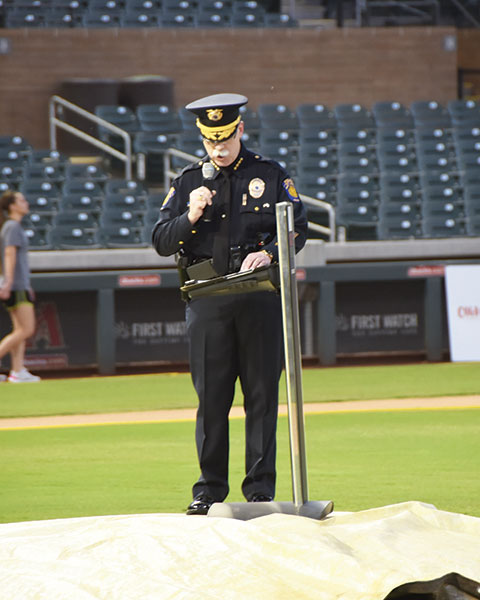 Approximately 1,000 first responders and other participants filled the outfield to climb the equivalent of 110 stories of the World Trade Center on the stairs between the seats of the stadium. The stair climb route was two laps total, which equaled 2,071 stairs.
From the pitcher's mound, Salt River Police Chief Karl Auerbach addressed all in attendance about the anniversary of the 9/11 terrorist attacks. "The events of that day resulted in a monumental loss of life and property in New York, Pennsylvania and at the Pentagon. We grieve for those who were taken from us. A total of 72 law enforcement officers died in the World Trade Center, the most ever killed in a single incident in the U.S., and a total of 343 firefighters died in the World Trade Center, [also] the most ever killed in a single incident in the U.S.," said Auerbach after a moment of silence.
"There were 75 firehouses in which at least one firefighter was killed. The FDNY lost their fire department chief, first deputy commissioner, a fire marshal and a chaplain, and eight emergency medical technicians and paramedics from private medical services were also killed. This made 2001 the deadliest year for law enforcement and the firefighter profession. Please never forget these brave men and women. These heroes answered the call and they made the ultimate sacrifice."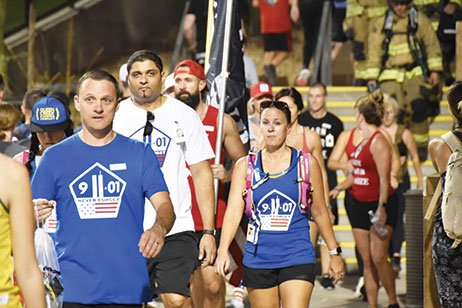 Besides the SRFD, other fire departments and charities represented were Avondale FD, Mesa FD, Chandler Firefighter Charities, Queen Creek FD, Phoenix FD and Arizona Fire & Medical Authority Firefighter Charities. More than $86,000 was raised for the National Fallen Firefighters Foundation, which supports the families of fallen firefighters, and the FDNY Counseling Services Unit.