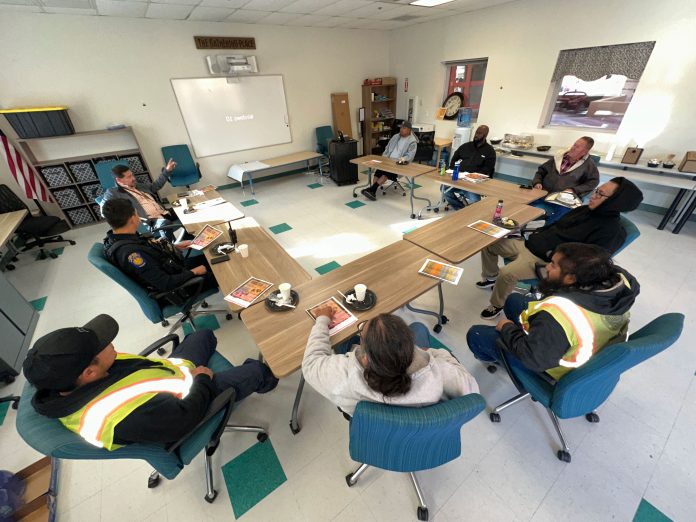 This school year, the Salt River Early Childhood Education Center (ECEC) has held monthly Burritos for Dad events in partnership with the Salt River Life Enhancement and Resource Network (LEARN) Fatherhood Program.
The events are open to any male caregiver in a child's life—dads, grandfathers, uncles, adult older brothers and more.
Participants gather around a table and eat burritos from the Round House Café as they discuss their journeys as fathers and share advice and resources.
Robert Hickem, LEARN social worker II, said that it takes an entire village to raise a child.
"Having the fatherhood series to bring dads together does two things," said Hickem. "First, dads are finding out that their presence [in their child's life] is needed and wanted. Second, men can come to a safe space and have honest conversations on parenting, which is hard to find."
Family Involvement Specialist Carmen Briones said that, on average, about a dozen participants come to each Burritos for Dad event.
"Overall, our participants tell us they appreciate the consistency of the staff, the information and resources, spending time with friends, and the food."
Briones said that the history of Burritos for Dad is connected to the Community's Head Start program, which promotes volunteering and aims to engage fathers and father figures as advocates, lifelong educators and a child's first teacher.
"Through our Head Start program, the ECEC has always prioritized the engagement of fathers and male caregivers through programming and activities," said Briones. "We also felt it was crucial to promote fatherhood engagement as families moved on [from the ECEC] to elementary school, so in 2012 we began working with the Salt River Fatherhood Program, which provides ongoing classes, support and resources wherever families are in their journey."
The final Burritos for Dad event of this school year will take place on Thursday, May 4, at the ECEC.
LEARN Fatherhood Program Classes
The LEARN Fatherhood Program classes for Native fathers of American Indian youth began on February 23 and are being held for 16 weeks at Social Services building 32.
Hickem said that the program provides skill building, education and activities designed to increase the individual's capacity to be an active, involved father and to create and maintain healthy relationships in all areas of life, including parenting.
"Education is provided on understanding what a healthy relationship is, communication skills, conflict resolution, how our childhood affects our decision-making ability now, parenting and much more," said Hickem.
For more information about the program, contact Robert Hickem at (480) 362-6336 or via email at Robert.Hickem@srpmic-nsn.gov.