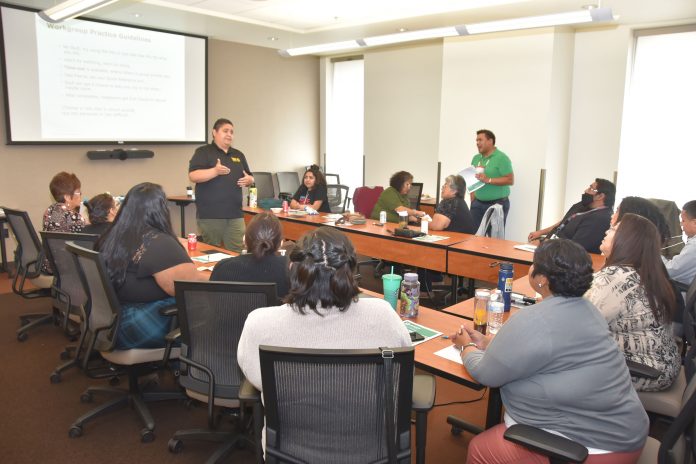 According to the U.S. Department of Health and Human Services Office of Minority Health, in 2019 suicide was the second leading cause of death for American Indian/Alaska Natives (AI/AN) between the ages of 10 and 34.
The overall death rate from suicide for AI/AN adults is about 20% higher than it is for the non-Hispanic white population.
Armed with this knowledge, the Salt River Pima-Maricopa Indian Community's DHHS Prevention & Intervention Services held a two-day interactive suicide first-aid workshop called Applied Suicide Intervention Skills Training (ASIST) on September 21 and 22 as a part of Suicide Prevention Awareness Month.
About 25 participants gathered at Two Waters Building A to understand the ways personal and societal attitudes affect views on suicide and interventions and recognize important aspects of suicide prevention including life promotion, self-care and more.
With ASIST, "We teach participants to recognize when someone may have thoughts of suicide, how to work with them, and how to create a plan to help support their immediate safety," said Community Health Educator Melanie Nosie, MSW, LMSW.
Participants in ASIST don't need formal training, as anyone can learn and use the skills taught in the workshop. Throughout both days of training, participants make their way through a workbook outlining the various skills and tools. The first day focused on preparing the group for connecting with their attitudes about suicide and understanding the needs of a person at risk. The second day was all about putting those tools into practice.
"Participants had an opportunity to play out scenarios, learn about their own biases about suicide, learn how to approach someone who is suicidal, and take on a caregiver role," said Nosie.
Participants were able to recognize suicidal "invitations," or signs of distress that invite help. These invitations include actions such as giving away possessions, words such as "I just can't take it anymore," physical invitations such as a lack of interest in appearance, and feelings such as hopelessness and guilt.
If you or someone you know is having an emergency related to suicide, call 911. Other ways to seek help include calling 988 for the National Suicide Prevention Line, calling (480) 850-9230 for the Salt River Crisis Line, and calling (480) 362-5707 for Salt River Behavioral Health.