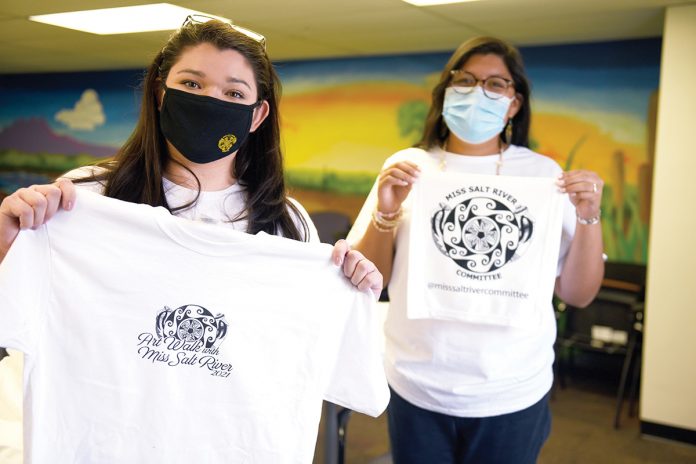 As the reigns of the 2020-2021 Miss Salt River and Jr. Miss Salt River come to a close, the opportunity to end the year with a virtual event helped Miss Salt River Isabella Dockerty spread her platform message to the Salt River Pima-Maricopa Indian Community.
On May 20, via a video on social media Dockerty welcomed the Community in joining her for the Miss Salt River Art Walk Virtual 5K, designed to encourage artistic expression and wellness.
"My platform for my reign this year was to encourage positive self-expression through the arts, and the way we're incorporating that into the walk is that you will get a white T-shirt you can decorate any way you want. So it encourages positive artistic expression and the walk itself encourages wellness," said Dockerty.
Nearly 150 participants preregistered for the event. Those who signed up received not only a T-shirt, but also a cooling towel that they could tie-dye, decorate or color to express their artistry.
Dockerty had been planning this event all year, and with many obstacles due to the COVID-19 pandemic she had to make some changes.
"Originally, the Art Walk was supposed to be an art display throughout Two Waters, but we figured doing white T-shirts and letting people put their art on there would be just as cool, being able to display it through photos and sharing it online," said Dockerty.
"The main piece of advice to give to future Miss and Jr. Miss Salt River when it comes to planning your events [is to] keep a lot of things in mind and be adaptable, because things sometimes don't work out the way you want them to."
Those who participated in the event were asked to post photos to Instagram and/or Facebook using the hashtag #ArtWalkwithMissSaltRiver2021.