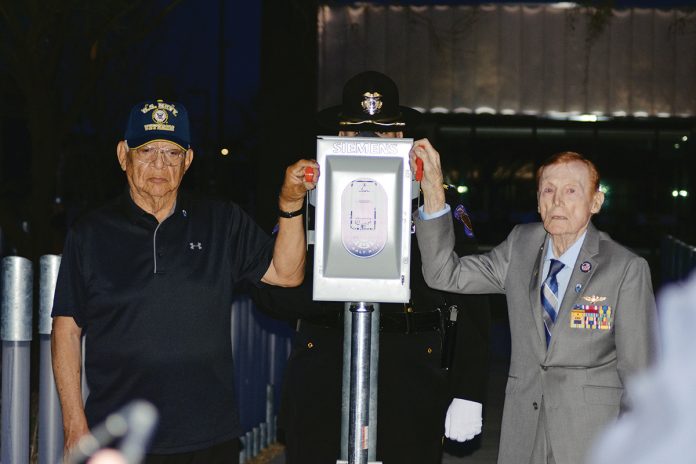 On February 21, the official opening ceremony was held for the USS Arizona Memorial Gardens at Salt River. The ceremony opened with former Salt River Pima-Maricopa Indian Community President Ivan Makil playing the national anthem on his trumpet while the audience sang along and veterans saluted. The invocation was given by former SRPMIC President Delbert Ray, who is also a veteran.
Current SRPMIC President Martin Harvier spoke about the process of establishing the memorial gardens. "I want to thank President Ray for giving the prayer. President Ray had a lot to do with [us] being here today, [because work to establish this memorial took place] under his administration," said Harvier. "I'll tell you, in Indian Country things seem to take a long time to get done. So, I'm glad he's here to offer the invocation. I also want to thank former President Ivan Makil for sharing his talents with us this evening, playing his trumpet. Because as members of the Community, this area, this development that has happened, it happened [under] his leadership. I want to thank President Makil for his role as a leader of our Community getting us to where we are today."
Harvier acknowledged all those who have served and are currently serving their country in the military. "This piece of ground, this Community, is the home of the O'odham and the Piipaash people," Harvier said. "More Native Americans per capita have stepped forward, more than any other ethnic group, to serve our country in the military from the beginning [of this country]. From my information, currently there are 140,000 living Native American veterans. Today there are 31,000 Native American and Alaska Natives on active duty. Here in our Community, from World War I, World War II, the Korean Conflict and the Vietnam War, we have lost 18 Community members. We have one Community member from the Vietnam War. We had approximately 450 O'odham and the Piipaash who have served in the military. Our current Vice-President (Ricardo Leonard) served in the U.S. Army, and Council Member (Tom) Largo also has served in the Army. We thank them for their service."
SRPMIC Vice-President Ricardo Leonard talked about being given special permission to go aboard the USS Arizona BB39 Memorial in Hawaii. They performed appropriate military honor songs sung in O'odham by himself and his son, Ricardo "Mavi" Leonard.
"The songs were for the fallen military and civilians who perished on that land," said Leonard.
Navy Commander Justin Collins reflected on December 7, 1941, "a date which will live in infamy," and thanked SRPMIC for having the memorial built in the Community.
"The USS Arizona has become a symbol of resilience and resolve. Because of this memorial, all of us sailors, soldiers, veterans and civilians, Americans and foreign visitors, have a place in our Community to reflect on that. Thank you to the Salt River Indian Community for providing us this beautiful memorial," Collins added. "God bless the USS Arizona, God bless our veterans, and God bless the sailors, airmen, soldiers and marines who serve. God bless the Salt River Pima-Maricopa Indian Community and God bless the United States of America."
Following the speakers, members of the Salt River police and fire departments escorted guests to the memorial site, where two Navy veterans, SRPMIC member Bob Aguilar and Pearl Harbor survivor Jack Holder, illuminated the Gardens for the first time. O'odham and Piipaash songs were sung while guests explored the area. Food tables were set up along the path. T-shirts, tote bags and water bottles were handed out with the help of the Young River People's Council.
For more information, follow the USS Arizona Memorial Gardens at Salt River Facebook page.