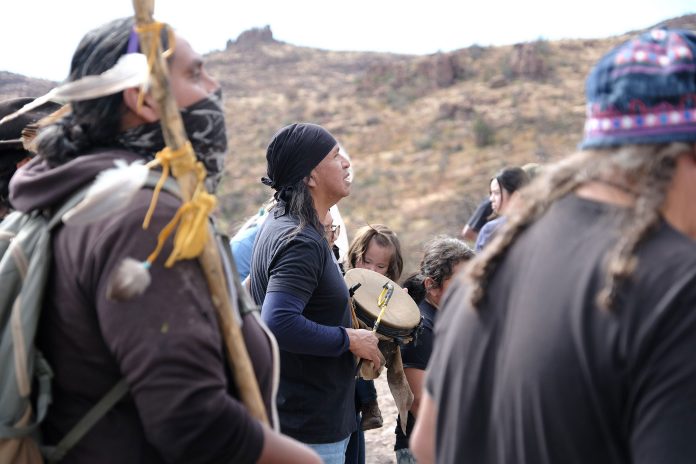 On October 13, Wendsler Nosie, former chairman of the San Carlos Apache Tribe and founder of the grassroots group Apache Stronghold, traveled with a spiritual convoy and made a stop at the Salt River Pima-Maricopa Indian Community.
The group was on their way to the Ninth Circuit Court of Appeals in San Francisco to have their arguments heard in opposition to mining company Resolution Copper's project at Oak Flat, an important and sacred site to the San Carlos Apache Tribe as well as many other tribal communities, including the O'odham.
Nosie said of the convoy's journey, "What I told people was that I can't just go to the Ninth Circuit Court and bring a prayer by flying or going in a direct route that way. Everybody's affected by this, so I have to go through the corridors. The corridors are tribes," said Nosie.
"That's why I came into O'odham country and asked them for prayers, because this is the journey that we're on. We're fighting what's evil. What I need is the blessings to carry me on to the next corridor, and the next after that."
During his stop here, Nosie talked with a group of SRPMIC members about O'odham artifacts and belongings near the Oak Flat site that could be disturbed or destroyed.
"I told the O'odham [that I spoke to] that they're erasing your past just like they're doing to us. These artifacts, these places, they are old, they still have semblance. When Resolution Copper got the exemption [to mine at Oak Flat], that meant they didn't have to tell anybody anything," said Nosie.
Vandalism at Oak Flat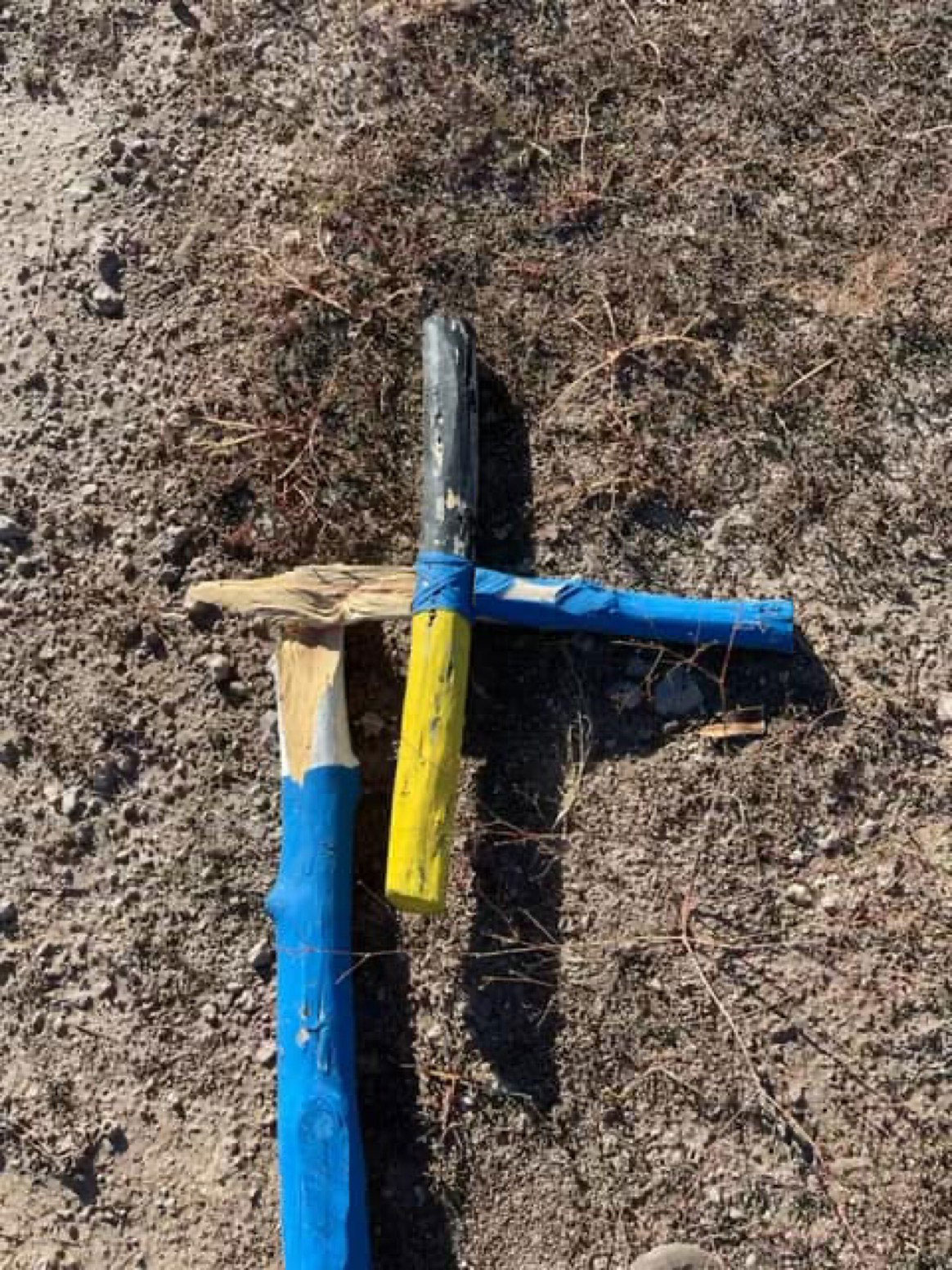 Nosie was in Phoenix in October when he heard the news that the holy ground crosses at Oak Flat, a special place of prayer, healing and blessings, were broken apart and damaged beyond repair. Apache Stronghold shared the news on its Twitter account:
"With a heavy heart I share the sad news that our Holy Ground Crosses at Oak Flat were destroyed. It brings sadness to our hearts that someone would do this. It is no different than a church being vandalized or set on fire. Please continue to pray for Oak Flat, as evil is around."
This is the second time in recent years that the Holy Ground site has been vandalized, the last time being in March 2018.
Hydrology Study
Nosie also addressed the group of SRPMIC members about a new study that analyzed groundwater usage by Resolution Copper.
In September, the San Carlos Apache Tribe released a water study authored by Dr. James Wells of Everett & Associates Environmental Consultants titled "The Proposed Resolution Copper Mine and Arizona's Water Future." The study shows that the Resolution Copper mine will use an estimated 250 billion gallons of water over the lifetime of the mine.
The study touches upon water usage that could affect the eastern part of the Salt River Valley:
"Even if one accepts Resolution [Copper]'s highly optimistic estimate for water usage, the mine will use about 775,000 acre-feet of water—or about 250 billion gallons—over the life of the mine, of which approximately 70% will be pumped from a large network of new extraction wells in the East Salt River Valley about 15 miles west of the mine, closer to Phoenix and its eastern suburbs. The amount of water Resolution Copper proposes to withdraw from the Desert Wellfield represents nearly 7% of the total available groundwater in the East Salt River Valley subbasin. It is hard to visualize the immensity of this amount of water. That means Resolution Copper could develop an unlimited number of wells and pump an unlimited amount of water from the East Salt River Valley even as agricultural uses and cities are forced to cut back."
The study also shows that the mine's tailings, or waste materials left over after a commodity is mined from the earth, would permanently threaten groundwater and surface water quality in the region, including the Gila River.