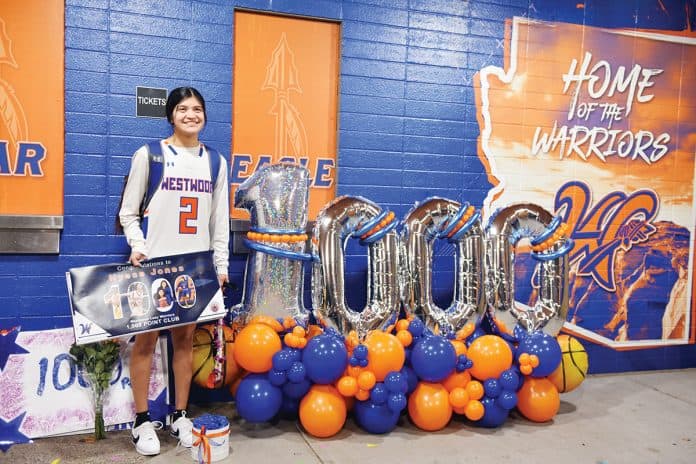 On Tuesday, January 4, the Westwood High School girls basketball team went head-to-head with rival Mountain View High School. But this was not just a regular basketball game; it was a milestone for one player in particular, Westwood High School senior Nyese Jones. Jones hit the first 3-pointer of the game, which pushed her over the 1,000-point mark in her school basketball career. She actually only needed two points to log an even 1,000. Once she hit that shot, the game was halted so the team and the spectators could celebrate Jones' amazing accomplishment.
The game then resumed, with the starting five players including Jones and other Salt River Pima-Maricopa Indian Community members Kristine Scabby (junior), Alexis Smith (junior) and Angelina Montoya (sophomore). The Lady Warriors beat the Toros 54-45. The team overall is 13-3 and is hoping to make it to the final four this year and ultimately the championship game in Division 6A.
Jones was the second Lady Warrior to hit 1,000 points, but she is the first to score all 1,000 points while playing on the Westwood team. Jones, who has been playing and starting since she was a freshman, recently set a new school record for assists in a single game with 11, in the game against Palo Verde High Magnet School.
Kinsel will be the next Lady Warrior to reach the 1,000-point milestone; currently she is only 110 points away. Campton explained that Scabby and Montoya could hit 1,000-points in their high school careers as well. 
"It was pretty awesome. She has been building towards [1,000 points for] the better part of four seasons. She has been an instant impact player; she and Nikkianna Kinsel, who is our other senior, they're the only two girls in Westwood's history to have 200+ points in their first three seasons," said coach Ron Campton. "We knew it was a possibility going in this year, and Ny has just kind of stepped up her game. Her 22 points tonight really helped lead and carry us. That was a really good thing to see her get that 1,000-point accomplishment. We have 11 more games to build on it, so she'll just keep stretching that mark out a little bit each game."
"They are both pacing with development over the next two years to continue to improve. We hope to see them set a couple of records after the seniors leave," said Campton. "It's been a good year, and we have a lot of girls to help elevate the program to where we are now."
Jones was all smiles after the game as her family and friends congratulated her on her achievement.
"My next goal I want to meet is the assist goal. I am over 800 and I want to hit 1,000 before the season is over," said Jones.
To come out and support these talented lady athletes, see the game schedule in the sidebar. For scores and highlights, visit www.maxpreps.com/high-schools/westwood-warriors-(mesa,az)/girls-basketball/schedule.htm. Purchase tickets at gofan.co/app/school/AZ12822.