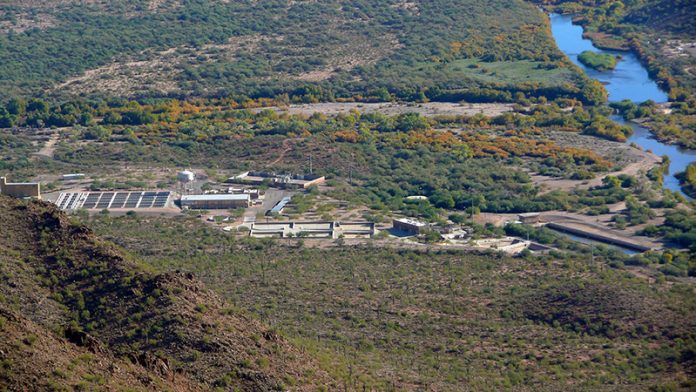 By Dalton Walker
O'odham Action News
The old water treatment plant at the foot of Red Mountain in the Salt River Pima-Maricopa Indian Community has been demolished, and the debris has been removed.
The Verde Water Treatment Plant, off Fort McDowell Road and north of the Granite Reef Diversion Dam, was built in 1948. Many people in the Valley might not know it had been still standing all these years, as it sat on tribal land that isn't open to the general public.
Visitors to the Salt River in vehicles are familiar with the complex, as many pass by it on the way to the river. For decades water flowed from the plant to customers in Phoenix, but it has been empty since 2011 as Phoenix leaders found other, cheaper, options for fresh water. Now the plant is gone.
Mike Byrd, assistant director of Public Works for Utilities and Roads, said everything on the site and below was removed. A paid consultant was on-site during demolition to make sure nothing was left behind or buried.
The site is now being restored to its natural, pre-development condition. Revegetation with native plants is a top priority.
Salvador Garcia, senior project manager at Public Works, said another top priority was safety for visitors to the area during the operation. Also, the road that leads to and past the water plant site is being restored via chip sealing.
For those familiar with that area, only a Salt River Project building remains near the former entrance to the power plant. That building couldn't be removed because it powers parts of the nearby Fort McDowell Yavapai Nation.
The underground water pipeline leading from the site will remain for now. The pipeline goes through the Community to Scottsdale, near Beeline Highway and Indian School Road to Dobson Road.
The pipeline is more than five feet below ground. Workers traveled the pipeline route to mark any structures or material visible above ground and connected to the pipes. These materials have since been removed, including manholes near the Arizona Canal, where the pipeline runs under the water.
Back in the day, the treated water from the plant bypassed Community homes for the most part. However, Community residents were able to pump water at several spigots and a small pumping station along Indian School Road.
The timeframe of the plant removal was related to receiving the adequate permits from Fort McDowell, Byrd said.