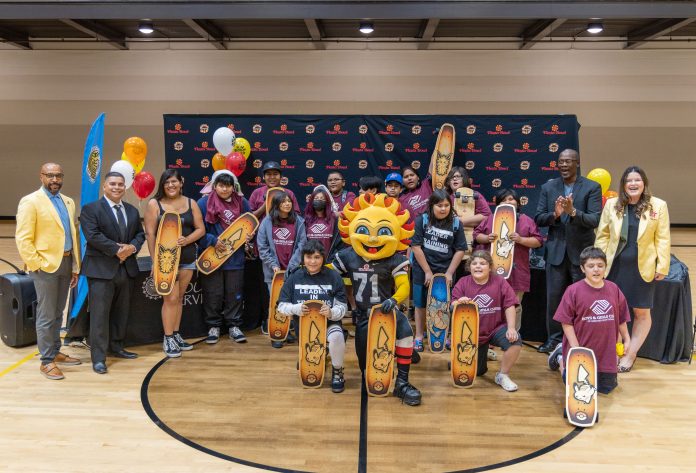 Students at the Boys & Girls Clubs of Greater Scottsdale (BGCGS) Salt River Branch, located at the Way of Life Facility (WOLF) on the Salt River Pima-Maricopa Indian Community, received a special donation from Fiesta Bowl Charities on June 20. The donation was in the form of skateboards adorned with Pokémon characters that were presented to BGCGS students by special guest Fiesta Bowl mascot "Spirit" and Fiesta Bowl Charities team members.
To lead off the presentation, Youth Program Manager John-Paul "JP" Saspe introduced SRPMIC Council Member Jacob Butler and Erik Moses, CEO and executive director of the Fiesta Bowl.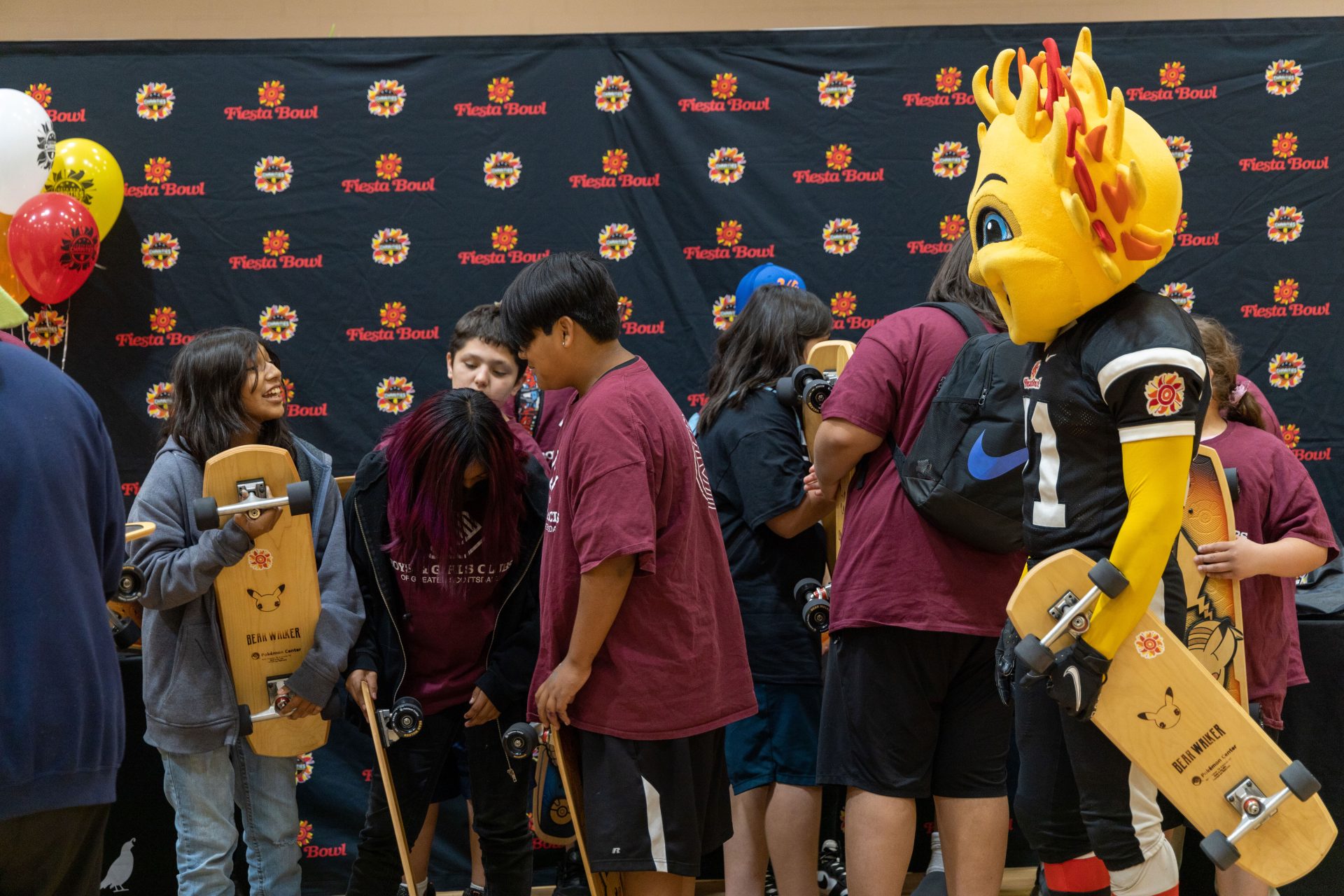 Butler thanked the BGCG staff for their tireless work in creating a safe and productive space for Community youth to gather and build friendships within a productive environment. "I want to thank you all for your efforts and the impact that you have on our children," said Butler. He lauded the youth for spending their time here and engaging in positive activities that will build a healthy community.
Butler also thanked Fiesta Bowl Charities for visiting the Community and donating the skateboards. "It's a wonderful gesture for the Fiesta Bowl Charities to come out and do something special like [this] for our children," said Butler.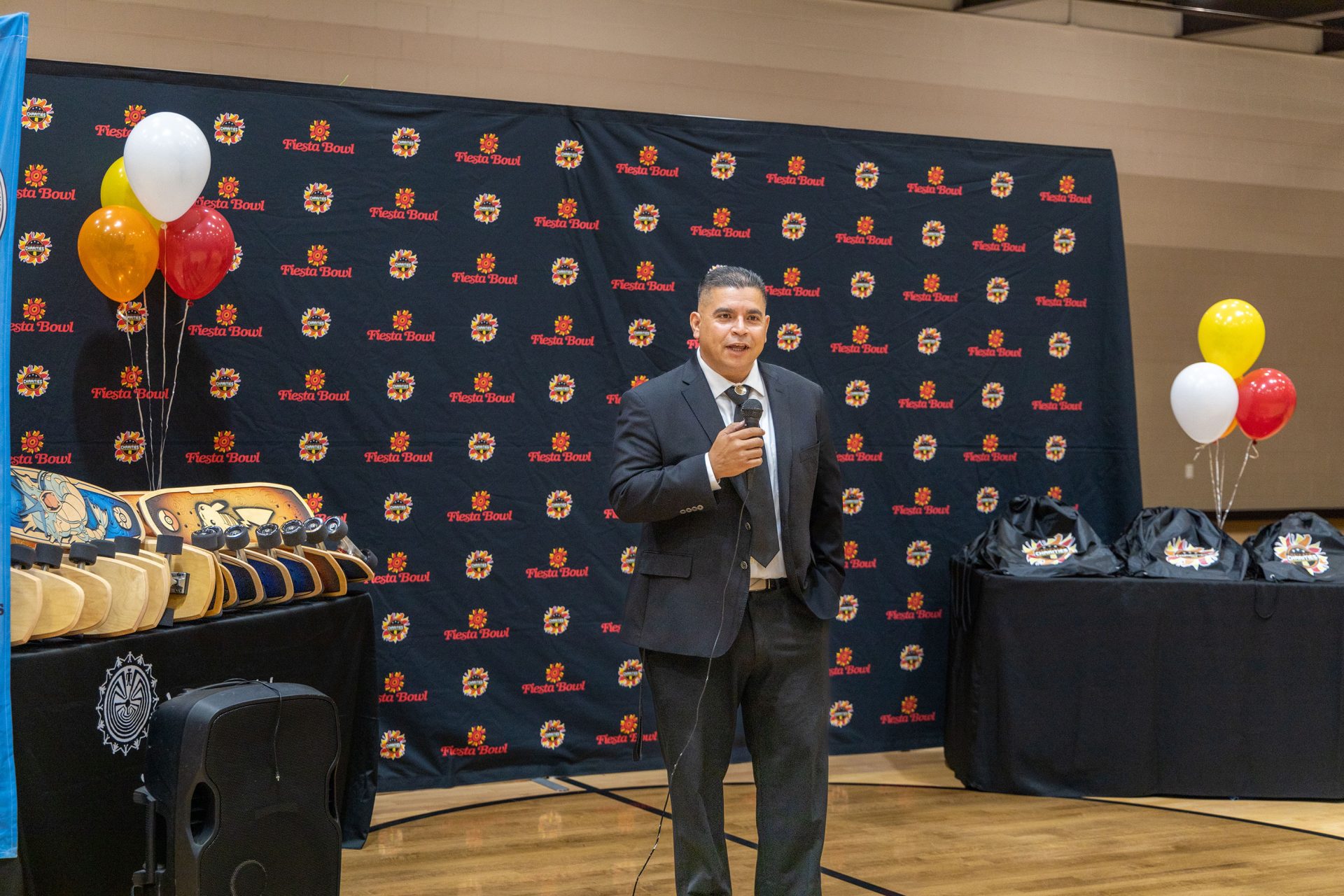 Ivan Gilreath, president and CEO of the Boys and Girls Clubs of Greater Scottsdale, was present to greet the youth in attendance. "It is a pleasure to be here today and to share this great occasion with you all. When you receive these skateboards today, we hope you will enjoy them at the skatepark here at the facility," said Gilreath.
His remarks were followed up by Moses, who said, "We are so glad to be here in this beautiful facility with you all. I want to thank Council Representative Butler for welcoming us here this afternoon."
Moses said that Fiesta Bowl Charities has created a fantastic partnership with the Community over the years. "I want to thank Angie DiCicco and JP for creating some very wonderful programs here within the branch," said Moses, who added that Fiesta Bowl Charities is about bringing meaningful opportunities to youth from all walks of life, based around sports, leadership and other aspirational programs.
After the speeches, Spirit and the Fiesta Bowl Charities team members presented the donated skateboards to the youth. After receiving their skateboards, the youth were eager to shred and grind with Spirit in the skatepark located behind the WOLF.