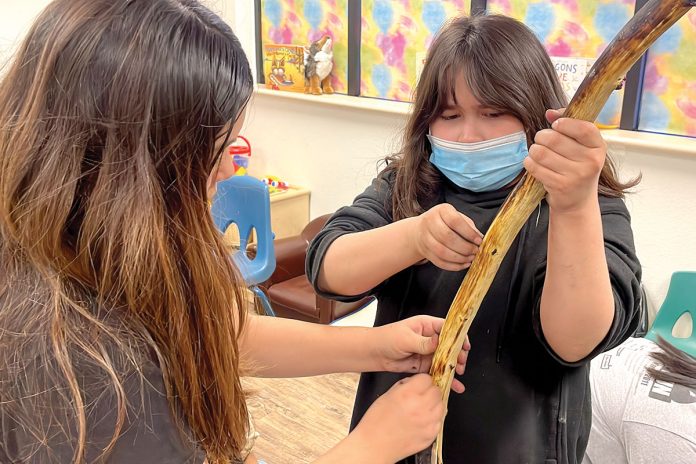 Prior to the COVID-19 pandemic, F.A.C.E Parent Educator Jessica Ruiz taught the traditional O'odham game called toka to Salt River Elementary School students in 2017, 2018 and 2019. This school year, she is resuming Eagles Club toka for fifth- and sixth-grade girls.
Ruiz was a member of the Salt River Pima-Maricopa Indian Community's toka team for two years prior to creating the class for the elementary students.
"I was a little apprehensive at first, because it had been only two years since I started playing. It was really interesting; the school really helped me build a connection with the students," said Ruiz.
In the first two weeks, Ruiz talks to students to introduce the game. She describes the difference between recreational toka and traditional betting toka, as well as how different communities and villages use the O'da (the game piece) and how they harvest and prepare their U'usga (sticks).
"We go over what the general tournament rules would be so that they become familiar with the game," said Ruiz, "so that it becomes second nature to them, and usually at the end of the semester I try to invite out other thoughtful players in the Community or from other communities to come and scrimmage. It's also an opportunity for [the students'] parents to come after school and watch them play too."
What Is Toka?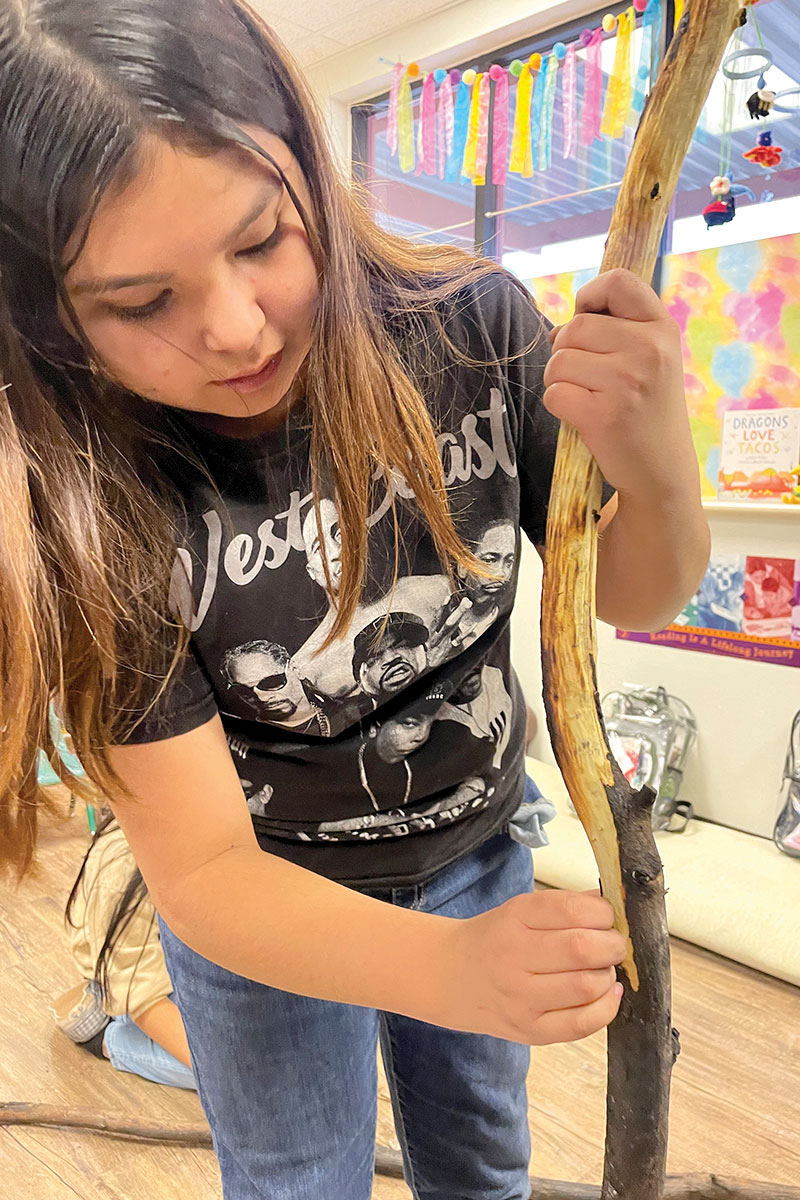 Toka is a traditional women's game that is similar to field hockey. Players play to the left. The objective of the game is to hit the O'da across an imaginary line or past a set of cones. In order for a team to score a point, they have to pick up the O'da to declare the point.
"A lot of times players who haven't picked it up yet, even though it's past the line, the other team can still sweep the O'da out and take it back to the other side of the field," explained Ruiz.
Toka involves a lot of movement and running. "Often, women don't realize how much they're doing in the game and sometimes accidents happen, but that comes with every sport," Ruiz said. "When we say you're playing at your own risk, [it just means] that you need to stay aware of where you're at and have fun."
Through the game of toka, Ruiz hopes the students will learn about camaraderie, patience, self-advocacy, socialization and respect.
"Be open and vulnerable, and to get to know each other. Toka helps a lot of girls deal with a lot of things that we can't express or say on an emotional or mental level," said Ruiz. "What the older ladies have told me is that it's our time to be together because it's a good medicine for all of us as women. That's something that I share with [the student players], those traditional aspects that I was told when I learned the game. We get to know each other not only as players, but as individuals. I hope their takeaway is that they learn to advocate for themselves and for others. Especially in this game, you learn to be patient when you're on a team with players who aren't as good as you, or you learn to be vocal."
Ruiz hopes the students learn how to cooperate to achieve goals and how to interact with each other.
"It's a lot of socializing, and I think because we're coming out of COVID, this group of girls is especially excited. They're already talking about what type of stick they are going to get, one that's really long or one with a good curve to help their game become better," said Ruiz. "Hopefully, by the end of the semester, we'll have more Community players for our team. There's always an open invitation not only to our students, but also to the females that are in their families, whether they're their moms, sisters, aunties, cousins or grandmas. It's open to everybody to come."